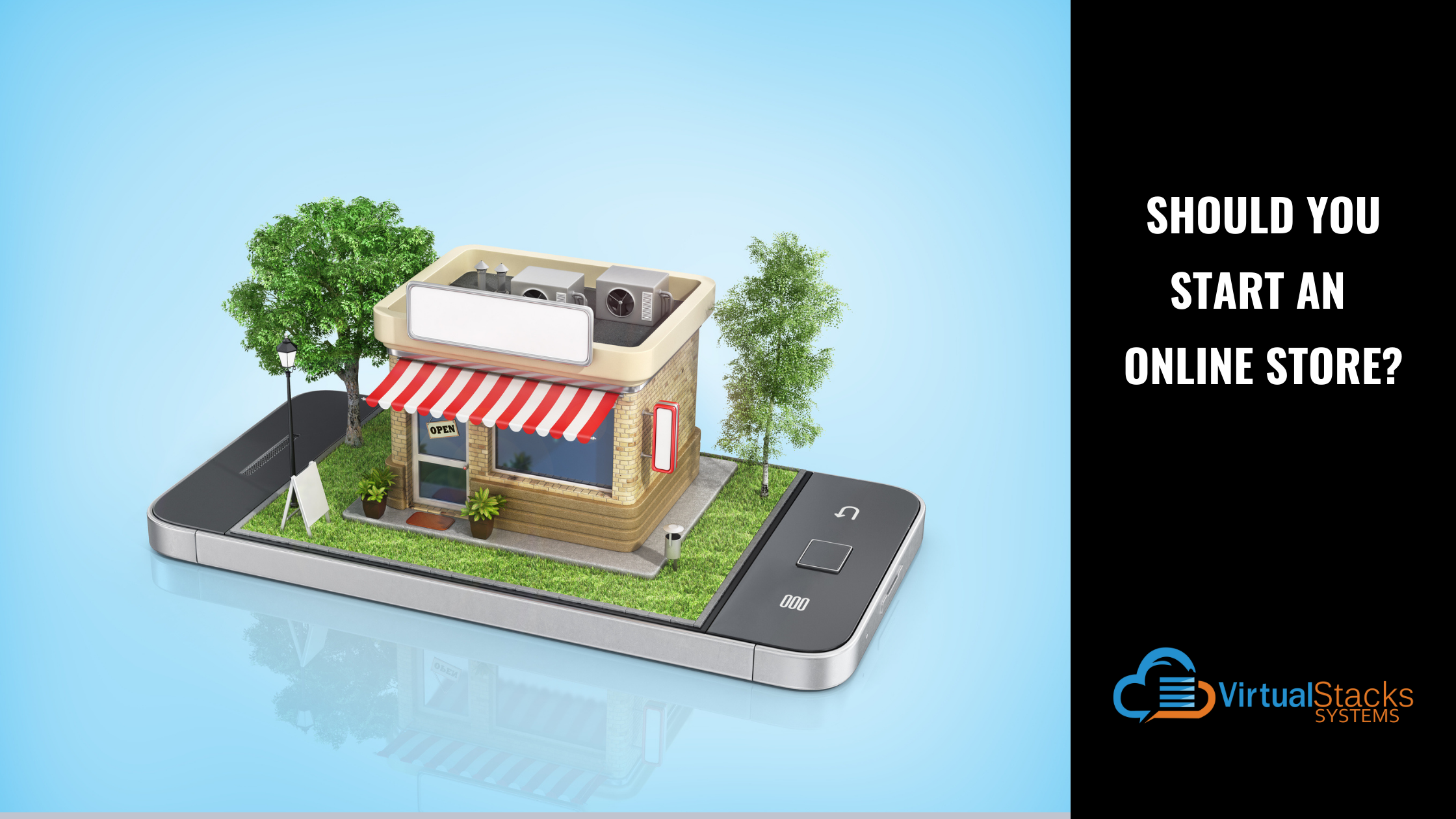 09 Jul

Should You Start an Online Store?

Even if your brick-and-mortar business was fortunate enough to keep its doors open during the peak of the COVID-19 pandemic in 2020, you can't help but have noticed the significant leap to e-commerce that consumers took. While people are now enjoying a return to normal activities, their preference for shopping online – which actually started pre-pandemic – shows no sign of abating. At this point, you may be wondering if your business should take the e-commerce plunge to better retain current customers and attract new ones. There's a good deal to consider, which is why we're here to help you sort through all that's involved.
The Opportunities E-commerce Offers
Writing for HP Tech @ Work, marketing journalist Linsey Knerl lists the following common reasons for considering starting an online store:
Reach customers not local to your region.

Expand your footprint to new markets.

Cater to younger demographics who are more likely to buy online.

Become competitive with other retailers who succeed online.

Take advantage of data-driven business decisions, ad targeting and metrics tools.

Give customers another way to initiate a transaction with you, even if they prefer to finish it in-store, via delivery or curbside.
Knerl observes that having a physical store can help you move to e-commerce. "Some advantages to brick-and-mortar stores include an established customer base and product recognition." No matter how small your business, your regular customers not only know your product line, but know your reputation for quality, integrity and customer service. Unlike new businesses that are exclusively e-commerce, you don't need to build your customer base or establish trustworthiness from zero.
How to Get Started with E-commerce
Starting an online store requires serious planning and consideration. Follow these important steps for getting started:
Do the groundwork – Assess the strengths, processes and products or services of your business. You need to make sure that starting an online store fits into your business strategy and goals. Starting an online store may require you to set new goals, but remember to keep your goals specific, relevant and realistic. It's also important to understand and define how your online customers will be different from your in-person customers, as well as how you plan to encourage your current customers to adapt to your online store. With these differences in mind, you can then develop your e-commerce marketing strategy.
Know your customers' expectations – Next, you need to know what your customers expect from an online store, and more specifically what they expect from your business. If your online store doesn't meet your customers' needs, then they won't be doing business with you online. Be sure to make your online store easy to navigate and make purchases, as well as compatible with multiple devices (mobile, desktop, etc.). Don't forget to make customer feedback and support options easy to access, and your privacy and security policies easy to find.
Setting up a virtual storefront – Should launching an online store make sense for your business, you may either need to create a new website if your business doesn't have one yet, or you will need to integrate your current website with an e-commerce platform. While the online experience should be intuitive and seamless for your customers, you will need to set up what is known as a merchant account to link financial and inventory information between your physical store and your online store.
Keep in mind that there are two major structures for online stores: online marketplaces and e-commerce sites. The first type allows businesses to sell through larger hosted shopping portals – such as Amazon.com or eBay – while the second type is branded and hosted as an individual store website that markets and fulfills its own products. Chris Warden's article for Business Know-How covers the pros and cons of each type to help you decide which one is the better fit for your business.
Choosing Your E-commerce Platform
E-commerce was already a rapidly expanding industry before 2020, and this year it has grown even more substantially than anyone could have predicted. With so many platforms and services on the market, how can you choose the right e-commerce platform for your business?
Keep these features in mind when searching for your e-commerce solution:
Starting Process — Choose a platform that is easy to design and easy to get started using. Some of the best e-commerce platforms will offer a selection of templates to start with that will make your online store look professional and unique. You shouldn't have to jump through hoops to make your online store live!
Navigation and Security — Not only should your store be easy to set up, but you should look for a platform that provides easy navigation on both the consumer and business end, along with one that offers reliable security measures. It's crucial to offer an easy shopping experience for your customers, otherwise they will take their business elsewhere. For security, be sure to choose an e-commerce platform that utilizes encrypted security measures and supports HTTPS/SSL features.
Integration Capability — There's no reason to re-invent the wheel when transitioning to e-commerce. If you want to keep many of your current systems and marketing applications in place, look for an e-commerce platform that offers seamless integration capabilities. Along with this, the platform should offer the ability to integrate web plugins and extensions for full customization.
Payment Methods — There are now many ways for customers to make payments online. Be sure your e-commerce solution can support a variety of payment options – including credit cards, PayPal, Apple Pay, Square, etc. Not every platform is compatible with every payment method, so be sure to also know which payment methods your customers are most likely to need.
Mobile Accessibility — More consumers worldwide are shopping from their smartphones and mobile devices than ever before. For this reason, your e-commerce shop has to be designed for mobile accessibility. Our blog post – "Design Elements for a Successful Ecommerce Website" – points out that according to Google, 61% of users are highly unlikely to return to a website that doesn't work well on mobile, with 40% moving on to visit a competitor's site. Having a responsive design allows your ecommerce website to automatically adapt to any type of device screen or operating system. An e-commerce site that's hard to navigate and order from via smartphone, tablet, etc., is sure to fail.
Search Engine Optimization (SEO) — To make your online shop more visible on Google and other search engine results pages, it needs to be SEO-friendly. Ranking high in organic search results is key to the success of any online store. Look for an e-commerce platform that allows you to use your own domain name (i.e., website address), add your own content and gather customer reviews.
Analytics Reports — As with all elements of business, you can't improve unless you are monitoring and tracking your progress. The best e-commerce platforms will allow you to track such analytics as sales data with reports that can be generated in real-time. Your e-commerce platform should also provide these statistics in easily digestible formats.
Technical Support — E-commerce relies on technology, and all technology is susceptible to encounter technical hiccups at one time or another. Unless you're a software developer yourself, you're going to need a reliable and readily available tech support team to quickly resolve any issues you may encounter, for the benefit of your business and your customers!
Pricing — Finally, pricing is an important element to consider. Some e-commerce platforms charge flat rates, some charge monthly, while others might add on extra costs for subscriptions. It's important to set your budget ahead of time, but also be willing to be flexible for the right platform that will fit your needs and operate properly. Think of your e-commerce platform as a valuable investment into the long-term growth of your business.
The Take-Home Message and Our Blatant Self-Promotion
Of course, you'll have much more homework to do if you're considering expanding your store to the e-commerce realm. For that reason, your next assignment is to learn what our e-commerce hosting solution has to offer!
Virtual Stacks Systems' secure, cloud-based e-commerce solution offers all the features and functionalities that you need to make your online business a success. Whether you are a small business owner or run a larger operation, we have you covered for all of your e-commerce and digital marketing needs! Contact us today to learn more and get started!