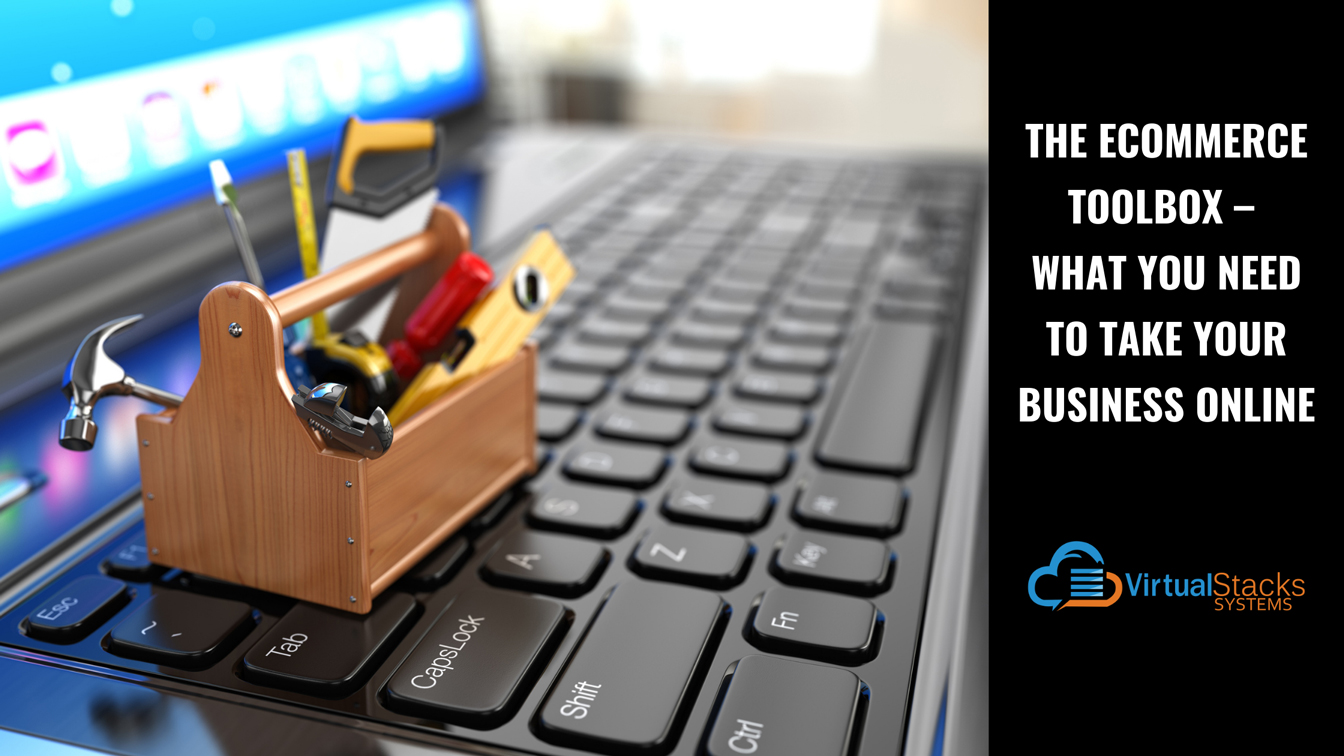 03 May

The Ecommerce Toolbox – What You Need to Take Your Business Online

The world has gone digital, and that includes shopping. From international online shopping platforms like Amazon to small businesses, consumers are increasingly looking for more ways to purchase items from their favorite brands online, especially for businesses with few to no brick-and-mortar locations. Selling your products online is known as ecommerce, and your business may be missing out on great revenue if you don't yet have an ecommerce platform.

If you think that ecommerce is only for the big brands, think again! One result of the impact of COVID-19 on consumer shopping patterns is that many people who were forced by circumstances to shop online instead of in-store found that they preferred the convenience of purchasing on their smartphone, laptop, tablet or desktop computer. Now that the world is reopening, consumers are still choosing clicks over bricks.

Of course, this is great news for small ecommerce businesses, which increasingly have a more even playing field – as well as an opportunity to grow! As for independently owned brick-and-mortar shops, taking the plunge into ecommerce can help position them to thrive over the coming years. If either of these sound like your business, there are certain strategies you need to follow in order to optimize your potential for having a successful ecommerce website. Read on to learn more!
Why Using the Right Tools for the Job is Important
No, we didn't do a sloppy cut-and-paste job that accidently jumped to a home improvement blog post. In this case, "tools" refer to software and digital marketing solutions! But whether it applies to physical or digital tools, using the right one for the task – and making effective use of it – is imperative to achieving success. Here's what your ecommerce toolbox should contain.
A modern, mobile-responsive website – Your website is the home base for your business online, and where all web traffic should ultimately direct. Sure, you can sell through online shopping platforms like Amazon, but your website is where most customers will be finding your brand. Therefore, this is where you'll want to focus on and improve your sales. Your website needs to make use of user experience design, be easy to navigate, effectively present the information customers need to know about your business and your products, and display well on mobile devices. Our blog post – "Design Elements for a Successful Ecommerce Website" – covers this topic in greater detail.
For an ecommerce website you can rely on, you'll want to choose a reputable web hosting company, ideally with an included ecommerce website building option. Our own industry-leading eZnet Stores by Virtual Stacks Systems is one such ecommerce hosting option.
A good shopping cart – Just as in physical stores, not all shopping carts are of equal quality. Some have wobbly wheels or are rusty and past their replacement date. Any shopper pushing such a cart through the store won't have a pleasant experience. The same goes for an ecommerce shopping cart. Choose one that both fits your needs and is easy for your customers to use. A confusing or unnecessarily complicated checkout process on your website can lead to customers changing their mind about purchases, leading to the dreaded abandoned shopping cart phenomenon.
Up-to-date inventory management software – Customers buying products online is not the same as in-store. You might not actually know how much of a product you have left based on sight alone when it comes to online shopping. An inventory management software will help you instantly keep track of what products have already been purchased and which ones you will need to restock. Inventory management systems can also easily merge with your website and ecommerce system for better tracking and reporting.
Customer relationship management tools – Customer relationship management (CRM) tools and software will help keep your business operations, sales reports and customer interactions on track. A secure CRM will be able to store customer data, which can be used to form future decisions about your business and marketing. eZnet CRM, for example, is a secure cloud-based customer relationship management solution that can be customized to the unique needs of your business.
Social media marketing – Your online presence may start with your website, but having a website alone generally isn't enough to attract customers there to make purchases. What you'll need for getting the word out about your business is social media marketing. Not only can you run ads for your business and products on social media platforms like Facebook and Instagram, but you can also grow a community of followers around your brand. 
Our blog posts – "Why Should Your Business Invest in Facebook Ads?" – and "Can Social Media Get Your Message Out Effectively?" – provide in-depth information about social media marketing. To find success with selling your business on social media, however, you will need to know the ins and outs of content marketing, along with how to use social media management tools to track your success.
Split testing – Also known as A/B testing, split testing is a way to compare the effectiveness of two or more different versions of your website – such as landing pages – or marketing materials, such as social media ads. Testing which versions perform better with your audience in terms of reach, click-through rate, conversions, etc., will inform you of what your audience responds best to, which can then help you to continue improving your online ecommerce presence.
Security is a Must for an Ecommerce Solution
Security is a crucial element of ecommerce. When customers shop on your website, they input such personal information such as their name, address and credit card number (or info for other payment methods) during the checkout process. Without proper security measures in place, this customer data is at great risk for theft from cybercriminals.
Besides financial implications, a data breach can greatly harm the reputation of your business. Your customers will stop buying from your site if they've had a bad experience or if they've heard of other customers whose personal data has been compromised due to a lack of security on your ecommerce website. The bottom line is that your ecommerce solution needs to be protected with up-to-date security and encryption methods.
We've Got the Tools, We've Got the Talent – Our Blatant Self-Promotion
Whether your business is exclusively ecommerce, or brick-and-mortar with an ecommerce presence, Virtual Stacks Systems can deliver a comprehensive solution with seamless integrated performance. From website development to our eZnet software line to social media marketing, we provide a turnkey ecommerce store designed to fit your needs. Contact us today to learn more and get started!