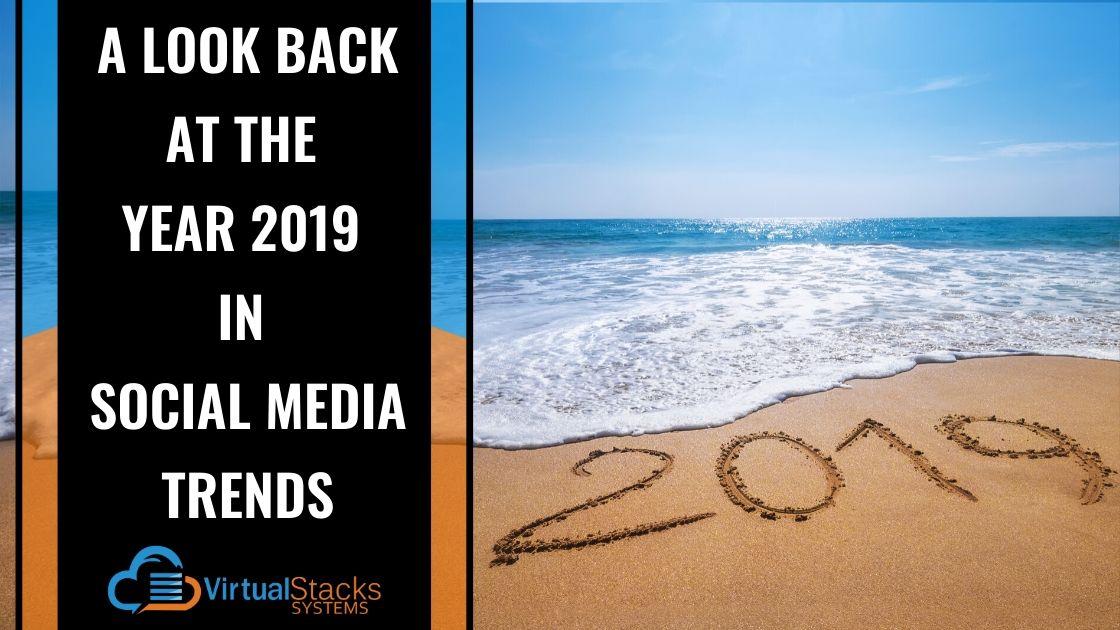 20 Dec

A Look Back at the Year 2019 in Social Media Trends

'Tis the season for end-of-the-year reviews and retrospectives of What It All Meant in the wide world of social media marketing. The year 2019 saw social media platforms overall offer increased opportunities for businesses – especially small-to-medium-size businesses – to connect with their target markets through paid ads and organic reach. Taking a look back can help you see if you've made the necessary adjustments to keep up, or if you missed some significant trends and are now wondering why your competitors are pulling ahead.
Facebook loses young consumers to Instagram
This developing trend accelerated throughout 2019. As noted by Jay Baer – Founder of Convince & Convert – "Facebook is becoming steadily less popular among young people, as 17 million fewer Americans ages 12-34 use the platform at all, compared to 2017."
Compare this to Instagram, which Bayer writes is the only social network where use in 2019 was greater than 2018, and also for the first time, the most popular social network among the same demographic that's rejecting Facebook. One can only wonder if Facebook anticipated this shift back in 2012, when it purchased Instagram for $1 billion.
That being said, a Facebook business page is still a solid foundation for social media marketing for companies with the right target market demographic – which is over age 50. However, the third trend we list – the death of organic reach –seriously impacts your ability to connect with potential customers on this platform, so keep reading!
Instagram covers its bases
Instagram, Instagram Stories and IGTV gave businesses great opportunities for reaching their target market in 2019. Companies marketing to the right demographic with "Instagramable" products or services were well-positioned to increase traffic, leads and conversions through a combination of organic reach and paid ads.
Our January 11, 2019 blog post – "Is Instagram Right for Your Business?" – made the point that despite its popularity, Instagram isn't a good platform for every business. Some products or services don't lend themselves to being photographed or otherwise presented in a visually interesting way. Although an Instagram post supports a good amount of text, it's really a visual platform – and if your subject matter falls flat, your intended audience members won't bother to click to read the message. So if you manufacture widgets and weren't posting on Instagram this year, don't worry! But if your industry is fashion, food or entertainment, you have a lot of catching up to do!
The death of organic reach
Lyfe Marketing reports that organic reach across social media channels is continuing to decline. "As social media platforms like Facebook and Instagram try to make the user experience more effective, they tend to cut down on the number of branded messages in a user's feed … In fact, there's a good chance that even your fans and followers are not able to see the organic content that you create even though they are following you on these channels."
Facebook, specifically, has experienced a decline in organic reach from 26% in 2011 to a mere 0.5% in 2017.
In short, as we observed in our August 2, 2019 blog post – "Why Should Your Business Invest in Facebook Ads?" organic reach is dead. Since Facebook changed its Newsfeed algorithm in early 2018 to give content from brands and publishers lesser priority than content from groups and friends, the effect has been to reduce the organic reach of Facebook business pages to almost zero. Business pages can no longer expect to reach their audiences with new Facebook posts alone.
Yet ironically, Facebook ads can amplify the reach of your content – so that by using ads, you'll actually get more organic reach for your content! As we noted in our June 17, 2019 blog post, "Why Does Your Small Business Need Social Media?" – organic and paid social media work best when implemented together. While we use Facebook as our primary example, the same holds true for all social media platforms.
The rise of ephemeral content
The 24-hour lifespan of content on Snapchat has helped make this global multimedia messaging app a favorite among younger millennials and Generation Z. Following suit are Instagram Stories and Facebook Stories. This year saw Snapchat on the upswing. As reported by Karissa Bell for Mashable, Snapchat's second quarter results for 2019 revealed that the app's daily active users grew to 203 million, up from 190 million the previous year – representing a new high and the biggest gains it has made since 2016. 
Snapchat content can be shared for up to 24 hours before it disappears forever. Businesses targeting its demographic can create organic content or buy 10-second ads that appear between users' story feeds. Users can swipe up on the ad to go to the full content – which would typically be on your website. The basics also apply to Instagram Stories and Facebook Stories, with each platform's variations, of course.
As Lauren Moreno reports for Social Media Strategies Summit, 400 million users actively use Instagram Stories every day. But while Instagram Stories have been widely adopted by brands, only about nine percent of major brands post to Facebook Stories.
"Facebook is encouraging brands to post to Stories in order to consistently engage with their audience, making it very easy – you can automatically post to Facebook Stories from Instagram – and offering Stories a premium placement in the app."
So hold this thought for next week's post on our humble blog, which will forecast social media marketing trends for 2020! Facebook Stories could become an important component of your strategy!
Influencers still going strong
From celebrities to micro-influencers, businesses catering to younger millennials and Generation Z continued to realize the benefits of reaching out to influencers in order to further engage and connect with their audience.
Influencer marketing is the successful combination of celebrity endorsements and content-driven campaigns. The definition of "celebrity" doesn't only apply to the show-biz variety. It can be anyone who is considered influential in a particular endeavor and has a strong social media following. Influencers engage with their followers on social media, building connections based on trust and accessibility – which makes them attractive to the brands and businesses targeting that specific buyer demographic.
For example, Sprint's #LiveUnlimted campaign has used with great success. As reported by George Beall for TNW, Sprint formed Candybar – a team of Generation Z and millennial experts who run Sprint's youth marketing. One major difference from previous marketing tactics has been Sprint's use of influencers instead of actor portrayals, leveraging a unique group of influencers to develop a well-rounded team to drive brand awareness and brand loyalty. For their most recent video, they integrated Lele Pons, Prince Royce, Bradley Martyn, Rachel Cook and Gerard Adams.
TikTok takes over – and it doesn't stop
At this time last year, few people over age 30 had heard of TikTok. Today, the mobile video app that allows users to create and share 15-second videos with music, filters and other features is a global phenomenon. Numbering 500 million active users, TikTok was downloaded by an estimated 188 million users worldwide in Q1 2019 – an increase of 70% from Q1 2018.
Yet as we've warned before, Generation Z is TikTok's core user demographic – so be sure you know this market before venturing into posting marketing content or buying ads. They know their own, and will mercilessly call out and ridicule those who put out tone-deaf content. This is, after all, the platform on which the infamous dis, "OK boomer" first rang out! Like Instagram and Snapchat, TikTok isn't for every business.
For the right brands, however, it offers exciting opportunities to engage audiences through such marketing features as in-feed ads, branded hashtag challenges, brand takeovers and shoppable ads.
What we called right for 2019
We also looked back at our own projections made in our January 4, 2019 blog post – "Social Media Marketing Trends for 2019" – and find they came to pass! Not to claim any soothsaying abilities, we're just observant and know which experts to consult!
Our good calls include the following:
Messaging apps continue to grow
Mobile messaging apps allow you to send text messages, share photos, videos and make voice and video calls while avoiding SMS and call charges. The emergence of messaging apps earned this trend the top position in our blog post, and it grew as strongly as predicted. Facebook's WhatsApp, Facebook Messenger, Viber and Telegram are among the most popular.
 According to Debbi Dougherty, head of B2B Marketing and Communications at Rakuten Viber, "… the amount of time people spend on messaging apps has grown exponentially and is much higher compared to any other platform, including social media."
Savvy business took the advice of Hootsuite's Emily Copp, who recommended such proactive measures as enabling Facebook Messenger for your Facebook Business page; adding plugins to your website that drive customers to messaging apps; and using DMs and/or messaging apps to streamline customer service queries on your social media platforms.
Video marketing
Actually, this topic has been interspersed throughout this post in covering Instagram Stories, Facebook Stories, Snapchat and TikTok. YouTube is still a major platform, but better suited for longer videos and building an audience through regular postings on your channel. Video comprises a full 85% of online content, giving brands in every industry a good reason to incorporate video into their marketing strategy.
Our look ahead quoted Brian Peters of Buffer, who got it right when he said to expect short, in-the-moment videos to be favored over highly produced content. Why? Most people view videos on their smartphone, on-the-go, rather than sitting in front of a desktop computer. Also, consumers prefer in-the-moment videos for their authenticity. This works to your advantage if your budget doesn't permit a professionally produced video.
It was a very good year
We hope you enjoyed this retrospective of the year in social media marketing. Unlike too many other lists taking a look back at 2019, the news has all been positive. Based upon the innovations the industry has experienced, there are good reasons to be upbeat about 2020 – and next week, we'll explore them!
Virtual Stacks Systems is also here to help you explore ways to improve your website traffic, leads and conversions! In addition to social media marketing, we offer PPC advertising, website design and redesign, SEO marketing, review management services, social media marketing, video production and much more! 
Contact us today to get started in making 2020 an epic year for your business!