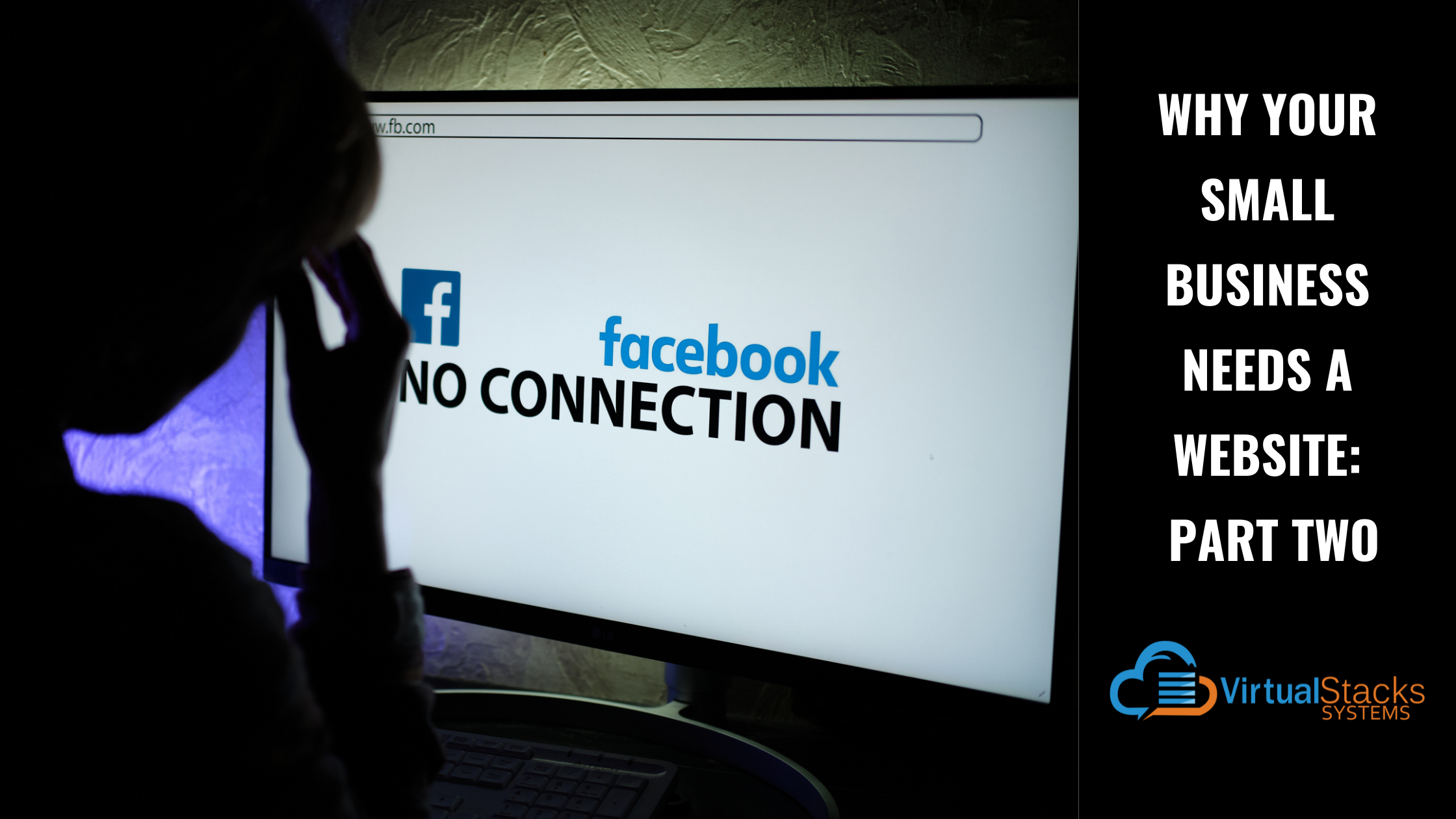 11 Oct

Why Your Small Business Needs a Website: Part Two

October 4, 2021, will go down in history as The Great Facebook Outage. On that date, the entire Facebook empire consisting of the flagship social media platform, Instagram, WhatsApp, Messenger and Oculus crashed and remained offline for the better part of the day. As inconvenient as this occurrence was to individual users, it had a significant economic impact on the thousands – perhaps millions – of single-owner small business proprietors who conduct all of their sales, marketing and client bookings through Facebook or Instagram. For many, it was a rude wake-up call that depending upon social media platforms to conduct e-commerce and/or scheduling functions leaves their livelihood particularly vulnerable to unpredictable events.

As reported in BuzzFeed News by Ade Onibada and Ikran Dahir, "The impact of the outage on businesses who use Facebook products has yet to be quantified, but early estimates of the cost to the social media giant put the losses at $100 million."

Our blog post – "Why Your Small Business Needs a Website" – covers the necessity of a website from the perspectives of customers being able to find your business during an online search for what you're selling (traditional word-of-mouth is no longer enough), and conducting e-commerce. But, as you should learn here, you can't depend on social media platforms to do the heavy lifting that a website – either e-commerce or lead generation – is designed to perform.
A Cautionary Tale
In a departure from our usual format, this week's blog post will look at the BuzzFeed News article – "Small Business Owners Who Depend On Social Media Are Exploring Other Options After The Facebook Outage" – and highlight the business owners who now question how much they should rely on Facebook products.
The temptation is easy to understand. Instagram Shopping and Facebook Shops offer a free, convenient way for businesses to sell directly from the platform. Because their reach is so widespread, many business owners who chose this option believed they didn't need a website.
As the article notes, "From sponsored posts to Instagram's storefront, various tools built into Facebook, Instagram, and WhatsApp have become embedded in business plans and budgets for even the smallest enterprises."
However, what seemed an economical, seamless avenue that opened e-commerce to every entrepreneur on a shoestring budget instead sent most of those who were interviewed for the article into a panic. With no word from Facebook on how long the outage would last, all they could do was wait and worry. Their anxiety was perhaps heightened by the timing of the global blackout, which was just after a former Facebook employee-turned-whistleblower testified before a United States Senate committee with scathing allegations about the company's practices. The suspicion that the outage was a distributed denial-of-service (DDoS) attack raised the ominous possibility that Facebook and its related products would be offline for a prolonged time – and that the individual or entity responsible would strike again.
According to Facebook, the outage was triggered by the system that manages its global backbone network capacity, which connects all of Facebook's computing facilities. During maintenance of the network, a command was issued to assess how much capacity was available. But the command failed, disconnecting the network and blocking Facebook's data centers from communicating – as well as disconnecting businesses relying solely on the Facebook family of e-commerce solutions from their customers.
The Small Business Owners Behind the Headline
Instagram gave jewelry designer Alex Rankin a business base for her contemporary-style handmade rings incorporating semi-precious gemstones. Located in Derry, Northern Ireland, Rankin started business just two months ago, selling about 25 rings on a good day. On October 4, however, sales were zero and she had no way of communicating with existing and potential customers, as those who want to make a purchase direct message Rankin on her Instagram business account, Crafted by Alex.
The lesson learned: Rankin told BuzzFeed News that she plans to soon have her own e-commerce website to take and fulfill orders. "I cannot control Instagram," she said.
Lost Appointments and Lost Income
Daisey Miller, the owner of a holistic wellness center based in Sacramento, CA, also saw her business quickly bottom out on October 4. She had depended upon her Instagram business account to build her client base over the past three years. Miller estimates that 95% to 99% of her clients reach out to her for the first time through Instagram, and told BuzzFeed News the outage potentially cost her hundreds of dollars in appointments and new clients.
As the article notes, "It was also a sobering reminder that her business lacked independence from social media and the content creation mill that had grown her following."
Like Rankin, Miller now plans to get a website as the basis of her business's online presence – as well as start a newsletter.
Said Miller, "I realized how reliant we are as small business owners on connecting with our clients through Instagram."
Loss of Engagement with Current and Potential Customers
Also affected by the outage was Ayeeyo's Blends – a brand of traditional Somali tea spices based in the United Kingdom. Owner Hamda Issa-Salwe told BuzzFeed News that she posted the content she had intended for the brand's Instagram page to its Twitter page, but could not reach the same audience.
"Our following is a 1-to-7 ratio from Twitter to Instagram," Issa-Salwe said. "It's seven times bigger on Instagram."
Unlike Rankin and Miller's businesses, Ayeeyo's Blends does have an e-commerce website. The three-page site consists of a home page on which the product can be ordered, an FAQ page and a page explaining the brand's returns and refunds policy – as well as its email address. The website's graphics convey the brand identity and the site includes all of the necessary information and functionality to conduct online sales.
While having an existing website left Ayeeyo's Blends better positioned to weather the outage than the businesses that did not, Issa-Salwe said she now sees the need to diversify her company's outreach, and is reviewing its email list with an eye toward launching a newsletter.
Smart Thinking and Fast Action to Keep the "Doors" Open During Disaster
Trend-setting beauty and body brand Alleyoop didn't miss a beat during the outage. The company launched on Instagram, but has since established a lively, engaging e-commerce website, and its products are also sold in retail stores. While Alleyoop isn't exactly a small business, the brand's target audience is most frequently found on social media. Alleyoop COO and cofounder David Manshoory told BuzzFeed News that when the outage hit, his first thought was, "I'm like, thank goodness we're diversified."
His reaction? Manshoory sent an "Instagram might be down, but our site isn't" promo code message via SMS and email to customers. His fast action in acknowledging the outage and using it as an opportunity to reach out to customers not only reassured them that they could still buy products, but rewarded them for doing so. Although Manshoory reported that sales were down by 10% during the outage, Alleyoop's customers will be sure to keep the brand top-of-mind and have additional incentive to remain loyal.
Said Manshoory, "It proves a point that you can't control everything, and it's good to have the business grow on multiple legs instead of one."
So Yes, Your Small Business Really Needs a Website – Plus Our Blatant Self-Promotion
The Great Facebook Outage of 2021 should have removed all doubt that even if you're the founder, CEO, COO and sole employee of your business, it still needs a website instead of relying solely on social media platforms to build a customer base and take and fulfill orders. If we've learned anything over the past two years, it's that uncertainty is the only thing that's certain, and those who are unprepared will not fare well.
Having your own website puts you in control of your business, and gives members of your target audience a reliable "place" to visit. Even a small e-commerce website with just the basics also can be optimized for SEO so that it ranks high in the search engine results pages (SERPs) to drive more traffic. Our blog post – "The E-commerce Toolbox – What You Need to Take Your Business Online" – covers this topic in greater detail.
If you're ready to graduate to an e-commerce website, Virtual Stacks Systems can deliver a comprehensive solution with seamless integrated performance. From website development to our eZnet Stores e-commerce solution to social media marketing, we provide a turnkey e-commerce store designed to fit your needs. Contact us today to learn more and get started!