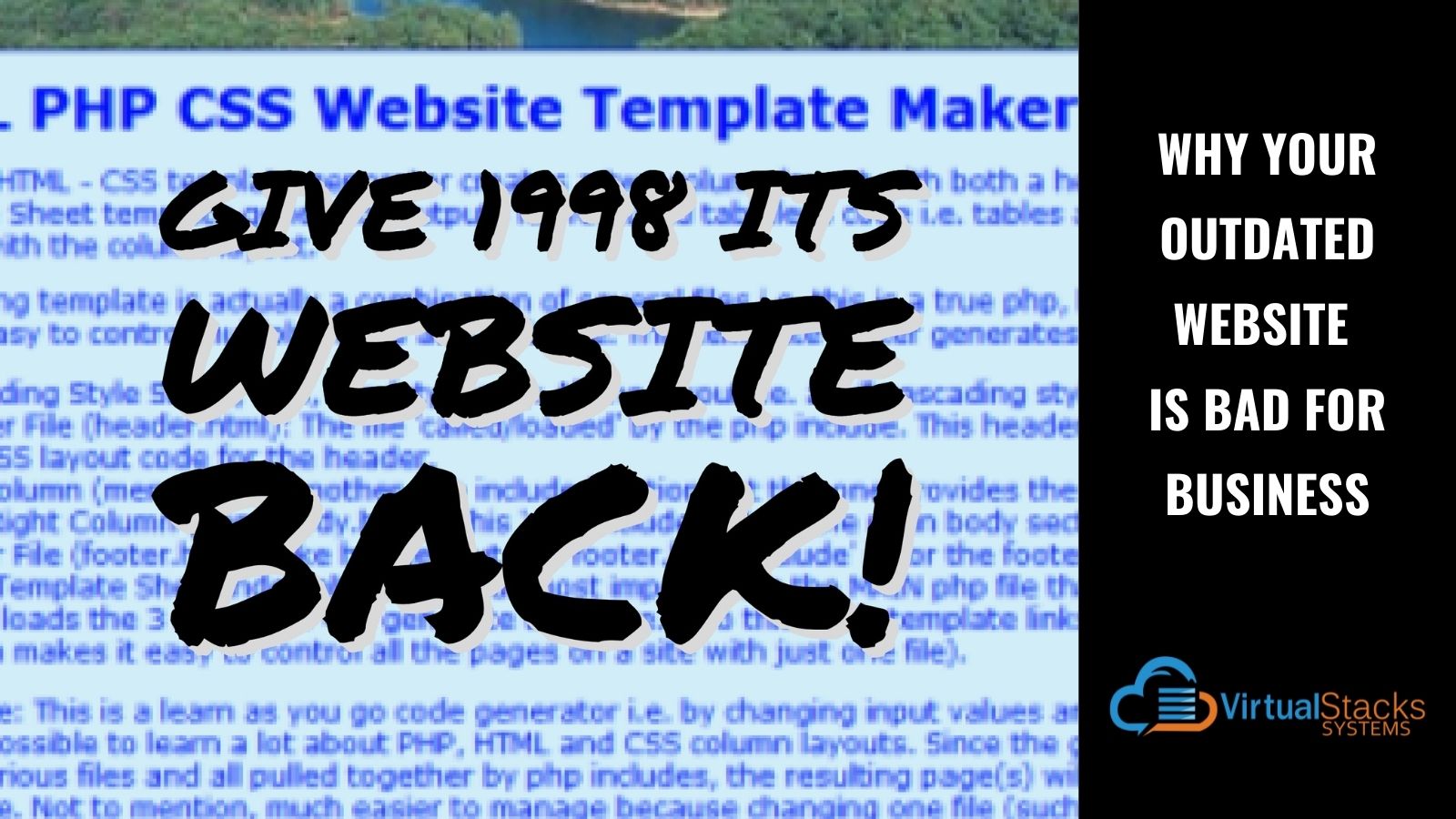 08 Jan

Why Your Outdated Website is Bad for Business

We have danced around this week's topic many times, but today, we're going to be direct. The awful truth is that appearances matter, and your old website is hurting your business. We aren't going to address the numerous other liabilities of an antiquated website – such as slow speed, lack of search engine optimization (SEO) ability, lack of responsive web design, etc. No, we mean a website obviously designed in the 1990s or early 2000s. You may not believe it, but most visitors who land on such a site will immediately click the "back" button without looking around to experience any additional poor-functioning features or performance issues – or to learn about what you're selling. Their next action will be to visit the website of one of your competitors.

Not everyone is the intended audience for this humble blog post, but if you are, consider this tough love. We support small businesses. We know the hard work you put in every day, and appreciate all you do for your community's economy. Small businesses have it hard enough these days – you shouldn't be making your situation even more difficult by sabotaging yourself with a Jurassic-era website.

If you're thinking maybe it's just our Virtual Stacks Systems team that holds this point of view for our own obvious reasons, we're not alone among digital marketing professionals. Rowland Yeargan – digital marketing specialist at TheeDigital – makes this blunt observation about what happens when visitors click on a painfully outdated website.

"If your site looks old or ugly, your potential customers will not want to engage with you no matter how great your deals are or how compelling your content is. Your site must be an extension of your professionality and keeping everything modern and fresh are aspects of that."
How Outdated Does an Outdated Website Have to Be?
Even as a busy business owner, you're online enough to tell the difference between old and up-to-date websites. Common characteristics of the former include the following:
Textured and/or colored page background.

Left column of HTML links.

Clip art or clip art-style graphics.

Dated fonts, such as Times New Roman and the much-maligned

Papyrus

; hard-to-read fonts; inconsistent font types on the same page.

Cluttered layout.

Flash animation.

Adobe stopped supporting Flash

in late 2020 because of security issues, and recommended all users uninstall Flash Player. Plus, it doesn't work on mobile devices, which is how most people now search online.

List of keywords in page footer, or right-hand column.

Visitor counter.
Any website with an overall cheesy look, feel and function is outdated. You already know better, but it is our mission to convince you why it matters.
I Don't Need a Fancy Website Because I Get Most of My Business From Facebook
This is a common reason that small business owners give for neglecting their website. Facebook for Business – now officially known as Meta for Business – makes it easy to grow your business on the platform. But depending upon Meta for Business primarily – or exclusively – can be risky, as evidenced by the global Facebook outage that occurred on October 4, 2021.
On that date, the entire Facebook empire consisting of the flagship social media platform, Instagram, WhatsApp, Messenger and Oculus crashed and remained offline for most of the day. As inconvenient as this was to individual users, it had a significant economic impact on the thousands – perhaps millions – of single-owner small business proprietors who conduct all of their sales, marketing and client bookings through Facebook or Instagram. For many, it was a rude wake-up call that relying upon social media platforms to conduct e-commerce and/or scheduling functions leaves their livelihood particularly vulnerable to unpredictable events.
Our blog post – "Why Your Small Business Still Needs a Website: Part Two" – examined the economic impact the outage had on several small business owners in terms of lost revenue. Based on a BuzzFeed article in which the owners were interviewed, the two proprietors who did not have a website said they planned to get one.
"I plan to have my own website soon so people can order off that," said jewelry designer Alex Rankin – who was unable to even communicate with customers during the outage. "I cannot control Instagram."
Which Comes First – The Website or the Social Media Account?
The conventional wisdom in the digital marketing world is that a business's social media accounts drive traffic to the website, where potential customers learn more about your enterprise and its offerings and become actual customers. For small businesses, the process may be a little more complicated – as when, as we've just discussed – your Facebook or Instagram page is your primary touchpoint with potential customers in generating and conducting business. Here are two main reasons you still need an up-to-date website.
People start their search for goods, products and services on Google

(or

any search engine

). As much as you may love Facebook or Instagram, search engines pull up results for websites rather than social media accounts, unless the search is specifically for the name of your business. People searching for business categories in general, or business categories in a specific area, will most likely get results for your competitors. You can't rank high in search engine results pages (SERPs) without SEO. If your outdated website has no SEO to speak of, it won't show up in search results. It may wind up on page 10, but most people don't go beyond page one. Long story short, your Facebook or Instagram account alone won't boost awareness or drive business.
And that's a shame. We know of one outdated website in particular that could be a textbook example of most of the transgressions identified here. Its Facebook Business page, however, is kept up-to-date with great photos of the business – a specialty plant nursery. The posts are engaging and help establish a positive brand image. While the nursery seems to be doing well, the owners will never know how much more business they could generate if they would put as much love and attention into the website!
Bloggers don't want to link to an outdated website.

We speak from experience. Blogs on business websites (such as this very one) want to link to credible sources in their posts. This raises the

quality of content

for the blog post, and drives traffic to the reference source when a reader clicks on the reference link. Outdated websites not only tend to also have low-quality content, but we'll just be honest here – nobody wants to link to a website that looks like it was unearthed in a 1998 time capsule. An outdated website can cost you opportunities for increased exposure and, in turn, business.
The Take-Home Message and Our Blatant Self-Promotion
Lest you think we were too harsh, we aren't trying to put any small business on blast. But in our industry, we know the negative impact that a bad, outdated, cheesy-looking website has. So our blatant self-promotion this week has an altruistic side. If you recognize your website in this blog post, we, of course, encourage you to contact our experienced Virtual Stacks Systems team. If you don't hire us, though, please hire another qualified agency or individual who specializes in web design and SEO. We are that serious about seeing that small business owners who put their heart, sweat and dedication into their enterprise succeed! If you do hire us, we will make it our business to help your business thrive!