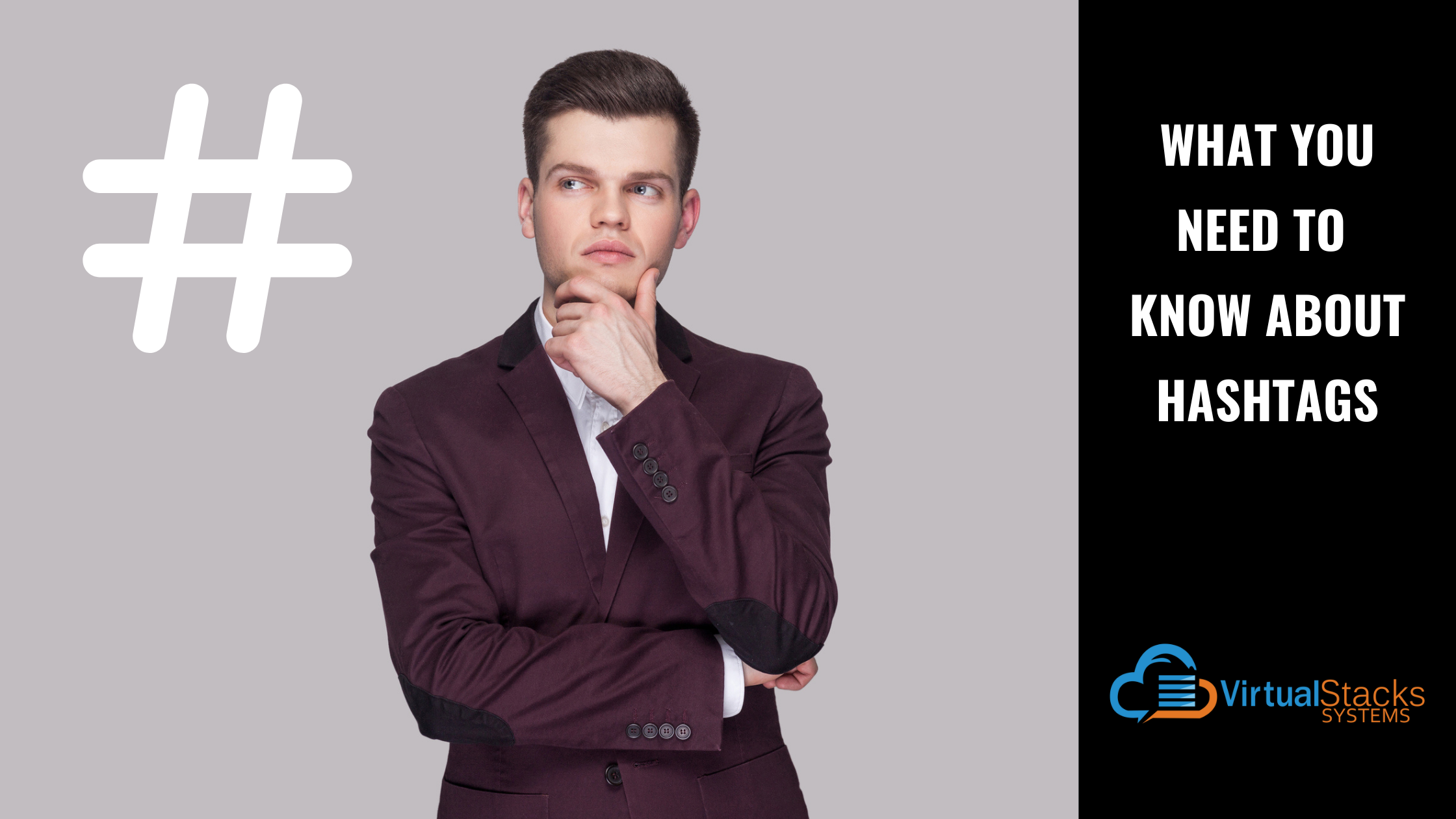 23 Sep

What You Need to Know About Hashtags

When it comes to your business, you're the most confident person on Earth! You know the ins-and-outs, ups-and-downs and all-arounds about your industry, but getting the word out and engaging with potential customers on social media could leave you breathing into a paper bag. Now, add to that the intricacies of adding hashtags to your social posts, and it can be almost as intimidating as learning a new language – which, in a way, it is!

Each social media platform has its own arcane hashtag rules in addition to the overall set of hashtag best practices that must be followed in order to increase engagement with your social media posts. So to make sure you're communicating correctly – in the hashtag equivalent of asking directions to the train station instead of asking if a hedgehog is on your head – we offer this humble primer.

Perhaps you're still grappling with what exactly a hashtag is, and what purpose it serves. Basically, it serves as an indication for both users and algorithms that a piece of content – such as a social media post – relates to a specific topic or belongs to a particular category. It helps make content easier to discover in on-platform searches and effectively reach more people.
Why Hashtags Aren't as Easy as They Seem
What's the big deal about hashtags? Can't you just put a "pound" symbol in front of a relevant word like #shoes if you sell footwear and call it a day? No – because "shoes" is too general a word. People entering #shoes into the search field of a social medium platform – such as Instagram or Twitter – aren't likely to come up with your specific post among the bazillion results.
So, while many people are searching terms that have a popular hashtag, the disadvantage is that there's too much competition. You're more likely to get noticed within a narrower niche by using smaller, less competitive hashtags. Once you rise to popularity in a smaller hashtag, you're more likely to climb up the feed in the larger hashtags.
Our blog post – "The Secrets to Making Hashtags More Effective" – provides the best example we've found that explains how the more of a niche category your hashtag addresses, the higher the engagement you're likely to get. According to content marketing strategist Benjamin Chacon in his article for Later, hashtags that are specific will achieve better results than broad terms, which are not likely to be searched.
"For example, let's say you're posting a photo of a French Bulldog. Instead of just tagging #dogstagram (over 15 million posts), you could also tag #frenchie (over 5 million posts) and #squishyfacecrew (over 1.3 million posts) to reach a more targeted audience of people who really love French Bulldogs. This is the best way to get a lot of targeted engagement on your posts!"
Herein lies the balancing act. While it's useful to drill down as much as possible, using an obscure hashtag greatly decreases the chances that it will be used by other social media users.
To get a good list of relevant hashtags, search those that your competitors are using. Instagram makes this easy. Just start typing hashtags into the Search bar. The results will drop down – including the number of posts each has been used for. Paid subscription research tools are also available, such as RiteTag and Hashtagify – the latter of which allows free basic searches to show a hashtag's overall and recent popularity.
Hashtag Basics to Start With
Before we delve deeper into the subtleties of hashtags, you need to know the fundamentals. Writing for Hootsuite, digital content specialist Karin Olafson lists the following:
They always start with # but they won't work if you use spaces, punctuation or symbols.

Make sure your accounts are public. Otherwise, the hashtagged content you write won't be seen by any non-followers.

Don't string too many words together. The best hashtags tend to be relatively short and easy to remember.

Limit the number of hashtags you use. More isn't always better. It actually looks spammy.
One more caution against long hashtags: If you post on Twitter, your hashtag will be part of the platform's limit of 280 characters per post, leaving you less valuable real estate for your message.
As for Olafson's last point, each platform has its optimum number of hashtags. Jimit Bagadiya –co-founder and CEO of SocialPilot – provides the following recommendations:
Twitter: Because of character count restrictions, avoid using more than two hashtags per tweet for best engagement.

Instagram: It allows up to 30; however, keep it to no more than nine per post for better engagement.

LinkedIn: There is no constraint on the usage of hashtags. But it has been recommended to limit it to a maximum of five. Otherwise, LinkedIn's algorithm could mark your posts as spam.

Pinterest: Use two hashtags on Pinterest to help pinners to find relevant content.

TikTok: Use four-to-five hashtags on TikTok to boost your reach on the platform.
As for Facebook, Mantas Ciuksys – director of content marketing for Socialbakers – recommends two to three hashtags per post. If you consider Facebook your primary social media platform, the entire article by Ciuksys is well worth reading for its detailed advice for using hashtags to increase your organic reach.
Don't Use Hashtags That Claim to Increase Followers
As we always say, social media isn't a numbers game. The quality of your followers matters more than quantity. Having 20 people who share your social media post with their followers and/or visit your website – or your place of business – is better than 20,000 fake followers or bots. Instagram in particular is well-known to have certain hashtags that are used to indicate that if you "like" a certain post or follow a certain account, the poster or account will reciprocate. Resist the temptation. Such hashtags are not only low-quality and of no value to your account, but often include NSFW content. Assuming your business is family-friendly, you don't want your establishment associated with questionable or explicit content.
Also, never buy followers. Again, you'll only get a vanity metric that may look impressive, but none of these people will ever become your customers. Social media is all about building relationships with those who are in the position to do business with you. Spending your time and effort in doing so is much more likely to pay off!
Know Your Hashtags – Avoid Instagram's Banned List!
As covered in our previous Instagram-specific blog post, the platform has a list of banned hashtags that will immediately get your post flagged and disabled. But don't assume you can figure them out without referencing the list, as some – like #happythanksgiving – appear to be completely inoffensive. Fortunately, #turkey isn't on the list!
The Awful Truth About Branded Hashtags
Not all advice is worth following. We've read many blog posts and articles by social media marketing agencies that really should know better recommending that business owners come up with a branded hashtag for their enterprise – or for a special campaign. While this may work for a large corporation or major brand that already has widespread name recognition, it's a waste of time and effort for small-to-medium-size businesses.
If you haven't read it before, satirical fake news site The Onion published a classic account of the creation of a completely ignored hashtag: "2-Hour Meeting Spent Thinking Up Hashtag Absolutely Nobody On Planet Earth Will Ever Use." It speaks more truth than many articles by the experts, and should be required reading for everyone. As an amusing aside, a search for the fated-for-obscurity hashtag – #BigDataBigDreams – on Instagram pulls up seven results, none of which relate to The Onion article. So even though The Onion technically was wrong – seven people on planet Earth did use it – the results were definitely underwhelming.
Other Hashtag Cautions
A hashtag is a tool to increase engagement with your business's social media posts and ultimately with your business. Keeping this in mind, be careful to avoid these common mistakes:
Jumping on the bandwagon – Almost every blog post about hashtags recommends using trending hashtags. This can be done well when your business – its industry, core values, circumstances, target audience, etc. – is relevant to the trend. But adding a trending hashtag that isn't will not attract attention to your social media post. Unless you can find an angle that makes sense, let the trend go on without you.
Tone-deafness – Using popular hashtags dealing with current events or conditions can be a complex matter, and will backfire if readers consider your post insensitive, offensive or otherwise inappropriate. Before posting, read other posts for their tone, and be sure the hashtag represents the sentiment you assume it does. And never exploit a tragedy, emergency situation or catastrophic event to promote your business. Unfortunately, there are now too many occasions for exercising poor judgement to cause a backlash against your business and damage your reputation. If in doubt, sit it out!
The Take-Home Message and Our Blatant Self-Promotion
As is the case of many small, seemingly simple things, the hashtag is more complex than meets the eye. While it is possible to take the DIY approach, the time and resources for a small-to-medium-size business to invest in learning the hashtag's myriad nuances may be too much. Of course, that's where Virtual Stacks Systems comes in! We provide comprehensive social media marketing services, as well as PPC advertising, website design and redesign, SEO marketing, review management services and much more! Contact us to get started.