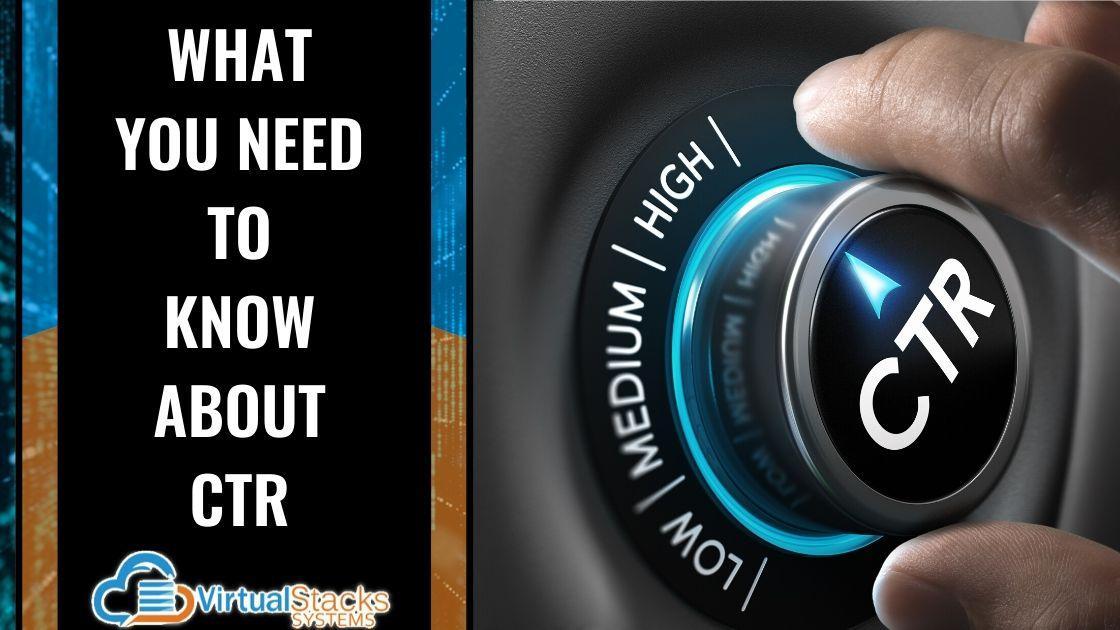 13 Dec

What You Need to Know about CTR

We like to consider our humble blog a resource for busy business people to learn what they need to know about digital marketing – broken down into easy-to-grasp concepts for practical use. Sometimes, we provide DIY details, but on other occasions, the complexity and depth of the actions to take necessitate more of an introductory-level overview. Such is the case with this week's topic: click-through rate (CTR). Yes, you need to be familiar with it, but may not have the staff or resources to attempt most of the following actions yourself. Just to get the blatant self-promotion out of the way immediately, that's what our team is here for!

While we don't intend to sound intimidating, CTR is easy to describe, yet challenging to increase on your own.
What is click-through rate?
Click-through rate is the ratio of users who click on a specific link to the total number of users who view a web page, email or advertisement. It can refer to organic CTR – that is, clicks on your website's search results on Google (and other search engines, which actually exist), and CTR for Google Ads. As you can imagine, increasing CTRs for both is important, and approached somewhat differently.
According to Anil Agarwal, owner of Bloggers Passion.com, "Organic CTR simply means how many people saw your search result and how many clicked through to the page. The more organic clicks you get for your search result, the higher your search rankings will be."
As for Google Ads CTR, digital marketing writer Allison Hott makes this observation for Optimonster in no uncertain terms.
"If you want to see better results from your Google Ads, you need to improve your CTR … But First, it helps to know what a good click-through rate is. After all, if you don't know what a good CTR is, you can't accurately evaluate the performance of your ads." 
For Google Ads, there are two networks for placing ads: the Search Network and the Display Network. Click on the links to get the details for each from Google itself. According to Hott, to determine what CTR you should be aiming for, look at industry standards. Citing results from AdStage as of Q2 2019, the average CTR is 2.88% on the Search Network and 0.64% on the Display Network. This is the average across all industries. 
What is a good organic click-through rate?
Agarwal points to Advanced Web Ranking, which reports that a good organic CTR is above 31% for desktop positions, and above 22% for mobile positions. Agarwal's article on the topic provides helpful data charts and tables to provide baselines for comparisons.
To find your website's CTR, access your Google Search Console. This is actually an easy-to-accomplish DIY step once you're on the Search Console (which is simple to set up if you haven't already done so). Clicking on Performance will display all of your website's search metrics, revealing such information as total clicks, total impressions, average CTR and average position. You can set the date range from last seven to 28 days, as well as the last three, six or 12 months – or choose a custom date range. The Google Search Console also will allow you to see your website's highest to lowest performing pages.
Can CTR help with SEO?
It stands to reason that a high click-through rate will help boost your website's SEO, as it will drive increased traffic. Weighing in on the value of organic CTRs to SEO is Larry Kim, founder of WordStream and CEO of MobileMonkey, a chatbot building platform.
"In fact, we've found evidence that if you want to move up a spot in the rankings, improving your organic CTR by 3% will do it. But even if you don't believe that organic CTR can affect your SEO rankings [and there are some naysayers], it's a really good idea to work on increasing your click-through rate. A high organic CTR in Google or any search engine means you get more traffic from the same ranking (isn't that the point of ranking in the first place?). What's more, higher CTR pages tend to have higher conversion rates, too. Increasing your CTR by 2x will increase your conversion rate by 50%. In this way, organic CTR is … a foundational must-have for more successful SEO overall."
Agarwal's conclusion is the same, writing, "… your overall organic clicks ultimately increases your overall Google search rankings. So both your search rankings and CTR is directly connected."
To boost your website's organic CTR, Agarwal recommends increasing its engagement metrics – which includes improving dwell time (the overall amount of time visitors spend there) and reducing bounce rate (the percentage of single-page visits).
Here, we return to the basics of improving SEO – providing high-quality content that engages visitors (including videos) and gives them with the relevant information they're looking for.
To reduce bounce rates, include links in each of your website's blog posts to at least one previous post, and make sure your website is up-to-speed, as visitors won't stay on a slow-loading site.
Investing in social media ads will also help in improving your CTR. Working from the observation that people who are familiar with your brand are two times more likely to click through and convert, Agarwal notes that spending "a reasonable amount" on social media ads (around $30 to $50 a day) can achieve "massive online exposure."
 As we always emphasize, organic alone can't do all the heavy lifting. As Agarwal explains, "Paid search converts more and gets you faster results even if you've a new website. All you need is money and the proper usage of ads on search engines like Google to get better results.
"Organic search is where you get the lion's share of clicks and widely preferred by all kinds of bloggers and marketers because it's mostly free. But you're competing with lots of websites to get into the first page results for a keyword or topic. Usually it takes time to get results with organic search."
The take-home message
We also always say that knowledge is power. Should you have the time and inclination, we recommend that you follow the links to our sources' blog posts for a deeper education in improving your website's click-through rate. If your team has the bandwidth to follow their instructions, great! If not, our team does!
Virtual Stacks Systems provides comprehensive SEO marketing, as well as social media marketing services,  PPC advertising, website design and redesign, review management services and much more! Contact us to get started!