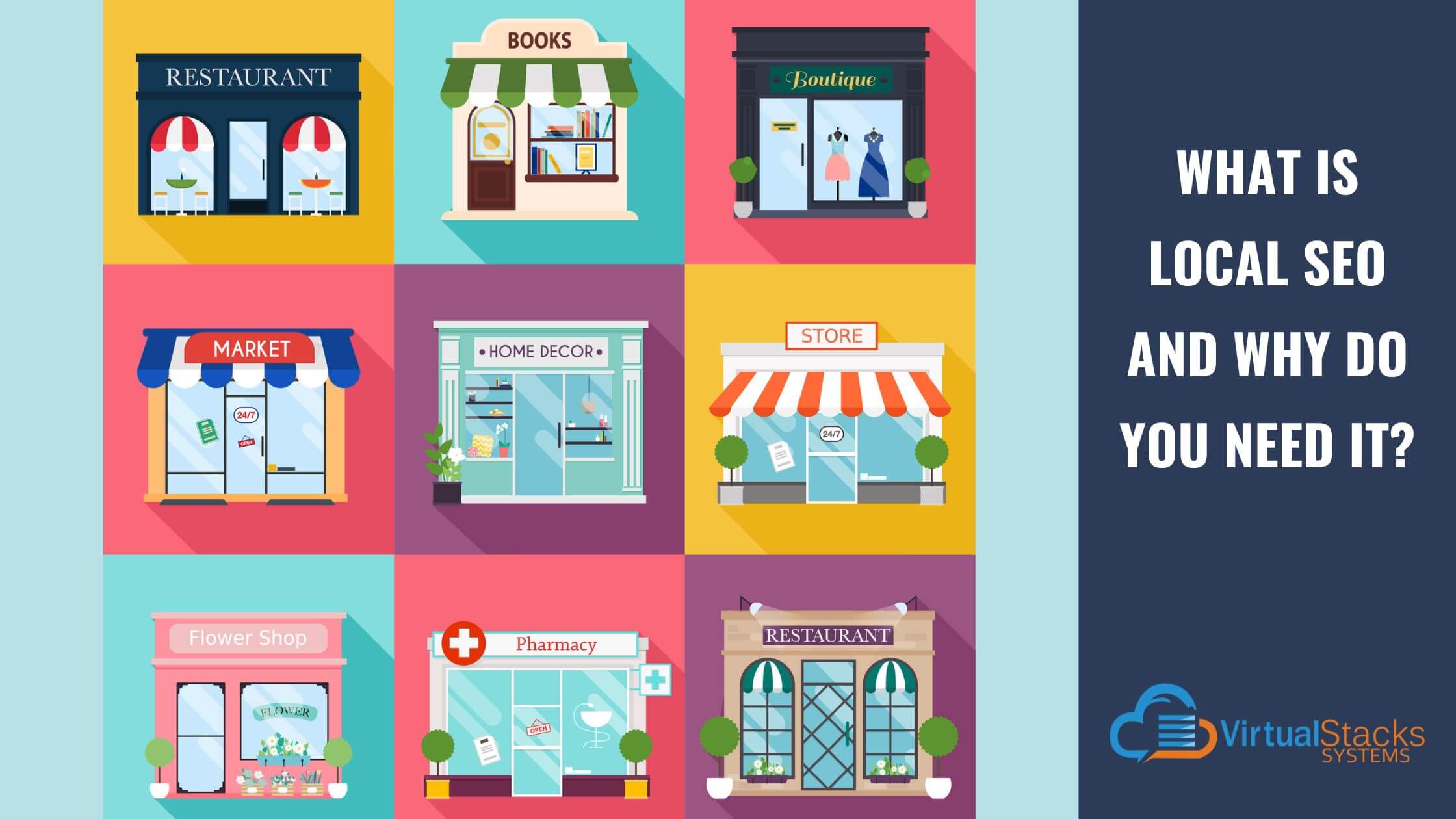 10 May

What is Local SEO and Why Do You Need It?

Small business owners are always challenged in attracting more customers to their brick-and-mortar location. Despite the increase in online shopping and shopping by app during the peak of the COVID-19 pandemic, people are now enthusiastically returning to getting out-and-about in the real world. Making sure your local SEO plan is solid can direct more of them through your door!

So what is local SEO, you may ask? Isn't it the same as the SEO you're always being told your business's website needs? Yes and no. As the name implies, local SEO is geared toward the potential customers in your town or neighborhood – the people who are likely to actually drive to your location and buy something. And while making sure that your website is fully optimized for search – especially mobile-friendly design, as you'll learn – is important, optimizing for local search is an art of its own.
The Purpose of Local SEO
As of 2019, almost half of all Google queries were local searches. That percentage is doubtlessly greater today. According to Dan Hoppen of Hurdatt Marketing, "Local search engine optimization is a part of search engine optimization (or SEO) that focuses on improving a local business' visibility in local search engine results. The results that appear in local search results typically answer a 'near me' intended question, meaning that a searcher is searching for something 'in [CITY]' – or the search engine has understood that there were geographic constraints to the search. By using local search optimization strategies, businesses can improve their visibility in these local search results for terms related to their business and their products or services."
Simply put, local search is specific to a certain location – unlike a general Google search. As Jacqueline Zote writes in her article for Sprout Social, "Local SEO refers to the process of trying to optimize your online visibility to show up in those local search results."
If you own a hair salon and someone two miles away is searching Google for a hair salon, yours has a much better chance of ranking high in the search results if your local business listings are optimized. According to Social Media Today, 72% of consumers who search Google for a local business visit an establishment within five miles. Being found in local search results – or through Google Maps – puts your business in front of people at the exact time they're looking for a business like yours – thereby greatly increasing your chance of getting new customers!
How to Improve Your Business's Local SEO
As you may have guessed by now, Google is the key. If you haven't already, set up your free Google Business Profile (GBP). Until recently, this was known as Google My Business – which may be the name you're familiar with. The main difference is how owners of single-location businesses manage their accounts – which is now done through Search and Maps, instead of the Google My Business Console. This is one of the top factors that Google uses when ranking businesses in local search and Google Local Pack (sometimes known as the "snack pack") results.
Our blog post – "How to Rank in Google Local Pack" – explains it as follows. "Google Local Pack is a group of three local business listings that appear at the top of search engine results pages (SERPs) when a user makes a query with local intent – that is, for products, services, restaurants, etc., within their area. These three businesses are the ones that Google deems sufficiently relevant, prominent and close in proximity to the user. The results include the three Google Business Profile listings and a map of the three results. It's also known as the Local 3-Pack and the Google 3-pack."
To stand out in Google's ranking, having your Google Business Profile filled out and up-to-date is essential! Be sure you take the following steps:
Ensure that your page is complete and that it is associated with an owner-verified profile.

Have accurate business information: your name, address, phone number, etc.

Add photos of your business, products and services you offer.

Enter an informative company description with the main keywords for your business, and links to pages on your website. For example, a restaurant would want to let its audience know the type of food offered, as well as amenities, such as a bar or patio.

Request your customers/clients give you a review and copy it on your website for maximum mileage.
Once your profile is up-to-date and optimized, here's how Google determines which GBP results to return for a user's query:
Proximity of your business to the user.

Prominence – the popularity of your business.

Relevance – how closely your business matches the search query.
On the last point – relevance – this is where paying attention to your website's overall SEO can boost your local SEO. According to Hoppen, "Including local keywords in your website copy can have a big impact. Specifically, having business identifiers like 'dentist in [CITY, ST]' built into your website content can help search engines better understand not just what you do, but also what local areas you serve. This means you're more likely to show up if someone in your area searches for 'dentist near me.'"
Depending upon the nature of your business, you also may benefit by including specific neighborhoods or areas you serve in your web copy. This can be done without looking like the dreaded, dated "keyword stuffing" tactic that annoys website visitors and Google alike. For one of our clients – a dental practice in a major city – we wrote a page featuring neighborhood highlights.
Specifically naming and describing each of your business's products or services in your web copy will also help search engines recognize your website as relevant to a potential customer's search. Returning to the hair salon example, you'll be more likely to be ranked for "hair coloring services near me" or "hair extensions near me" if those services are included on your website.
In addition to optimizing your keywords, make sure your website is optimized for mobile. Most people search on their smartphone – especially when they're in the car – although we are going to take a moment to remind people not to search or text while driving! We'll generously assume that people will be safe and search while parked, or have a passenger perform this task. Mobile-friendly websites rank higher in search results, and have a much lower bounce rate when people visit. There's no point in driving traffic to a website designed to display on a desktop computer and having it display in unnavigable miniature on a smartphone screen!
Voice Search and Local Search – The Future is Here!
Given our caution about searching while driving, voice search offers a much safer option for those who have a sudden need for life-sustaining coffee while running their errands and need to find the nearest source. Many newer vehicles are equipped with Bluetooth, allowing drivers to make phone calls and online searches by voice command.
To take full advantage of this brave new world of search, Leigh Landeche – founder of ServiceHawk – offers these recommendations:
Optimize for mobile – As previously mentioned, this is critical for local search. "An essential part of optimizing your website for mobile and voice search is making sure your location settings are updated. That way you'll show up in location queries, a common type of voice search queries."
Make Your Content More Conversational and Use Accurate Keywords – Keep in mind that people asking for information about a business will talk to the voice assistant like they talk to a person. Your website should already contain long-tail keywords that are phrases rather than a string of keywords. Long-tail keywords bring up more specific search results than single keywords – which is to your advantage when you want to attract traffic from those who are within range of your establishment. In your website copy, use specific phrases and sentences that describe your product or service.
Have an FAQ Section
As our blog post – "How an FAQ Page Can Help Your Website – And Your Business" – covers, Google has shifted its algorithm away from keyword-based queries to focus instead on user intent, which is signaled by longer phrases and questions. In fact, Google now encourages users to ask questions rather than type in keywords – which you see when you type in a query and the search bar anticipates your search subject and formats it as a question. An FAQ section provides a great opportunity to anticipate and answer the types of questions that users are likely to ask – again, targeting user intent rather than individual keywords.
The Take-Home Message and Our Blatant Self-Promotion
Now that most people are comfortable patronizing businesses in person, making the most of local SEO can help you bring more of them to your door! Following local SEO best practices for both manual and voice search will increase traffic and could be the start of many loyal customer relationships.
Since you're busy running your business, let our experienced team at Virtual Stacks Systems run your local and website SEO. Our full-service digital marketing agency can also take care of your website design and redesign, website copy, social media marketing services, PPC advertising, review management services and much more! Contact us to get started.