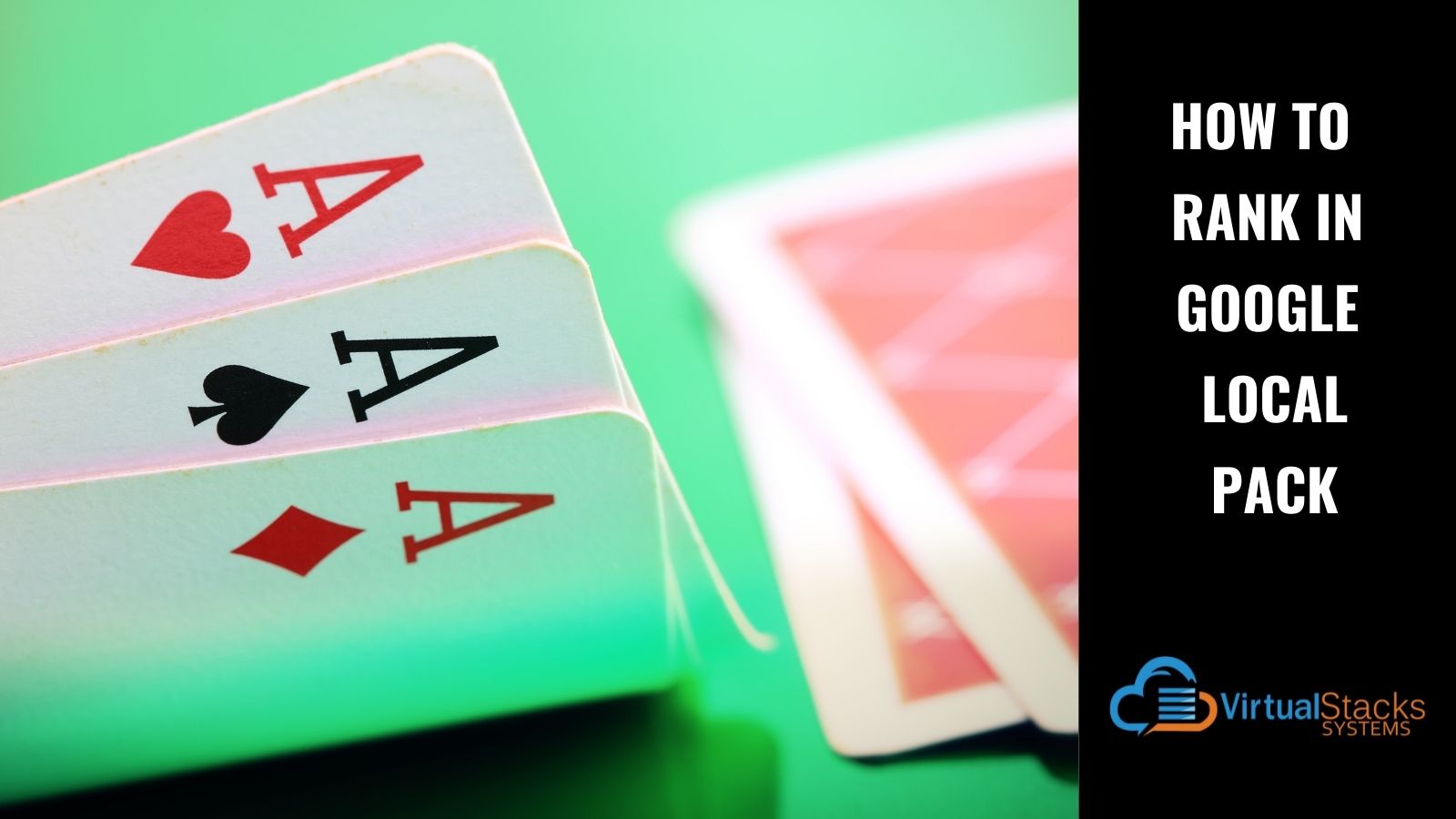 16 Feb

How to Rank in Google Local Pack

It's challenging to be a brick-and-mortar business owner – especially nowadays. Taking advantage of any way to get customers through your door is essential, so you need to be sure you aren't overlooking one great opportunity that Google offers – namely, the Google Local Pack.

Google Local Pack is a group of three local business listings that appear at the top of search engine results pages (SERPs) when a user makes a query with local intent – that is, for products, services, restaurants, etc., within their area. These three businesses are the ones that Google deems sufficiently relevant, prominent and close in proximity to the user. The results include the three Google Business Profile listings and a map of the three results. It's also known as the Local 3-Pack and the Google 3-pack.

As you might assume, becoming one of the charmed three takes more than the luck of the draw. In order to bring your business to the top, it is possible to stack the deck in your favor. Of course, you can leapfrog over everyone with a paid ad that lists your business directly above the Google Local Pack, but not every small business owner has the budget. A high ranking is better achieved by organic means. Digital marketing expert Neil Patel observes, "Paid ads are just one example of local search marketing being used, but most users ignore paid ads and skip to the first organic search result anyway. You want to make sure that your link is near the top."
Google Local Pack – A Brief History
Google made a major change on August 6 of 2015. Its local search used to show the seven most popular businesses related to a search in the form of a snippet. Referred to as the Local 7-Pack, it provided the addresses, phone numbers and direction links of the seven businesses in this position. However, to provide an improved user experience after searches on smartphones gained dominance over desktop searches, Google reduced it to three results – thereby making the playing field even more competitive.
As Google is inclined to do, the search engine made a major algorithm change in late 2021. The so-called 'Vicinity' update seems to primarily target proximity as a ranking factor. As BrightLocal Content Marketing Manager Alix Coe reports, "Although proximity has long been an important signal for local search results, it's also been the case that businesses can optimize to successfully rank far from their actual business location. 
"Through the Vicinity update, Google now appears to be clamping down on this, which will naturally make local search results more relevant to the user. In terms of the benefit to businesses, this gives them a greater chance to rank well in relevant local searches, as they'll be competing less with businesses that are further away."
So while the playing field fortunately now seems to be more level, you still have to bring your "A" game.
Make Sure Your Google Business Profile is Up-to-Date
To stand out in Google's ranking system, you must claim and optimize your Google Business Profile (GBP). This was known as Google My Business until November 2021, and you may still know it by this name. However, as Barry Schwartz reports for Search Engine Land, the renamed product includes changes in how business owners manage their account, among others.
But the basic features remain. Your GBP shows up when customers search for your business or businesses like yours on Google Search and Maps. It also lets you post updates to showcase what's new, respond to reviews to build loyalty and add photos to highlight what makes your business special. Be sure to do the following:
Ensure that your page is complete and that it is associated with an owner-verified profile.

Have accurate business information: your name, address, phone number, etc.

Add photos of your business, products and services you offer.

Enter an informative company description with the main keywords for your business, and links to pages on your website. For example, a restaurant would want to let its audience know the type of food offered, as well as amenities, such as a bar or patio.

Request your customers/clients give you a review and copy it on your website for maximum mileage.
Backing up to the second bullet point, we'd like to take a minute to reiterate how important the "accurate" part of "accurate business information" is. According to statistics compiled by BrightLocal, Moz and MomentFeed:
Local data accuracy has a 35% influence on local search rank, and is the number one factor when it comes to search rank.

‌A quarter of consumers say they have visited a business only to find it didn't have the product or service it listed online.

80% of consumers lose trust in brands due to inaccurate local listing information.
Once your profile is up-to-date and optimized, here's how Google "decides" which GBP results to return for a user's query:
Proximity of your business to the user.

Prominence – the popularity of your business.

Relevance – how closely your business matches the search query.
The Importance of Local SEO
Making sure that your business ranks well for a variety of different search terms will help boost your Google Local Pack SEO. Oddly enough, this is one situation in which a small business can have something of an advantage over the big chains. Why? Because Google's algorithm favors well-optimized GBP listings over more conventional SEO ranking factors. Our blog post – "How to Improve Your Local SEO Ranking and Build Up Your Brick and Mortar Business" – covers this topic in greater detail. The basic steps are as follows:
Listing accuracy is important – So important, we'll say it again! Across all local listings, accuracy helps Google better understand your location – which, in turn, provides quality signals toward Google Maps' geolocation search queries. You should be spot-on when it comes to listing accuracy with your name, address, and phone number (also referred to as NAP).
While these are central to the listing's accuracy and consistency, a few other items like website address, categories, reviews and photos also provide quality cues to your listings. If you want to create consistency, you should make sure that you sign up for primary networks and create listings for all of them. Though time-consuming, this can give you the control and flexibility to manage the listings.
Get relevant local inbound links – Links from such sources as media outlets, local sponsorships, local blogs, etc., can qualify as relevant local inbound links. Make sure that the local SEO links are geographically relevant to your location, topically relevant to the service you offer and are from websites that have a high-value natural link graph. Be sure that you get links from trusted local media outlets, and try to earn links from authoritative websites and blogs that are relevant to your business/product/service.
Make sure that your website is authoritative, utilizes best design practices and provides an excellent user experience – Our blog features several posts on these topics, all of which will also serve to boost local SEO if applied. For starters, we recommend "Why Your Website Needs to be Up-to-Speed," "The Importance of Internal Linking in SEO" and "Eight Ways to Improve Your Website's User Engagement."
Make sure that you get local citations and get them linked to your website – With local citations, Google can better understand your involvement within your local community, which helps it define your business goals.
Make sure your website contains locally targeted content – Creating high-quality local content for your website can improve your local SEO rankings and earn local links and citations. You can create local guides for events or neighborhoods, report on local events, take photos and interview other local business owners. Your website content should be impactful and relevant – Google considers generic content "thin content," which will actually be penalized.
The Take-Home Message and Our Blatant Self-Promotion
As you've learned, making the cut in the Google Local Pack takes more than just being close to where someone happens to be searching online for a business like yours. There needs to be a thorough understanding of each factor that influences ranking – as well as the right execution and ongoing monitoring.
Since you're busy running your business, let our experienced team at Virtual Stacks Systems run your local and website SEO. Our full-service digital marketing agency can also take care of your website design and redesign, social media marketing services, as well as PPC advertising, review management services and much more! Contact us to get started.