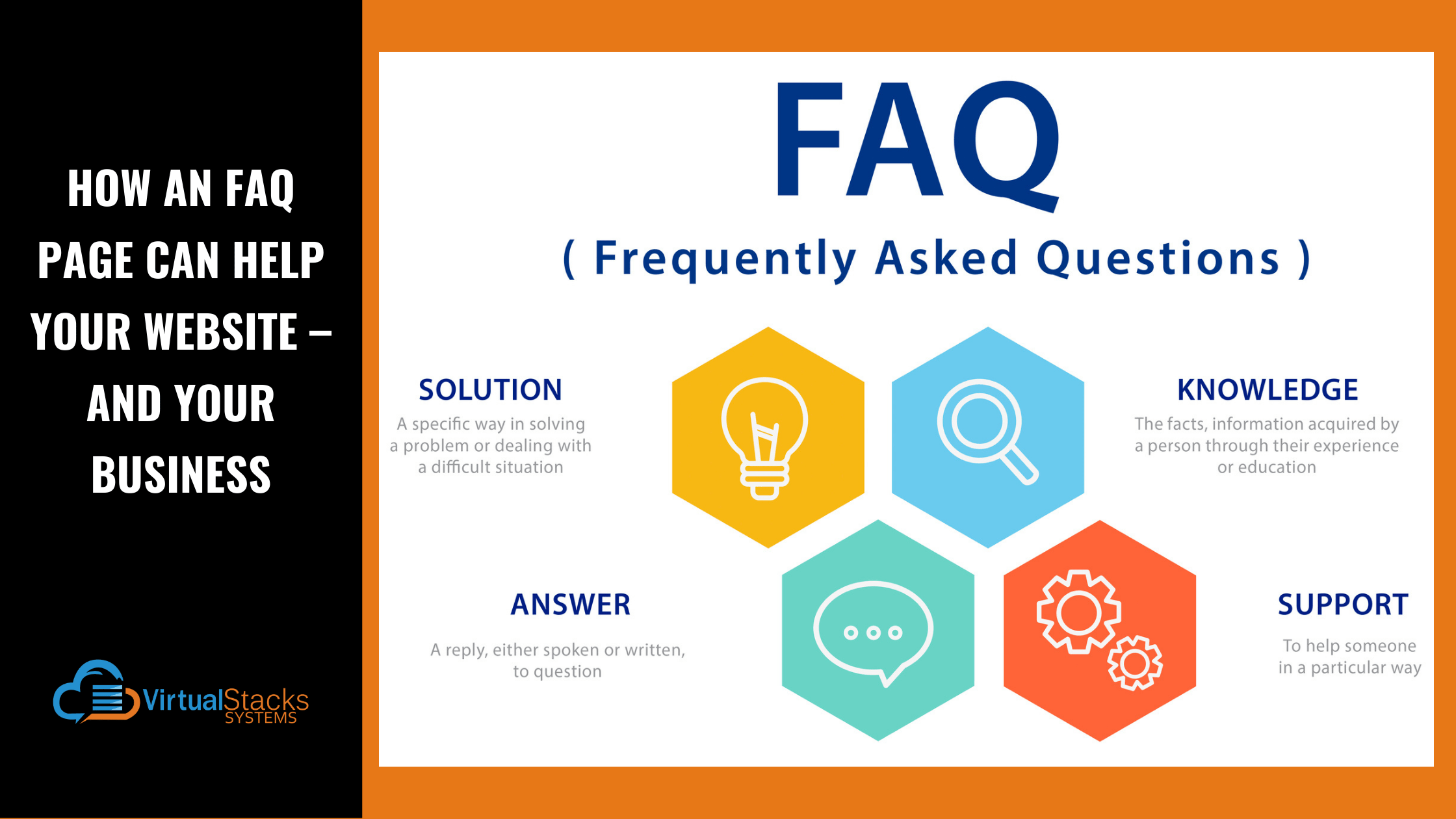 07 Jan

How an FAQ Page Can Help Your Website – and Your Business

Consider the FAQ page – the helpful list that answers the questions that your website's visitors are most likely to have about your business or professional practice. Although it's often treated as something nice to provide, an FAQ page can be a powerful part of your sales funnel, actually driving traffic to your website instead of just patiently waiting. More on that very soon! So if your idea of an FAQ page is a passive source of information, you may be surprised to learn the amount of heavy lifting it can do! Let us count the ways!
An FAQ Page Can Boost Your Website's SEO
As you've probably noticed, Google has shifted its algorithm away from keyword-based queries to focus instead on user intent, which is signaled by longer phrases and questions. In fact, Google now encourages users to ask questions rather than type in keywords – which you see when you type in a query and the search bar anticipates your search subject and formats it as a question.
According to a Trajectory article, "This is especially true as voice searches continue to rise in popularity. An early 2019 survey found voice search to be the second most popular choice for mobile search (after mobile browsers), while another 2019 survey found that 48% of consumers use voice search for 'general web searches.'"
Be it text search or voice search, keeping the FAQ question simple, straightforward and in natural-sounding language will help your site's FAQ page rank higher in the search engine results pages (SERPs) – and the voice assistant version thereof. For example, medical practices should avoid jargon and phrase the question as the average layperson would, as this is the phrase that Google would be more likely to pull up during a query.
Adds digital marketing specialist Marla Aistrope in her article for Solid Digital, "The majority of online searches are now in the form of a question – whether from a voice-activated app or a question entered into the search bar."
She also notes that the Google search bar can provide invaluable help in generating FAQ questions.
"The Google search bar, which creates a list of questions once a few words are keyed in, can actually serve as an incredible font of information concerning questions that are being searched most often." As an example, Aistrope related her three-word start of the following query: "Which CMS is …" produced six questions that reveal a high search frequency for each of the following:
Which CMS is best for SEO?

Which CMS is best for ecommerce?

Which CMS is used by Flipkart?

Which CMS is most popular?

Which CMS is most secure?
In addition, Aistrope recommends AlsoAsked, a free tool that can also assist in creating SEO-driving FAQs.
FAQ Schema Code – The Secret Sauce of SEO That Boosts Your Chance for a Featured Snippet
If you've ever seen a selected search result featured on top of Google's organic results in a box, you've seen a Featured Snippet. Known in the SEO world as "position zero," a Featured Snippet is highly desirable, as it can significantly increase traffic to your website. Many people think of a Featured Snippet as a gift bestowed by Google for reasons known only to its inscrutable algorithm. However, there is a way to increase the opportunity of your FAQs being the recipient.
FAQ schema markups are special code inserted into the FAQ web page to help it be found by Google. Basically, it removes some of the "guessing" search engines do when they crawl your site. A markup is able to provide context by telling the search engines what the content means. This, in turn, makes it more likely to earn coveted Featured Snippet status.
SEO expert Abhishek Shah wrote a comprehensive article on FAQ schema markups for Search Engine Watch that is well worth reading in its entirety. His article includes the code itself. If you aren't involved in your business's web development, make sure your web developer adds it!
How an FAQ Page Can Improve User Experience
Visitors to your website want to learn what you offer – and how what you offer can help them – but don't want to spend a lot of time hunting for it. When people can't quickly find what they want, they leave – contributing to a higher bounce rate for your site, and the likelihood they'll continue to a competitor's website. As Web Solutions points out, "By compiling answers to common questions on every possible topic related to your business, an FAQ page gives visitors a central place to find the answers they need."
This is important, as most of the answers on your FAQ page are probably somewhere on your site, but on separate product or services pages. Beyond improving site navigation, an FAQ page can direct visitors to other resources on your website, such as a video, a whitepaper or an older (but still relevant) blog post. And as Web Solutions notes, "Not only does an FAQ with links to related content provide your user with a deeper experience of your website, it also boosts your internal link-building, which is an important search ranking factor."
To ensure that your FAQ page is easily found, make it accessible from the top navigation and the footer – with page content linking off to internal pages and blog content (if applicable).
How Adding a Strong Call-to-Action (CTA) to Your FAQ Page Can Boost Conversions
So you have visitors reading your carefully crafted FAQ page. This is the perfect place to encourage them to take the next step! According to Trajectory, "Add a clear call to action that prompts them to move forward in the sales pipeline, whether that's a link to your contact page, the option to download a helpful PDF, or the ability to join your email list for product updates."
An FAQ Page Can Save You, Your Staff and Your Customers Valuable Time
Depending upon your type of business, a good FAQ page can reduce the number of emails, IMs and phone calls to your customer service center – which, in turn, saves your customers (and potential customers) valuable time. However, don't depend on your FAQ page as a replacement for customer service. "Always give users a way to contact you if they haven't found the answer they need," writes Web Solutions.
The Take-Home Message and Our Blatant Self-Promotion
Hopefully, you now see the humble FAQ page as a powerful tool with great potential to boost your business! If there's this much potential waiting to be unlocked in your website, just imagine how much more is possible! Our experienced web development team at Virtual Stacks Systems can make the most of your website so you can make the most of your opportunities for success! Contact us today to get started!