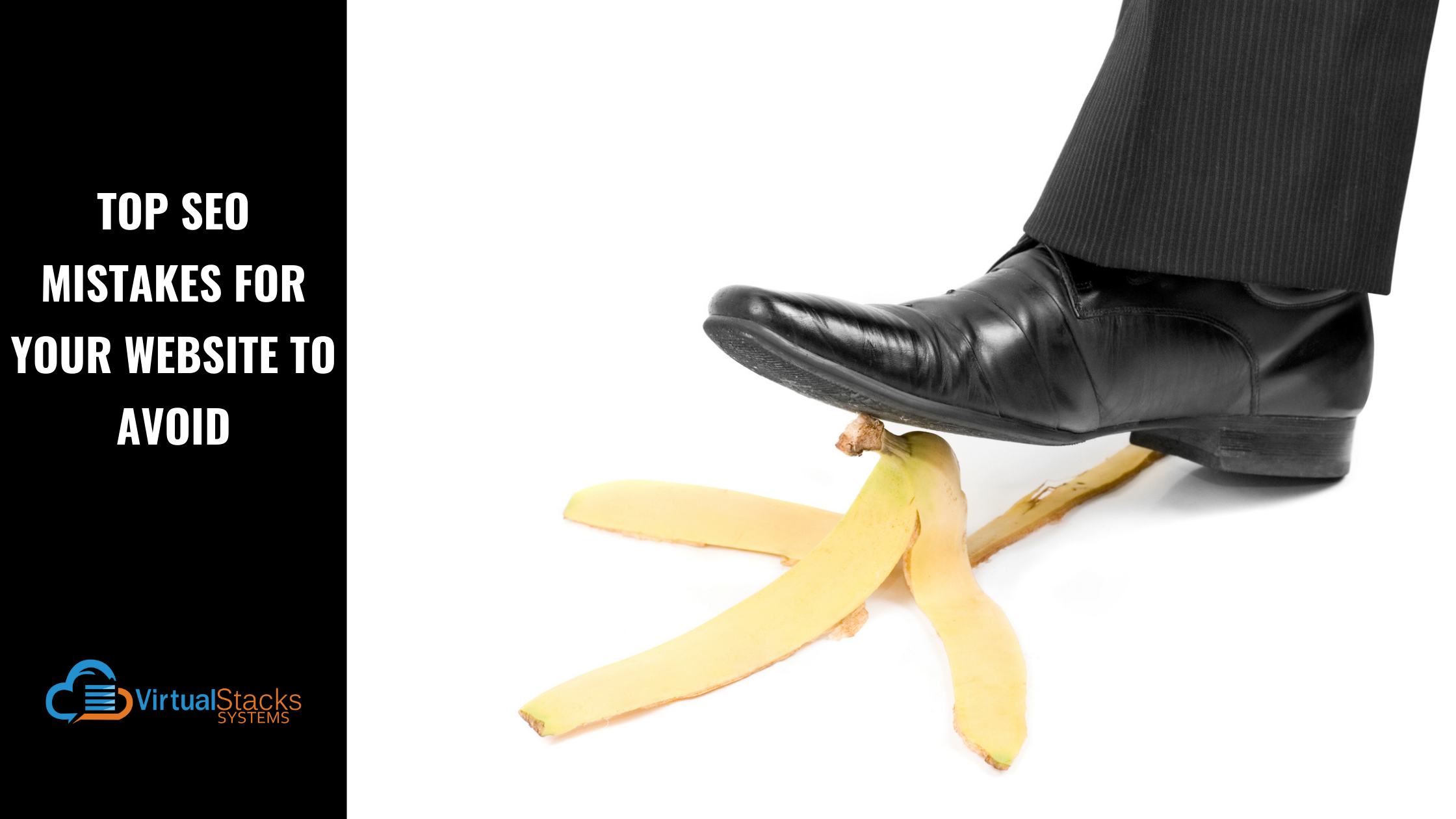 05 Feb

Top SEO Mistakes for Your Website to Avoid

Whether your business's website is new, somewhat new or has been around for a while, its success hinges upon the success of its search engine optimization (SEO). Because each website has a unique history, SEO techniques vary greatly. It may be time for you to assess what's working – and not working – for yours, and do some deep digging to discover the shortcomings.

There can be "hidden" issues that exist for any number of reasons, including the following:
Website wasn't developed by a professional web designer.

Website wasn't developed by a professional web designer who keeps current with SEO best practices and Google's ever-changing algorithms.

Website has been pretty much neglected since its launch.

Website's SEO is siloed, and not integrated into your business's content marketing practices and overall digital strategies – a common problem that

Alexander Kesler

addresses in his article for

Search Engine Journal

. 
The Major SEO Mistakes That Websites Make
No matter what the reason, the resulting worst practices are sure to have a negative impact on your website – and your business. Here is a list of the most common offenders.
Not establishing clear SEO goals and strategy – According to B2B resource Clutch, only 36% of small businesses have an SEO strategy. "… many business owners and marketers run SEO campaigns without having any goals," writes Harpreet Munjal – founder of LoudGrowth – for Supermetrics. "They believe that doing SEO will increase their traffic, which in turn will increase their sales. The problem is, things are not always quite that simple. For your SEO efforts to pay off, you need to understand what you want to achieve. Is it better quality traffic, more organic leads, or more sales you're trying to get?"
To paraphrase that famous quotation, if you don't know where you're going, any road will get you lost! On this front, Kesler advises to look at where your website and results are now, and where you want them to be. Break down actions in tasks, and agree on goals and key stakeholders. Although small enterprises may only have two stakeholders, both need to be in agreement to move forward.
"Agree on roles for content, site updates, digital alignment, and SEO evangelism," Kesler writes. "Look for technologies – tools and platforms that will help with workflow and your strategy."
Not knowing your audience and ignoring their search intent – Hopefully, you know the demographic that comprises your target market. But putting that knowledge into practice can be tricky.
"SEO is the customer's voice," Kesler writes. "While many marketers think they know their audience, they often fall into the trap of not understanding how consumers behave in their market and then at a granular level. At the same time … consumers expect instant responses and results to their queries. They often want this in real-time."
For example, if your target market is mothers of young children, your content and keywords need to speak directly to them, in their language, about their specific needs and concerns. Missing search terms they commonly use and/or not providing relevant content will have a negative impact on your site's SEO. Search engine algorithms long ago shifted from individual keywords to questions that consumers enter in the search field – such as, "What is the best stroller for twins?"
The following mistake is closely related.
Keyword stuffing – Unfortunately, this clumsy, antiquated practice still exists on too many websites. As our blog post – "Is Your Company Making These SEO Mistakes?" covers, using your target keywords in almost every sentence of website content will harm your ranking, as Google (and other search engines) will register them as spammy.
In Google's own words: "Keyword stuffing" refers to the practice of loading a webpage with keywords or numbers in an attempt to manipulate a site's ranking in Google search results. Often these keywords appear in a list or group, or out of context (not as natural prose). Filling pages with keywords or numbers results in a negative user experience, and can harm your site's ranking. Focus on creating useful, information-rich content that uses keywords appropriately and in context."
Latching on to "long-tail" keywords and misusing them also counts as keyword stuffing. Using the same phrase and slight variations of said phrase throughout your pages also makes for a miserable user experience that will send visitors to your competitors' sites and earn negative attention from Google.
Our blog post – "How to Get Found With SEO Keywords" – covers best practices and provides instructions so you can not only avoid mistakes, but be proactive in doing things the right way from the start!
Adding too many web pages – Somewhere in your travels you may have heard that Google likes fresh website content, and will reward your site with a higher ranking. While this is true, adding unnecessary pages can have the opposite result.
According to a TechArk blog post, "Logically, if your business website has tons of web pages, your website will receive tons of traffic, right? Wrong. On the contrary, having too many pages that lack quality content can actually bring down the SEO ranking of your website. When building your business's website, you should plan out the pages of your site via a sitemap. This will allow you to focus on creating pages with high-quality content instead of creating thousands of pages."
In addition Google penalizes sites that have pages of "thin" content that fills space without adding value to visitors. This is another practice to avoid, as it also frustrates members of your target market who land on such pages expecting to find helpful, relevant information. Regular postings to your blog will achieve the desired SEO goal while also boosting your company's branding and reputation.
Not integrating SEO across digital channels – While this may be more of an issue for medium-to-large companies, ignore it at your peril! Kesler points out that SEO is now an integral part of digital marketing, and as such, it's essential to ensure that it works with your other marketing channels – such as social media, email campaigns and paid ads.
"Not integrating your SEO with other marketing channels means you will miss out on measuring its full impact. You and your company will struggle to elevate SEO success, internally and externally. SEO requires support from several key marketing channels and, at the same time, has a positive effect on them all."
Not considering content formats other than text – While people tend to equate content with the written word, it also includes images, video, infographics and even podcasts – all of which can be used to rank on Google and drive organic traffic to your website.
As Munjal points out, "These days, videos are the content format with the highest demand … based on my experience, video content takes less time to rank on Google and YouTube than text-based content does."
Not using analytics – "The only way to know if your SEO and content efforts work is to track their progress," Kesler writes. Google Analytics and Google Search Console are free tools that allow you to measure and get an overview of your website's performance. By doing so, you'll be able to measure how your optimization efforts work for your website's content and SEO strategies.
Many Other Pitfalls Are Out There
Of course, many other mistakes are out there waiting to be made. This is just a look at some of the worst offenders. Here are a few more of those we frequently cover in our humble blog:
Slow

page speed

.

Low-quality

backlinks

– even worse, buying backlinks, which is a black hat SEO practice that can get you penalized by Google.
The Take-Home Message and Our Blatant Self-Promotion
SEO isn't a set-it-and-forget-it operation. Many elements and processes must be in place and work together to ensure your business's website is at its peak optimization to drive traffic and convert visitors to customers. Our wheelhouse at Virtual Stacks Systems includes SEO services and all the elements that integrate to ensure seamless optimization – such as website design and website redesign, social media marketing and PPC services. Contact us to learn more and get started!