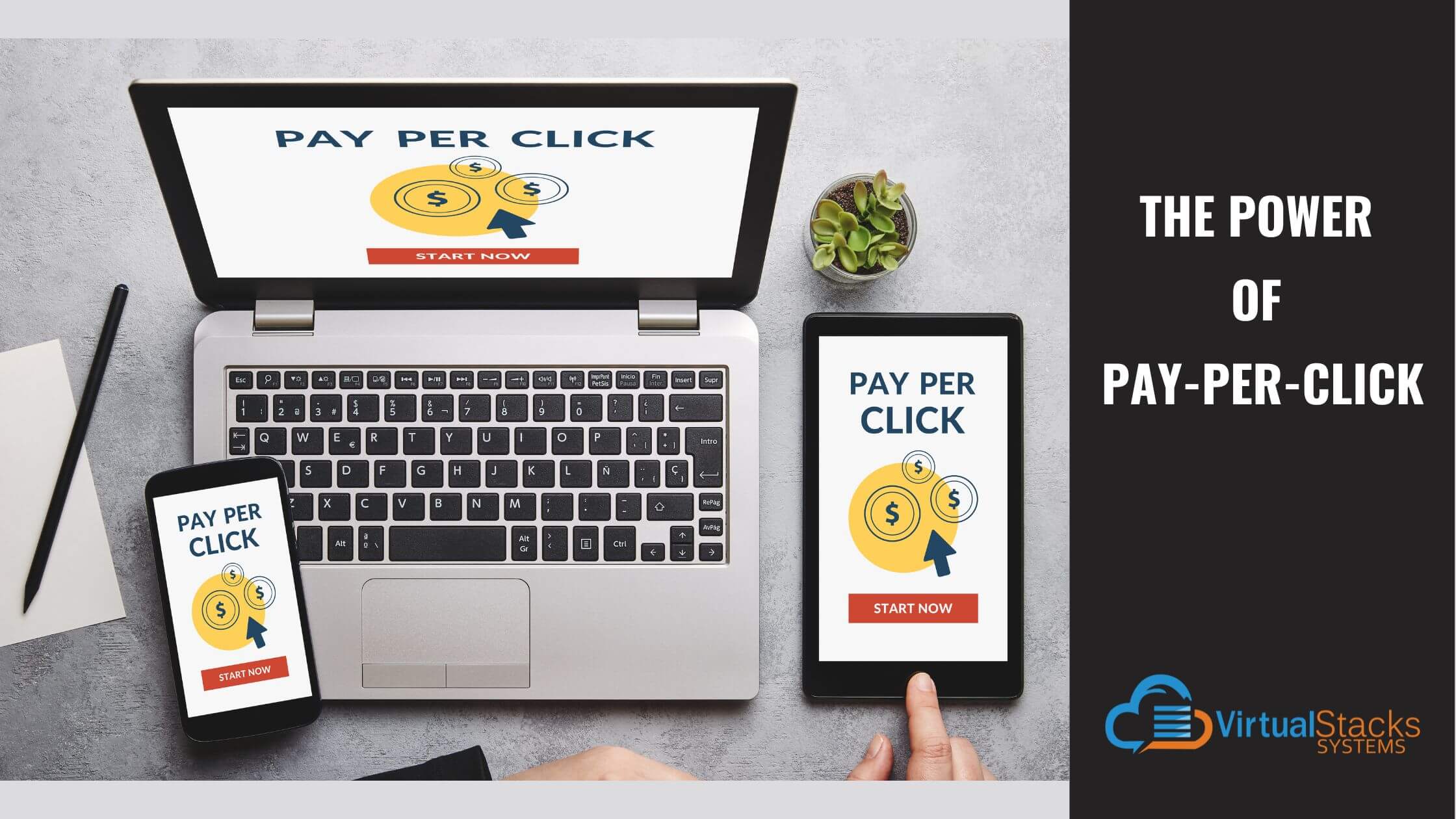 05 Aug

The Power of Pay-Per-Click

Driving traffic to your website is always a challenge for a small business owner. Whether you're looking for leads, foot traffic to your retail location or customers for your e-commerce store, reaching the most potential customers for the least amount of investment is the ideal situation. So what if we told you there's a way to get the most bang for your marketing buck that also offers numerous related benefits? Just spend the next few minutes here, and learn about the power of pay-per-click (PPC)!
What is PPC?
First things first. PPC is a type of internet marketing that involves advertisers paying a fixed price each time one of their ads is clicked. You only pay if your ad is actually clicked on. It's basically a method of buying visits to your site, in addition to driving website visits organically through social media and other means.
PPC ads are typically placed on search engines, such as Google or Bing. Advertisers bid for a keyword to secure an ad placement on search engine results pages (SERPs), so when a searcher enters a specific keyword that's relevant to your business, your ads will show up. Google Ads is the most popular PPC platform. Microsoft Advertising handles ads for Bing, Yahoo and DuckDuckGo.
As our blog post – "Why Does My Business Need to Use Google Ads?" – covers, Google Ads lets you target the type of customers you want, reaching them right when they're searching for your products or services. Because Google Ads are paid advertising, your company's ranking in Google's organic search results don't affect the ad's placement. This is a great solution to get higher visibility and more traffic to your site if your site isn't on the first page of results. Which leads to our next topic.
What are the Advantages of PPC?
As we just mentioned, results are immediate, as opposed to starting up SEO efforts. This can make a big difference for a new business, as building SEO takes several months – and is an ongoing process thereafter. PPC allows you to hit the ground running to compete for customers.
According to Corey Morris in his article for Search Engine Journal, "When compared to other channels like email and organic social, you have the advantage of targeting people outside of those who are already aware of your brand. You aren't limited to your existing followers or customer lists. PPC lets you quickly cast a wide net to find new prospects and customers. Plus, most of the work is done within the PPC advertising platform – from the research to campaign build-out, to writing ads. You can get up and running quickly with minimal involvement of your development teams, aside from help setting up conversion tracking and any desired landing pages."
However, organic SEO is still very much necessary. As soon as the PPC campaign ends, so does the traffic. Any residual results come from those who visited because of the PPC campaign, found something they liked on your website, then returned later to make a decision on a product or service, or to make a purchase. Ideally, PPC and SEO work in tandem, each with its own role in the customer journey.
As a blog post for Wazile observes, "PPC and SEO actually make a great team. They both work well in delivering desired results to your business individually and they also work well together. Since they work well together, you may think that PPC has a direct impact on SEO – it doesn't. However, it does indirectly have an impact on SEO and that indirect impact can result in a good combination of building up an effective marketing campaign that will help your business grow. In combining PPC and SEO, you can maximize traffic through the increased amount of targeted clicks from your paid ads and organic posts. 
"Imagine it like this: PPC quickly appears on top of search engines results once a specific keyword has been entered, so the right audience can see your ads immediately and click through them. If people ignore the ads and start searching organically, they will still see your business on the results page. When you invest in both PPC and SEO, you get to double marketing efforts and double the exposure of your business, resulting in increased traffic, qualified leads, brand awareness, conversion rate, expanded sales, etc."
The ability to directly connect with your target audience is another big benefit of PPC to a small business. As Savvy Search Marketing states, "Unlike any other form of marketing, with PPC you can precisely target your desired audience through the use of keywords, location, demographics, along with time and days you wish your ads to be shown.
"For a small business, the ability to show its ads only to those who are most likely to be interested in its products/services is a great advantage since it minimizes spending on uninterested audiences. What's more, it is especially useful for a small business since it has the option to target audiences in its location. As a small business, you can benefit by directing your ads only to those local customers you want action from (e.g. calling or visiting your business). Google has stated on many occasions that their research has shown that 3 out of 4 shoppers who find local information in search results helpful are more likely to visit stores."
In addition to jump-starting and/or reinforcing your website's visibility and marketing power, a major plus of PPC advertising through Google Ads is that it's easily measurable and trackable. Using the Google Ads tool with Google Analytics will provide such performance metrics as impressions, clicks and conversions based upon the business goals you've defined. It eliminates the guesswork, giving you real information about your campaign's performance.
"Stats are readily available and show how your campaigns are performing and what kind of traffic and results they drive for your budget," writes Morris. "In other advertising and marketing channels, the picture isn't as clear for attribution of the budget to direct results. When you send your PPC traffic to dedicated landing pages and track it to conversion using Google Analytics, you can see what you spent and what it drove in terms of your end goals. No billboard or magazine ad can attribute to sales like that."
There's More to PPC Than Meets The Eye!
As perfect as PPC seems, you can't just pay more to beat your competition in the SERPs. Google follows an automated process to select which ads are shown. When a searcher enters a query, Google fetches a pool of ads and runs them through its automated Ad Auction process that determines which ads will be shown on the results page. The selection of the winners depends on the advertiser's Ad Rank – a metric that factors in the cost-per-click (CPC) bid and the Quality Score. The CPC bid is the maximum amount that you are willing to spend per click, and the Quality Score takes into account the quality of your ad based on landing page experience, relevance and click-through rate (CTR). If your Quality Score is higher, you will be able to display more ads at lower costs.
Also, choosing the right keywords is essential to PPC success. You may already be familiar with the importance of keywords in Google search results. They're just as important in your paid ads. Select keywords based on which search queries you want to display your ad among. It's important to anticipate user intent, rather than focus on individual words. This is because Google matches your ad with search queries based on the keywords you select.
Negative keywords are a list of terms that you do not want to rank for. These are somewhat related to your intended search terms, but fall outside the area of what you sell or want to rank for. Google's Keyword Planner provides step-by-step guidance with this process.
The Take-Home Message and Our Blatant Self-Promotion
As helpful as Google may be in the initial PPC campaign set-up, managing a campaign is a demanding, time-consuming process that puts a great deal on the plate of a small business owner. We invite you to read this article and infographic by WordStream, which breaks down in detail the amount of work that Google Ads PPC campaigns involve.
And as we've emphasized that ideally your PPC campaigns and SEO should work together, leaving it to our pros at Virtual Stacks Systems will provide your website – and your business – with a seamless solution customized to increase your rankings and visits by consumers who are ready to buy what you have to sell! Our experienced team offers  SEO services, website design and redesign, social media marketing, email marketing, review management services and much more! Contact us to get started.