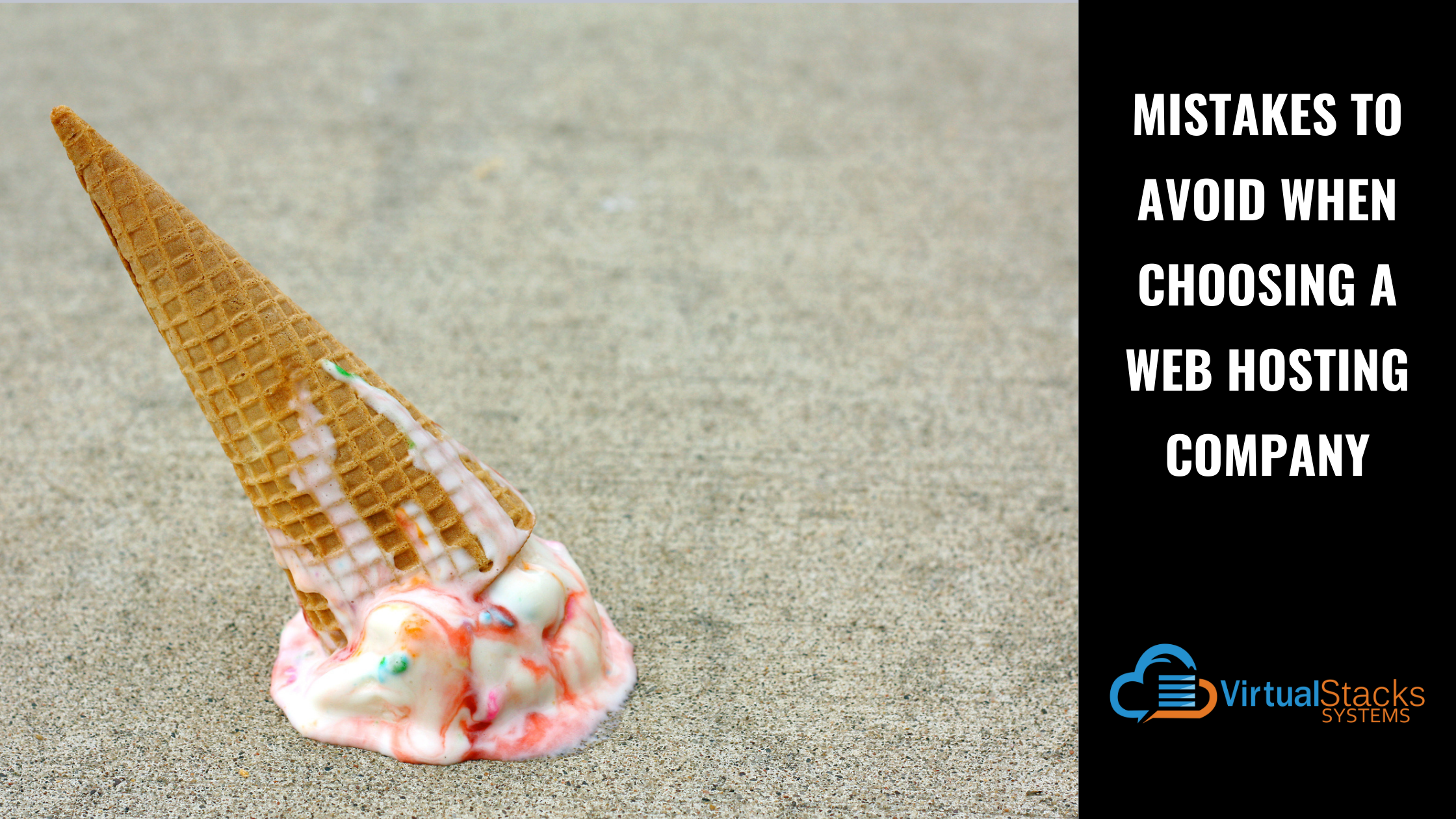 07 Sep

Mistakes to Avoid When Choosing a Web Hosting Company

So you've taken our advice and decided to start a website for your business! Or perhaps we flatter ourselves too much. In either case, in order for that website to go out into the world on the internet and start sending leads and/or customers your way, you need to find a web hosting company.
Web Hosting – A Brief Definition
If this is your first website rodeo, web hosting services involve websites being stored and posted to the internet for access by visitors. A web hosting service provider supplies the technologies and services necessary for websites to be accessed and viewed online. The websites themselves are digitally stored on computer servers operated by the service provider. The websites are then accessed by internet users via website URLs.
What You Need to Know Before You Start Your Search for a Web Hosting Provider
Whether you're brand-new at this, or you already have a website but aren't satisfied with your web hosting company, there are several pitfalls to avoid. Choosing a poor web hosting option can negatively impact the ability of your business to draw in and retain customers. Slow load speeds, frequent down-times and – worst of all – security breaches – are just a few of the possible consequences of signing with the wrong host.
Beginners shouldn't leave their experience with a web host to chance, and if you're unhappy with the service you're getting from your current provider, here's what you need to be aware of so you'll know how to find a company that meets your current – and anticipated – needs.
Now, on to the Mistakes!
Choosing a free hosting service – Some aspects of running a business are worth investing in. Your website should be high on the list. Free hosting services come with banners and pop-up ads, which annoy visitors and give them the impression that your business isn't professional or that you consider it more your hobby than your livelihood.
As a TechRadar article sums up the situation, "They are notoriously unreliable when it comes to speed, uptime and availability and because you haven't paid for anything, don't expect any compensation if they disappear or suffer from downtime.
"Expect support to be minimal with no advanced features like free databases. You also risk losing credibility, particularly if you are hosted on a domain name like yourbusiness.get-free-hosting.com, rather than using a genuine domain name (although, some free web hosting providers do allow you to park your domain). The bottom line is you usually get what you paid for and if you paid nothing then don't expect much."
Also, forget about design, functionality, search engine optimization (SEO) and the ability to scale your website up if necessary – among many other drawbacks. Plus, a "free" plan can end up being very expensive if you want to upgrade your service level with that provider.
Believing a claim of "unlimited" resources – You may come across ads for web hosting companies offering unlimited features – from bandwidth to storage. However, "unlimited" resources are typically advertised for shared servers. There's nothing wrong with hosting your website on a shared server. In fact, our blog post – "Shared Hosting – What it is and Why You Should Go for it" – covers its considerable advantages.
Shared hosting – in which several websites are stored on a single server – is the most economical option for hosting your website. It is best suited for businesses that are starting their operations and those looking for economical hosting options, as well as those that do not expect a high volume of traffic. The problem arises when a misleading or deceptive claim is made about what's actually available. A shared hosting plan can be sold on its own merits. Anything beyond that is just an attempt to get you in the door.
In addition, as the TechRadar article points out, "… claims of unlimited bandwidth bring with it thresholds that once crossed will impose artificial throttles and slow down your website thus indirectly penalizing you." Read the fine print before signing up!
Not doing your homework – Just as your potential customers conduct research when deciding who to do business with, you, as well, need to be an educated consumer. Check online reviews of web hosting providers to determine their performance, customer service quality, potential security issues, etc. It's also important to make sure that the review site itself is reputable, because shady providers can post fake reviews. Check multiple reviews and review websites to get an accurate picture of the quality of a provider's services.
In his article for HostAdvice, marketing expert Idan Cohen offers good advice for digging deeper. Start by looking at the hosting provider's own website. "If a host does not take the time to create an excellent site for itself, they will probably not be too concerned with yours either." Also, "Find out where the data centers for the hosting companies are and whether they have any redundancy capabilities. The closer the datacenter to your users could mean better website speeds." Ask about a content delivery network (CDN). "This enables static portions of your website to be cached which means your users get optimized speeds at different locations. It, therefore, improves speeds of website access especially if users access the site across the world."
Not taking security into account – Web host providers that don't utilize best practices for maintaining security leave the sites they host vulnerable to malware, ransomware or DDoS (Distributed Denial of Service) attacks. Tripwire provides this excellent article about security best practices for web hosting providers. Although it's written for the trade and is rather technical, you'll get an understanding of the types of security measures the web hosting companies you're considering should be taking to protect not only their immediate clients, but all those who visit their clients' websites. It doesn't matter if you don't understand everything the article covers, but you'll be better able to ask informed questions. You just might catch a shifty or careless provider off guard! You'll know which providers to avoid if their salesperson or proprietor acts flustered and can't give you a straight answer!
Signing up for a web hosting package with no refund guarantee – Look for a web hosting provider that offers a free trial and/or a refund guarantee. TechRadar notes that reputable providers will offer either one or even both.
"Some web hosting companies do not provide a refund guarantee for their starter packages. Choose one that offers a money back guarantee in case you select the wrong package. A good hosting company will gladly refund you or move you onto a new package that suits your needs."
The Take-Home Message and Our Blatant Self-Promotion
Your business deserves a web hosting provider that can deliver the level of customer service and support that allows you, in turn, to give your website's visitors a great experience that will turn them into customers – and keep them loyal!
Virtual Stacks Systems offers web hosting packages so you can select the plan that best suits your needs and business goals. We have powerful data centers around the world that make our web hosting plans more effective, yet are designed to save money. We also offer 24/7 technical support to all customers. Contact us today to learn more.