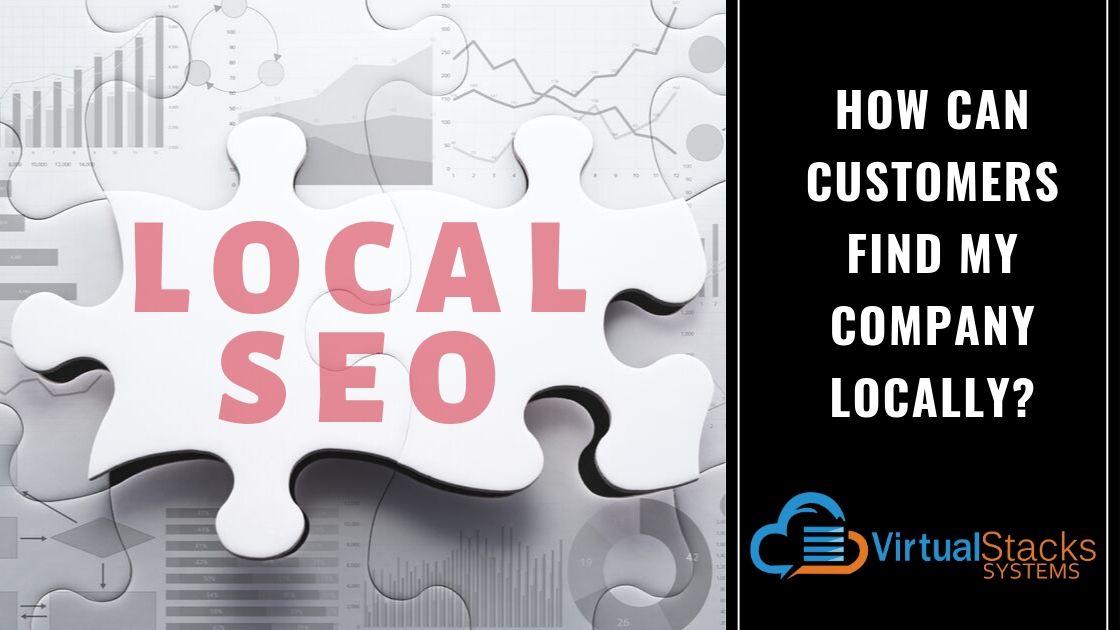 04 Oct

How Can Customers Find My Company Locally?

It really does sometimes seem that the more things change, the more they stay the same. Case in point: Small business owners have been bombarded for years with news stories and blog posts about how hard it is to stay competitive now that their potential customers have the entire internet at their disposal.

But guess what? Your target audience is still – figuratively speaking – strolling along Main Street, looking for the right business to patronize! And just like the old days, you need to be able to get their attention to draw them to your storefront. Only instead of an eye-catching sign, newfangled digital marketing tactics come into play. We'll show you how local SEO can give your online presence the curb appeal it needs!
The Importance of Local SEO
As you probably already know, search engine optimization (SEO) helps Google and other search engines rank websites according to numerous factors (keywords being the criterion familiar to most people). Websites that utilize SEO best practices rank higher in the search engine results pages (SERPs) than those that don't – which is important, considering that most people don't go beyond the first page when conducting a search. What is typically not as well-known is the importance of local SEO in driving traffic to your brick-and-mortar door.
According to Social Media Today, 46% of all searches on Google are seeking local information, and 97% of search engine users searched online to find a local business. Also, 72% of searchers for local businesses end up visiting stores within five miles. HubSpot weighs in with the eye-opening statistic that by 2021, mobile devices will influence more than $1.4 trillion in local sales.
Now that you know, here's how you can get these stats working in your favor. Start by using the free tools Google provides. Our July 19, 2019 blog post – "How to Use Google to Boost Your Business" – covers the features and many benefits of Google Ads and Google My Business (GMB). For those serious about mastering the art and science of local SEO – or just want more in-depth knowledge – Search Engine Journal offers an excellent downloadable guide.
Why Your Business Needs Google My Business
Google My Business is a free tool for businesses to manage how they appear on Google Search and Maps. In the words of Google itself, "By verifying and editing your business information, you can both help customers find you and tell them the story of your business." When properly optimized, a Google My Business account helps you stand out, be found easily and be more likely to get chosen by customers.
Information on Google My Business includes:
Hours

Street address

Phone number

Website URL

Photos

Link to social media profile(s)
In addition, a Google My Business listing allows customers to leave a review, or upload photos to your listing without leaving a review. You can read and respond to reviews, building relationships and having the opportunity to respond to negative reviews. By the way, the correct response to such a review is to respectfully address the customer's issue – not reply with an outright insult or sarcasm. It does no good to attract customers if you ultimately drive them away with poor service and a bad attitude. But that's another blog post, for another day.
Despite the effectiveness of Google My Business in attracting customers, a study cited by LSA Insider found that only 56% of local retailers have claimed their listing. That represents a lot of lost opportunity. As pointed out by Kelsey Smith writing for HubSpot, if Google can verify your business as authentic, it will potentially reward your business with a coveted sidebar space in Google local search.
But to reach its full potential, you need to optimize for Google My Business. This involves creating and verifying a GMB page, using Google Posts within your account and encouraging your customers to leave reviews online. Also, writes Kiley Peters, owner and CEO of Brainchild Studios, pay close attention to name, address and phone number (NAP) citations on your website. This should be included as crawlable HTML text on your site – not within an image, which Google can't "see" as its Googlebot crawls the web. Consistency is important. 
"Take a look at how your business is listed in your Google My Business listing and make sure that it is listed EXACTLY the same way on every page of your website," Peters writes. "This is commonly done in the footer of a website, but it's important that it's constructed in a way that the code for the footer still loads for each page to have the true effect. If you have multiple locations, then … create a page for each location and apply the NAP relevant to that location to that page."
It's Not Going to Happen Overnight – Why Local SEO Provides a Good ROI
As with all things SEO-related, boosting the position of your business in the SERPs requires the seamless workings of many related components. HubSpot's Smith provides other steps to take to achieve a high local status.
Improve internal linking structure – This will help your SEO rankings by supporting website navigation, assisting with information architecture and website hierarchy, and distributing page authority and ranking power among pages.
Optimize your website's URL, title tags, headers, meta description and content – Even for local search, content is king! Google rewards websites for new, high-quality content with higher rankings. As Smith notes, every new blog post is a new indexed page for your site, a new page on which to target a geographic search phrase and a new opportunity to get found in the SERPs. To make the most of these valuable opportunities, optimize the content for search engines by using high-volume keywords in the URL, title, header, meta description and body.
Add location pages to your website – This is especially important if your business has more than one physical location. Location pages provide visitors with your NAP, store hours, unique store descriptions, parking/transit information, promotions, customer testimonials, etc. Avoid duplicating content across multiple location pages, as you want to reach the potential customers who are closest to a particular location. For businesses with a single location, create a locally descriptive About Us page. Also add a Google Map to your website on your respective location page(s).
Make sure your website is mobile-friendly – Did you know that nine out of 10 smartphone users conduct local searches on their devices? Now you do! So make it easy for potential customers to learn about and find your business!
Follow the advice offered here, and your business will have the digital equivalent of a fresh coat of paint, new awning, flowering plants flanking the entrance, attractive signage and an attention-getting window display! But just as in the case of a physical makeover of your storefront, it typically isn't a task you have the time or capacity to do yourself, so you call in the experts.
Virtual Stacks Systems provides comprehensive services that can drive traffic to both your website and brick-and-mortar location – ensuring that all components work together seamlessly and reliably to achieve your marketing goals. Learn about our SEO, web design, website redesign, social media marketing and logo design services. Contact us today.