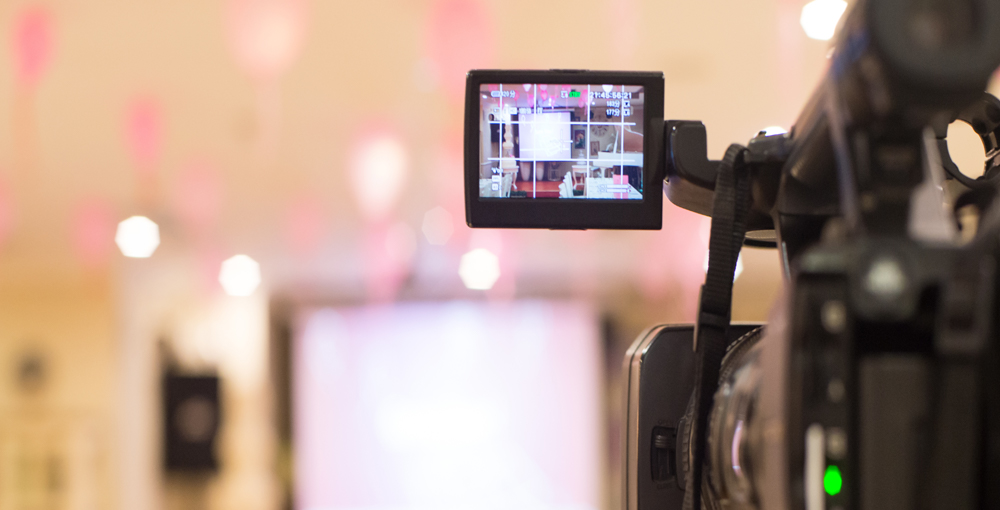 06 Mar

Lights, Camera, Online Traffic: Mastering Video Content, Mastering Your ROI
Light, Camera, Traffic!
When was the last time you tried a recipe that wasn't seen on a time-lapsed recipe from your newsfeed of your Facebook page? Honestly, I know I have. And you know what? Those garlic bread meatball rolls were delicious! In fact, Facebook's founder, Mark Zuckerberg, admits he would not be surprised if five years down the line most content people see and share through Facebook is video content.
Also, what's they second largest search engine after Google? YouTube. Yes!
A website specifically designed to house the internet's video content is the second largest search platform people visit nationwide. YouTube gets over 4 billion views a day.
Click on the snapshot below for a great infographic from Websitebuilder.org on the power and popularity of video marketing.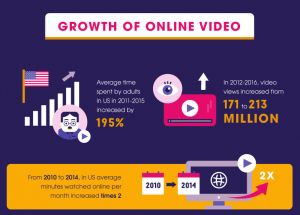 Perhaps it's time you started to share some of that video limelight.
Video marketing will put your content in front of the eyes of potential customers faster than they can read a headline. Whether you have just started your business, or are looking for ways to up your sales, online videos are one of the most productive, multipurpose, and cost effective promotion methods out there.
Here are some of the reasons why you should seriously consider including video content in your company's advertising plans:
1. Your customers are spending more time watching videos.
The idea is to reach your target audience. Whether you have a product or offer services, statistics clearly show that your customers are watching more of videos.
74% of all web traffic is from video watching.
64% of those who shop are more likely to buy a product or service after watching an online video advertisement.
4 Billion videos are streamed on Facebook – every. single. day. And that number is only going to grow over time.
It's simple. Make a video; invite more traffic to your site. Making a video sooner rather than later will enable you to better communicate with your customers.
2. Video content has the ability to connect.
Successful marketers have the ability to develop an emotional connect with their customers. The best way to connect to your target audience is to put out a video message and speak to them directly. A mix of visuals and sound in a message is more effective than text alone.
In fact, 36% of online consumers specifically trust companies that use video ads.
A visual story that also has sound in it can influence your customers more effectively and may touch their hearts and minds instantly leading to on an instant sale.
Watch how Instagram used a simple explainer video to invite those unfamiliar with the Pinterest platform in how and why they should use it. This is what your videos should do- present your audience with why you're different and how they can benefit. It also shows you are free to use animation instead of live action actors!
3. Video on mobile is more accessible:
The upward trend of mobile devices is here to stay, and people are more likely to watch video ads on them. 28% of smartphone owners watch one or more videos a day on their phone.
Don't you want your message to be in the palm of your customers' hands? I know our answer at Virtual Stacks is a vehement yes! Also, mobile is playing an increasingly crucial role in Google's Algorithm. Remember our post "7 SEO Predictions for 2017"? Mobile-friendly sites and video marketing are top on the Google Bots' priority list this year, so they should be on yours as well.
4. Videos are more clear:
Video content can more easily express the tone you wish to convey to your customers than regular, written content. It will also translate to them faster than the written word.
Think about it. You would already be done learning from this blog if it were produced as a two minute video instead.
According to estimates visual learners roughly account for 65% of the population, whereas 30% of them are auditory learners, making videos the best known form of content that suits the majority of people. Basically, if you have a product or service which you think requires a bit of explaining, video is the best type of advertising.
Check out this video from an up-and-coming app developer, who uses no written content to demo his product in a clear and clever way. The purpose is to show its potential small business owner viewer how easy, accessible, and hassle-free their product is. Videos like this put emphasis on the benefits for the viewer rather than the product itself.
Cash Out // iPad App Promo from Matt Henry on Vimeo.
However, some brands simply do not need marketing, like Facebook. However they still produce video content because they know how much it attracts their users. In this video, Facebook utilizes the animation platform as an instructional guide to new features. You don't technically need to be selling something to make video content worthwhile.
5. People love sharing videos:
Every minute 700 videos are shared by the users of Twitter. You can well imagine the kind of exposure your video would get if you make it worth watching. Not to mention possible backlinks to your website those shares provide.
Video sharing in turn becomes continuously free advertising; it's not like you have to pay every time it runs like you would with a television commercial! Also, social media provides a great outlet to promote videos OUTSIDE of the oversaturated YouTube platform. Promoting your videos through Snapchat, Instagram, Twitter or Facebook gives you a way "in" and helps you cut through all the noise.
Instead of competing with the billions of users on YouTube, you can build your own network of video watchers, sharers and consumers – seeing your message and its impact rise.
Don't believe me?
Check out this example of an Instagram video from famous YouTuber/celebrity baker Rosanna Pansino of Nerdy Nummies. In just 6 days, she earned over 130,000 views of a video about making LEGO Marshmallow pops. Pansino's clever use of social media to promote her YouTube visit has led to a book deal and a spot on Disney TV!

6. Even search engines are in love with videos:
It is a known fact that search engines are in love with video content. All major search sites including Google, Bing and Yahoo have algorithm that make video one of the main feature in the search procedure. Incorporating videos is a surefire way of increasing your website's search engine ranking. This is what your SEO team's dreams are made of!
Listen to Google's very own Ben Gomes explain how Google's Algorithm has evolved over time, including how the megalithic search engine has grown its deep love of video as a ranking factor.
Want to know just how far your Youtube comments and shares go with your rankings online? Brian Dean from Backlinko.com just released this great new graphic that shows how your number of YouTube comments correlates with your rank.
Key takeaway? Videos with more comments and more popularity rank higher in results. It's as simple as that.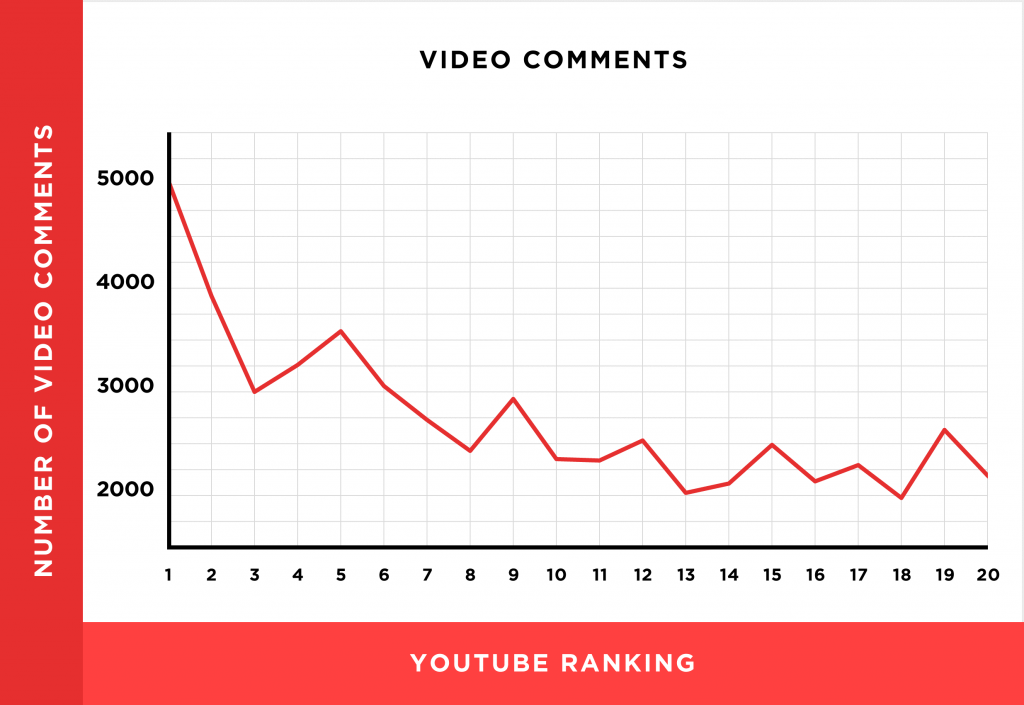 But don't just post videos for video sake.  The key is to create quality content that is in-depth, well-researched, interesting and visually pleasing. Notice that the top ranking results for "DIY Decorating Ideas" are all 5+ minutes in link and include very eye-catching graphics.
Whether you are a pool maintenance provider, a high energy diet expert, an LCMS for elearning provider, or a bathroom plumbing provider, video is a great way to show your customers what you do and build their trust from day one.