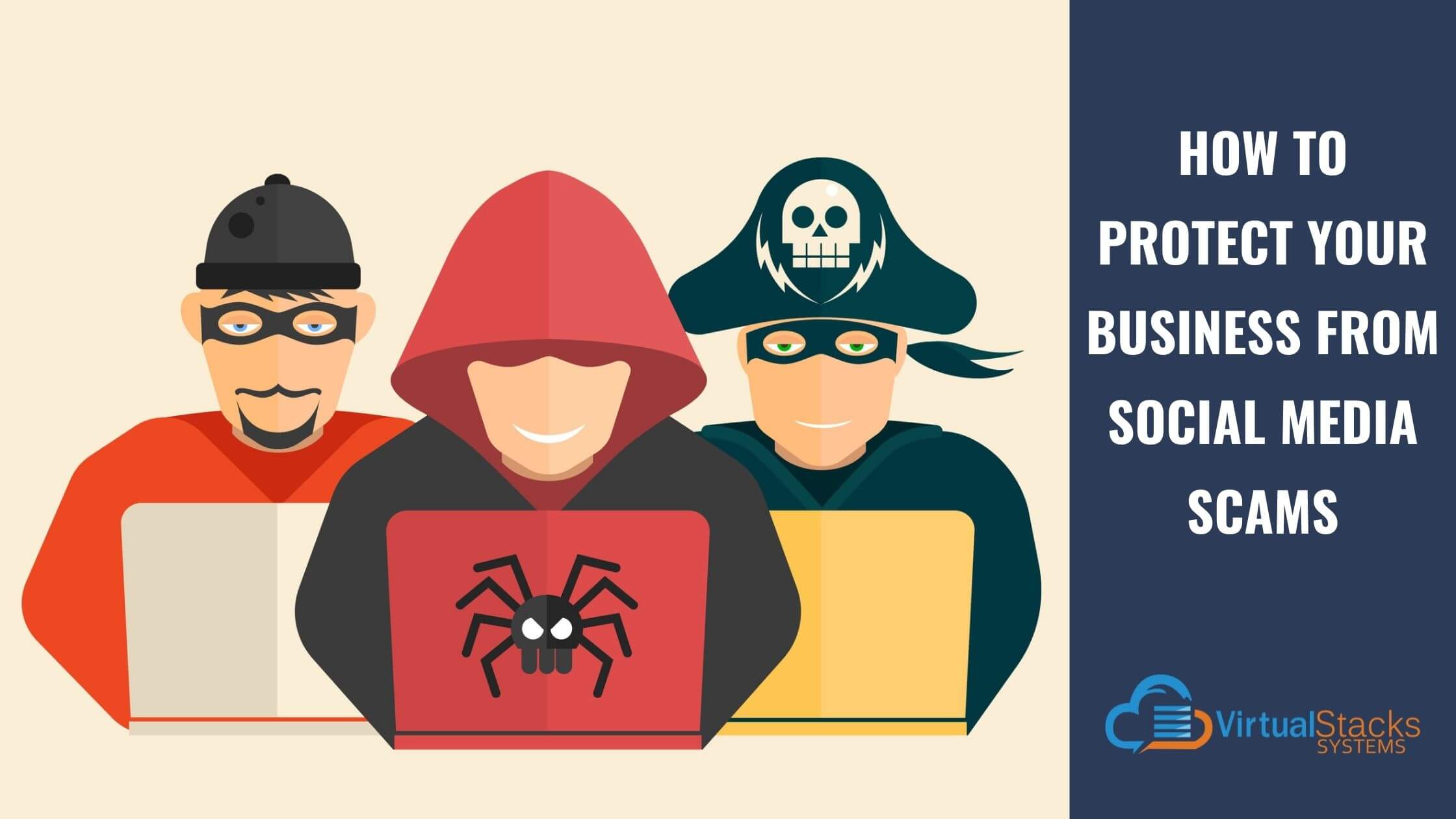 29 Jun

How to Protect Your Business From Social Media Scams

So you're the owner of a small business who sees social media as a good way to expand your network of professional contacts. Unfortunately, some of those new contacts may be looking at you as an easy mark for a scam. While we always encourage owners of small-to-medium-size enterprises to use social media as a networking tool, we're taking this opportunity to warn you about the increase in cybercriminals using social media as their favored platform for targeting businesses. Following are some of the most prevalent scams so you can recognize them and protect yourself.
Cryptocurrency Investment Fraud on LinkedIn
As reported by Scott Zamost and Yasmin Khorram on CNBC, fraudsters are luring LinkedIn members into cryptocurrency investment schemes. According to the article, the FBI says that investment fraudsters pose a "significant threat" to LinkedIn members, having scored many victims who have lost all or almost all of their savings.
How it works:
To quote the article verbatim, "A fraudster posing as a professional creates a fake profile and reaches out to a LinkedIn user. The scammer starts with small talk over LinkedIn messaging, and eventually offers to help the victim make money through a crypto investment. Victims interviewed by CNBC say since LinkedIn is a trusted platform for business networking, they tend to believe the investments are legitimate.
"Typically, the fraudster directs the user to a legitimate investment platform for crypto, but after gaining their trust over several months, tells them to move the investment to a site controlled by the fraudster. The funds are then drained from the account."
Legitimate LinkedIn members tend to assume that others on the platform are also who they claim to be. Although one victim interviewed for the CNBC article said she never trusted anybody, the con artist eventually gained her trust over the course of online conversations. The scenario outlined above played out, and the victim lost all of her funds, with no possibility of them ever being recovered – or the cybercriminal being brought to justice.
As for LinkedIn, the company says it removed more than 32 million fake accounts in 2021, with its automated defenses stopping 96% of all fake accounts from July to December of that year. While LinkedIn spokespersons emphasize that the platform works to keep members safe and cooperates with law enforcement agencies, not all cybercriminals can be stopped at the gates. LinkedIn published a blog post warning members against sending money to people they don't know, along with a list of red flags to watch out for – such as no connections in common, profiles with abnormal profile images or incomplete work history, and bad grammar.
Ultimately, however, the responsibility to avoid being a victim lies with each individual LinkedIn member. Keep your guard up, and don't take anyone contacting you out of the blue at face value.
Facebook and Instagram Scams That Can Victimize Your Business Without Your Knowledge
Unlike the LinkedIn investment scammers who cultivate a relationship with their target, popular scams on Facebook can be more covert. According to Makios Technology, the Federal Trade Commission (FTC) reports that 94% of social media scams originate on Facebook or Instagram.
How it works:
Nils Desmet – founder and president/CEO of Makios Technology – describes this type of insidious scam as follows:
"In the past year, Facebook scams involving fake ads have been targeting small businesses in droves. Well-oiled operations are swiping real product photos from businesses and using them in fake ad campaigns. Because of the professional images, customers think they're ordering quality products from you, which is why they're surprised to find cheap-quality, knock-off items in their mailboxes.
"The sad results: customers leave businesses bad reviews, tarnishing their image and taking precious time trying to respond to angry customers. A recent Time report noted that these types of scams increase by 40% during the holiday shopping season."
As Ben Hartwig – web operations executive at InfoTracer – writes for Tripwire, a study by Javelin Strategy and Research found that account takeover caused more than $3.5 billion in economic losses – and that people who are active on Facebook, Instagram and Snapchat are 30% more likely to be fraud victims because of their increased exposure on the platforms and sharing of information.
According to Hartwig, the various types of attacks that scammers use to infiltrate social media business accounts often involve breaching users' accounts through stolen authentication credentials. The information the thief obtains is then used to do the following:
Pull personal data from the hacked accounts' friends and colleagues.

Pull personal information about the victim – as well as information about organizations and competitors.

Take over the account and pretend to be the social media account's legitimate user.
"In addition to the prevalence of social media accounts, another attractive feature of this type of scam is that the scammer has a sense of anonymity. He or she can create a fake social media profile while joining communities you trust. It can be nearly impossible to track down many of these scammers since their information is not usually verified when they create an account."
Twitter Scams to Watch Out For
Assuming your business carefully guards its online reputation and strives to encourage customers to leave positive reviews, you're probably likely to be alarmed if you receive a direct message on Twitter informing you of a scathing online review, or mention in a news story that it's involved in shady business practices or – for a restaurant – has unsanitary conditions.
How it works:
"One of the most common threats to businesses is getting sucked into a spam message that first threatens your reputation, then your bottom line," writes Desmet. "You might receive a message such as 'I saw something bad about your business. Is this you?' Naturally, you click on the link so you can take control of the narrative. But to access the content, you're prompted to enter your Twitter user ID and password, which allows the scammer to take over your account.
"Once they have access, they can tweet on your behalf. They may even send spam to your audience or trick them out of money, all of which can damage your reputation."
This type of scam uses the target's fear of their business getting bad publicity to act before thinking. The element of panic drives you to immediately take the action that the scammer wants – which is to enter your Twitter account credentials.
Our blog post – "How to Get More Online Reviews for Your Business" – covers how your enterprise can have a presence on third-party review sites such as Yelp, as well as how to monitor them to prevent unpleasant surprises and/or offer to make things right for those who have a reasonable issue. As for a scammer's implication that your business has been identified as engaging in illegal or unethical activity, you'd be contacted directly if that were the case – either by a law enforcement or regulatory agency.
Financial Relief Scams
There's no question that small-to-medium-size businesses suffered financial hardships during the COVID-19 pandemic. Unfortunately, as Hartwig notes, "Some scams have centered around valid forms of relief that the government has issued in light of the pandemic while others have promised relief that doesn't exist. Victims may hand over their money or personal information only to find a scammer using it for nefarious purposes."
How to Avoid Becoming a Victim of a Social Media Scam
Hartwig provides this list of best practices that every member of your team who has access to your business's social media accounts needs to follow:
Keep your account information private.

Use the highest social media settings.

Limit your friends' list to people or businesses you know in real life.

Bookmark URLs you use for your corporate financial accounts.

Do not access account information from unsecure connections.

Use a username search tool to get information about an unknown owner if you confront a suspicious account.

Look for messages about unauthenticated account access.

Use antivirus software on all your devices.

Verify messages from others off social media.

Refuse to transfer money, send gift cards, or wire money to anyone you meet online.

Report the scammer to the authorities.
The Take-Home Message and Our Blatant Self-Promotion
All too often, those who think they're too smart to fall for a scam – or believe their business is too small to attract the attention of a hacker – are the very ones who end up with everything they've worked for gone. Our blog post – "How to Protect Your Social Media Accounts From Hackers" – covers this important topic in greater detail. Secure your social media accounts like you secure your store, and keep your accounts, your social media visitors, your customers and your business safe! Also remember your mom's advice, and don't talk to strangers!
Having an effective presence on social media is demanding enough without also having to be constantly vigilant against falling victim to a scammer. Since you're busy running and building your business, let us handle all of your social media marketing – as well as your website design, website redesign, SEO services, pay-per-click marketing and so much more! Virtual Stacks Systems is a full-service digital marketing agency that's ready to be your partner in success.
Contact us to learn more and get started!