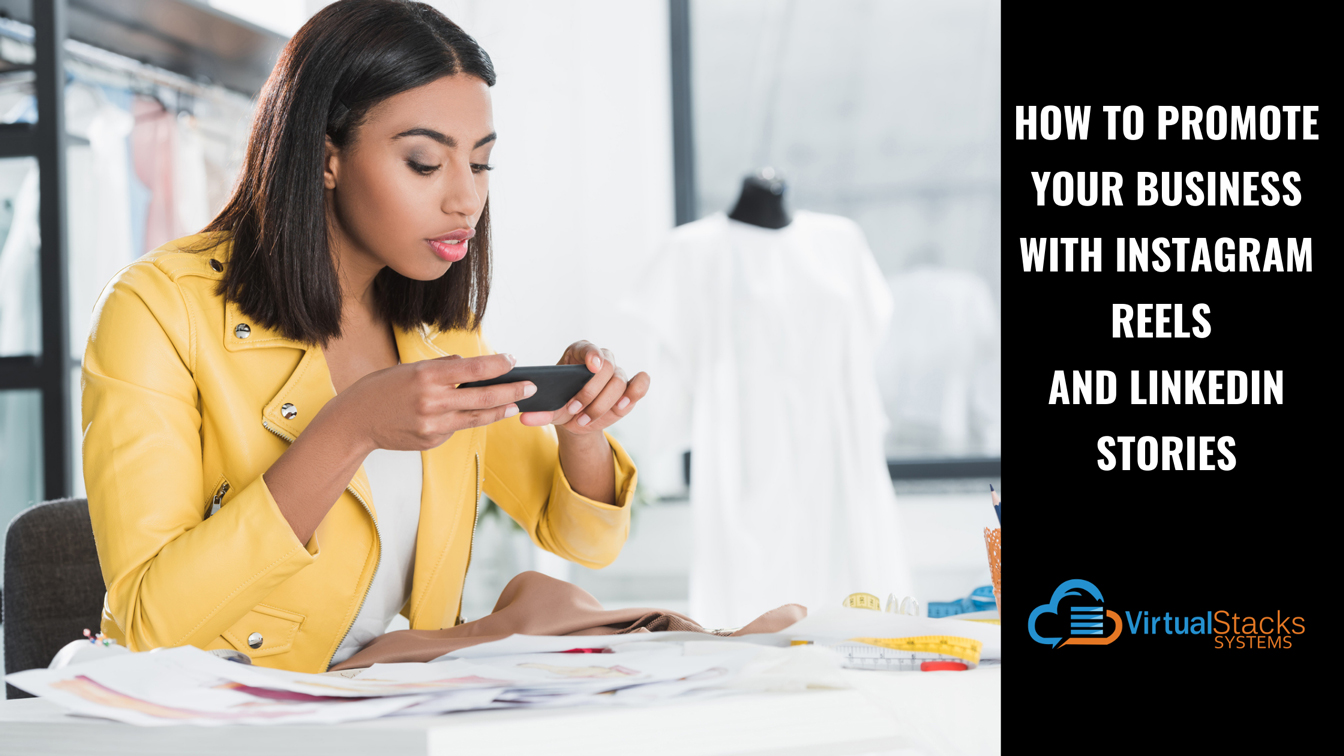 02 Apr

How to Promote Your Business with Instagram Reels and LinkedIn Stories

It's no secret that video has been increasing in popularity on social media. For business owners looking to engage their audience in new and effective ways, video is the next medium you'll need to incorporate into your social media marketing strategy for long-term success and developing stronger connections with your followers. But unlike veteran video social media platform YouTube, today's audiences – both B2C and B2B – increasingly favor videos running 60 seconds or fewer. Our blog post – "Are Short-Form Video Apps the Future of Social Media?" – covers this trend in detail.

Obviously, how consumers and social networks use video is constantly changing, and the past year saw some incredible expansions for the possibilities of video on social media. Today, we're focusing on two of the most recent introductions — Instagram Reels and LinkedIn Stories. Before jumping into these, let's first take a look at just how popular video is on social media!
How Popular Is Video on Social Media?
The popularity of video on social media is hard to deny, especially with the exponential growth of video-first platforms like YouTube and TikTok.
Recent research by MotionCue provides detailed insight on the latest and greatest trends in video marketing on social media. According to the report, more brands are frequently and regularly sharing video content on their social platforms, businesses are likely to keep investing in video marketing in the times to come and video marketing offers a better ROI than many other digital marketing methods.
Some other noteworthy insights from the report that show the growing importance of social media video marketing include:
77% of marketers believe that video has successfully helped them achieve their business objectives.

68% of marketers have shared brand videos on Instagram. Out of these, 65% believe it helped the business.

70% of those surveyed believe video is the best way for brands to stay relevant in the minds of their target audience.

54% of marketers have shared brand videos on LinkedIn. Out of these, 78% believe it helped the business.

60% of respondents said they felt more connected to brands that post video content on social media.
Expand Your Reach with Instagram Reels
It's likely your brand isn't going to benefit from posting on TikTok unless your target audience is very young and trendy. But that doesn't mean you're out of options for posting engaging short-form video content! If your business is already on Instagram, you might want to try incorporating Instagram Reels into your current strategy. Writing for Later, content marketer Jessica Worb provides a comprehensive, easy-to-follow Instagram Reels tutorial.
Instagram Reels launched in August 2020, and is available in the United States and 50 other countries. Instagram users can use Reels by recording and editing 15- to 30-second long videos combined with music, audio and other effects. These videos can then be shared to an account's Stories, the Explore Feed and the new Reels tab on an account's profile. Instagram Reels can also be found on the new Reels Explore Feed that is part of Instagram's Explore Page. While there is no dedicated button to access Reels on the main Instagram navigation menu at present, Instagram plans to add one in the near future.
Users who scroll through Reels will see videos based on which accounts they are following, the type of content a user typically interacts with on Instagram and the user's location. Featured videos in the Explore section are public reels selected by Instagram to help users discover new original content.
More than just short videos, Instagram Reels takes inspiration from TikTok by relying on the integration of music and audio, which you can either import from within Instagram (if your account has the feature) or use your own audio. There are also many video editing tools and stickers.
So, how can you effectively use Instagram Reels to promote your business?
Instagram is already a great platform for growing your community and expanding your reach. Instagram Reels adds another highly engaging option for reaching both current and new followers through short, easy-to-make video content.
If your business is already on Instagram, you might want to give Reels a go by trying the following methods in your strategy:
Embrace authenticity — Just like Instagram Stories, Instagram Reels is also likely to create waves. Reels give businesses and marketers more options to build customer relationships by sharing more realistic and authentic content about who you or your team are and your business values. This authenticity will shine through both for current followers and new audiences who can discover your video content through the Explore pages.
Be educational — Educating your audience about topics relevant to your brand, industry or their own lives is a great way of providing valuable content online, especially when it comes to video. Instagram Reels lets you share quick, memorable information in a very concise yet engaging manner. Educational content keeps followers always coming back for more, especially with the easily shareable nature of Reels!
Feature products — Feature your products beyond just still images by showing them in action through short Reels clips! From the research we mentioned earlier, it's clear that consumers want to see brands sharing more about what they offer through video content. Marketers aren't yet certain how much hashtags affect the visibility of Reels, but including a few with your product reels might help Instagram know your specialty in the long run to help connect your brand with more relevant users in your target audience.
LinkedIn Stories: How They Work and Why You Should Use Them
LinkedIn is the business-oriented social media network for professionals and businesses who want to connect with each other. While it has been known for its job listings feature, LinkedIn is now a rapidly expanding social-focused network. Earlier this year, LinkedIn released its own version of "stories" (similar to those found on Instagram, Facebook and Snapchat) known as LinkedIn Stories, available only on the mobile LinkedIn app. Like other "stories" features, LinkedIn stories allows users to post vertical images or short videos that go away after 24 hours.
Businesses can use LinkedIn Stories to build their brand voice and connect with target audiences in both the B2B and B2C marketing spheres.
LinkedIn Stories videos have three key features, which are similar to "stories" on other social media platforms:
Maximum video length of 20 seconds (must be vertical video). 

The option to add more information with text or stickers.

The ability to tag other users in your story using the @ symbol.
Remember that while the features of LinkedIn Stories share similarities with other social media stories, the context will be different. Keep your professional audience in mind as you create your LinkedIn Stories videos, but don't be afraid to be personable and have fun, too. Writing for Wibbitz, social media producer Sarah Hughes provides the following ways to use LinkedIn Stories to your advantage:
Repurpose content — LinkedIn Stories give you another option to repurpose your highest quality and most engaging content with the ability to convert videos into short segments or turn images into a short video. This will cut down on redundancy and content burn-out, all while delivering your previous content to new audiences.
Establish industry leadership — As a business owner, employee or industry veteran, you can use the personalized nature of LinkedIn Stories to share short videos in your own voice that establish you or your business as a leader in your industry. Hearing insight from the voice of a real person can have more impact on audiences than reading content alone.
Provide behind-the-scenes looks — Because LinkedIn Stories are short, they are a perfect opportunity to give quick behind-the-scenes looks at your daily work life to help build a stronger personal connection with your audience. You can also take a moment here and there to answer questions or show off new products.
Ask questions — Audiences don't only want to hear your thoughts. They also want to share their thoughts with you! With a LinkedIn Stories video, you can ask relevant work-related questions to your audience of industry professionals who can share their insight with you and generate authentic discussion and high engagement.
Be educational — Similar to Instagram Reels, LinkedIn Stories give you and your business an opportunity to provide valuable content to your audience in the form of education. LinkedIn is a place for professionals who are eager to always be learning more about their own industry and new industries, as well. Take advantage of this to provide original educational content with your video stories!
The Take-Home Message and Our Blatant Self-Promotion
Engaging and connecting with members of your target audience through Instagram Reels and LinkedIn Stories offer valuable opportunities to build relationships, drive traffic and increase sales. Adding them to your marketing toolkit can help you stay up-to-date with this important social media trend – and ahead of your competitors!
While producing these videos is up to you, you don't have to completely go it alone! Having a solid social media content and marketing strategy is necessary to achieve the optimum results and ROI. Our Virtual Stacks Systems team is here to provide experienced social media marketing, website design, website redesign, SEO services, PPC marketing, reputation management and much more! Contact us today! We are ready to be your partner in success!