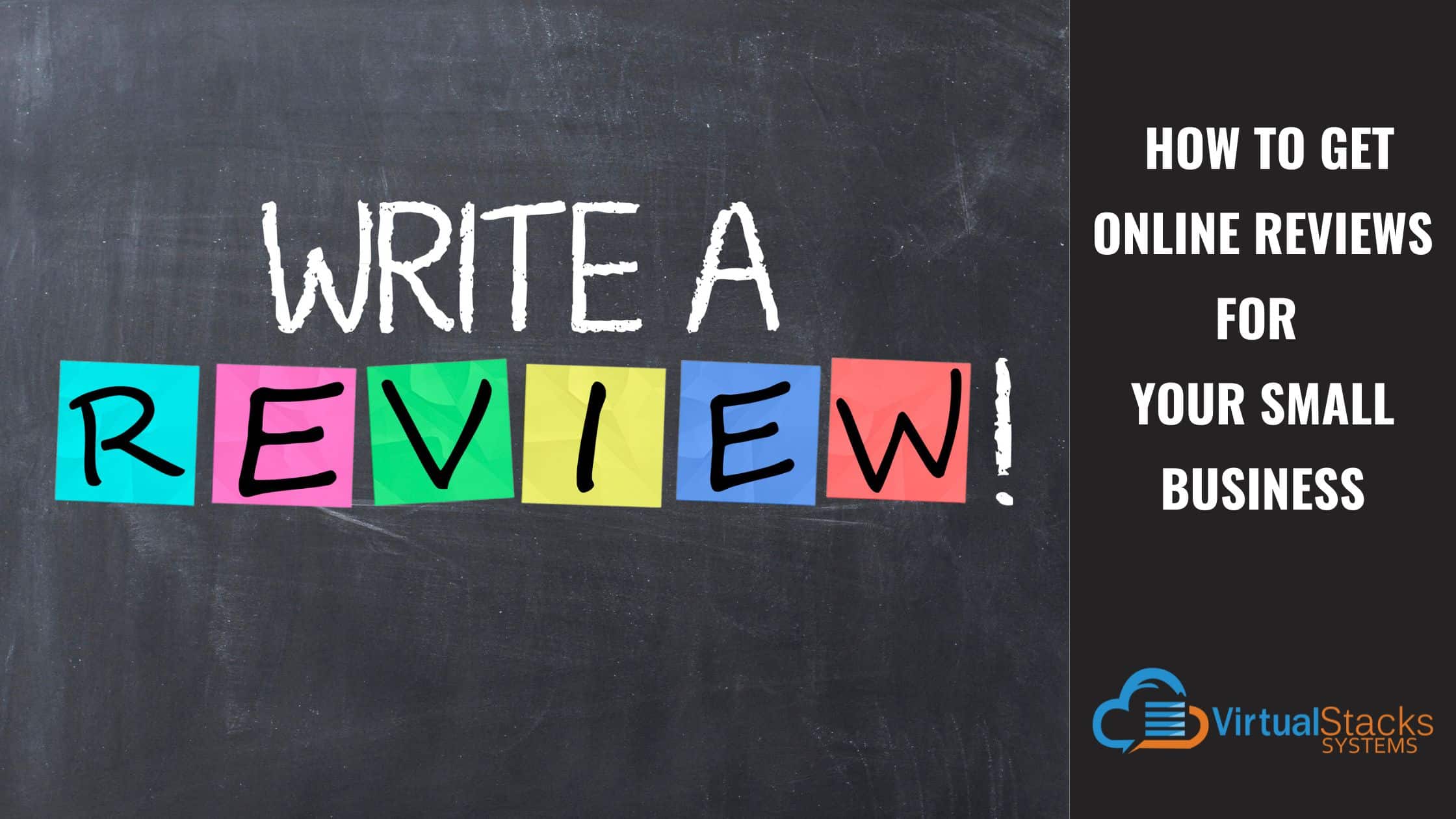 14 Dec

How to Get Online Reviews for Your Small Business

Here's something you don't want a potential customer to encounter when they're searching Google for reviews of your business – a sparse number, each pitiful few being several years old. This situation immediately raises red flags to your potential customer – whose potential probably just evaporated. Why are there so few reviews for this business, and why are they so old? Even if the reviews are positive, they can't help but think that the quality of your service or offerings sharply dropped since that time long ago. Worse yet, if the date of most of those reviews is before 2020 – pre-COVID 19 pandemic – searchers may presume the worst: your business has either closed, or never quite recovered from lockdowns.

The importance of online reviews can't be overstated. According to Dholakiya Pratik – founder of Growfusely – in his article for Search Engine Journal, 91% of consumers say that positive reviews make them more likely to use a business, while 82% read online reviews for local businesses.

Like every other aspect of marketing your business, getting satisfied customers to take their precious time to leave an online review requires effort. But it is possible, when you know how! Here's some practical knowledge to use for your benefit.
Google Can be Your Friend in Getting Reviews
Google is often an underutilized resource in encouraging customers to leave a review. First, make sure you've completed your free Google Business Profile. Formerly known as Google My Business, this shows up in search results for your business. Google Business Profile provides convenient, at-a-glance information about your business, according to the information you provide. Customer reviews are listed, as well. How perfect is it that someone who wants to learn about your enterprise sees a list of glowing, fresh reviews front and center?
Being present on other online review sites is also important, of course, but if you're not encouraging people to leave a Google review, you might as well not have any displays in your front window! The following recommendations for getting Google reviews are right from Google itself:
To elaborate on Google's advice, friendly in-store signage asking for customer reviews in a location where it can be easily seen (yet not in-their-face) – such as next to the register – can help remind customers to show their appreciation in a way that will encourage additional business. People typically want to support their favorite merchants, restaurants, etc., so asking for this seemingly small favor can prompt them to do so in a tangible manner.
Now, to walk through the door that Google review best practices opened in its mention to not offer incentives for leaving reviews. Our blog post – "How to Get More Online Reviews for Your Business" – covers that bribing … er … rewarding customers with even something as seemingly innocent as a free small beverage or 20% discount is a major no-no for most online review sites.
Yelp goes even further, telling businesses not to solicit customer reviews at all – even with no incentives attached.
"Yelp does not want businesses to ask their customers to write reviews and our recommendation software actively targets reviews that have been solicited."
As we always emphasize, you don't want to incur Google's wrath, and Yelp's software has eyes in the back of its head. In addition, offering incentives opens the door for highly questionable-to-illegal practices – and can even be used against your business by customers deliberately out to blackmail or scam you. We recommend you take a few minutes to read this eye-opening article by Grade.us, which covers the risks and legal issues in detail. This is one slippery slope you want to avoid.
Google and Yelp are central to your business's reputation-building efforts. BrightLocal's Local Consumer Review Survey 2022 reveals the following, as Jamie Pitman – head of BrightLocal's content team – reports in the following findings:
Consumer use of Google to evaluate local businesses has leapt from 63% in 2020 to 81% in 2021.

Consumer use of Yelp to evaluate local businesses has climbed from 32% in 2020 to 53% in 2021.
As for Facebook, the survey indicates that consumer use of the platform to evaluate local businesses dropped from 54% in 2020 to 48% in 2021. Pitman attributes the drop to "… an overall souring of public trust in Facebook, which has weathered, and is always weathering, controversies on multiple fronts."
How to Ask Nicely and Effectively for Customer Reviews While Following the Rules
It is possible to follow the ground rules set forth by Google and Yelp, yet still reach out to let customers know that you'd very much like for them to leave a review. And here's an interesting finding from the BrightLocal survey: 74% of consumers say they would be 'likely' or 'highly likely' to leave a review if they knew that the business was family-owned!
Pitman and Pratik offer the following techniques to ask for customer reviews:
In addition to the afore-mentioned in-store signage prompting customers to leave a review, include a review request at the bottom of bill receipts.

Have a QR code that when scanned, points to a list of review profile links – which enables customers to choose their preferred platform on which to write a review.

Include a link in your email footer.

 

Send an SMS text message (be sure you have the customer's permission).

 

Include review reminders on your website. Use call-to-action buttons to lead customers to your Google Business Profile or Yelp review page.

Just ask! This has the potential to backfire, as some customers may consider it pushy, so know your customer base well. If you feel comfortable that they won't mind, go ahead – especially if your customer tells you how much they enjoy shopping at your store, or dining at your restaurant! Writing a review may not have occurred to them!
Don't Forget to Follow Up on Customer Reviews
So your tactics are working, and satisfied customers are posting positive reviews! Keep in mind that everyone is busy these days – which means your customers took their valuable time to write some kind words about your business. Reply to every positive review with a timely "thank you." You don't have to write a note – just a short-and-sweet sentence in appreciation will go a long way in keeping a customer loyal.
However, no matter how much your business emphasizes customer service, mistakes and miscommunications can happen. Respond to critical or negative reviews immediately, and offer to make the situation right. Unfortunately, some customers have unrealistic expectations, can't be pleased no matter what, or are trying to defraud your business. Responding in a professional manner will show the difference between those who have a legitimate issue and those whose complaint is without basis. Our blog post – "How Can Your Business Improve Its Online Reputation?" – covers such situations in detail. In every case, taking the high road will position your business in a positive light.
The Take-Home Message and Our Blatant Self-Promotion
Getting a steady supply of positive reviews shows potential customers that your business has a strong customer base and maintains high standards. When you think about it, the reviews that people see when they come across your Google Business Profile are really the first impression they receive of your enterprise. And as they say, you never get a second chance to make a first impression!
Of course, working with an experienced digital marketing agency can help ensure your small business has all the resources it needs to compete in today's challenging marketplace. Our team at Virtual Stacks Systems welcomes the opportunity to help you create a plan targeted to meet your marketing objectives. Every small business is unique, and so are our solutions! We offer experienced website design and redesign, SEO marketing,  social media marketing,  PPC advertising and much more!
Contact us today to get started!