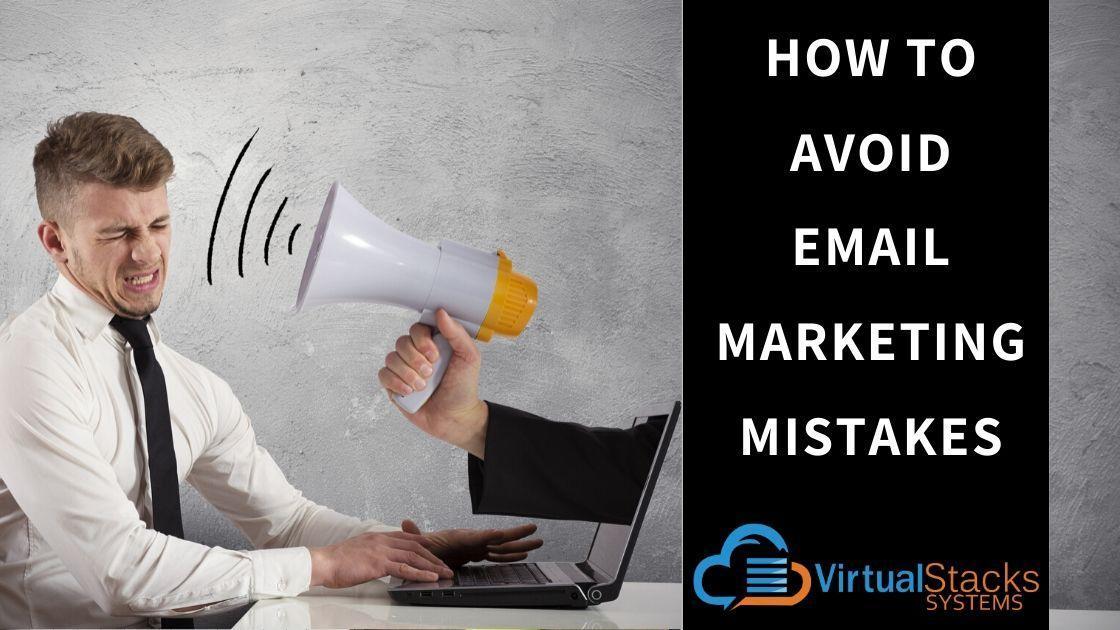 14 Feb

How to Avoid Email Marketing Mistakes

Despite occasional dire predictions about the pending demise of email as a marketing tool, it's still very much alive and in robust health. According to Statisa, 293.6 billion emails were sent and received each day in 2019 – a figure that's projected to increase to over 347.3 billion daily emails in 2022. As covered in our blog post – "Nine Tips for an Effective Email Campaign" – statistics provided by DMA and Demand Metric place email with a median ROI of 122% – more than four times higher than other marketing formats (paid search, social media and direct mail).

The effectiveness of email marketing is, however, a double-edged sword. Wielded with expert precision, it can achieve this legendary ROI and grow a loyal customer base for your business. Wielded clumsily, it can have the opposite effect – alienating potential customers and even getting you smacked down as a spammer. Because pointing out the negative can at times illuminate the path to the positive, we offer the following fatal email marketing mistakes and how to avoid them.

Spamming – Whether you know you're doing it or not, outright spamming or spammy practices will seriously harm your business on many levels. This mistake is more typical of small businesses going it alone, and can be unintentional due to lack of knowledge of laws, rules and regulations.

The main standards and regulations for sending commercial emails are as follows:

Enacted in 2003, this federal law establishes requirements for commercial messages, gives recipients the right to have you stop emailing them and spells out tough penalties for violations. Clicking the link will bring up the Federal Trade Commission's (FTC) CAN-SPAM Act page, which describes the law in detail. Keep in mind that the act applies to all commercial email messages, not just those sent in bulk. And while we're somewhat understanding here, the law doesn't consider ignorance to be an excuse! Read it, learn it, live it!
The European Union (EU) General Data Protection Regulation (GDPR)
Going into effect on May 25, 2018, the GDPR was enacted to protect the personal data of EU residents and affects any business that has customers located in the EU. There is no restriction based on location, company size or scope of business, meaning any entity with an internet presence could be affected. So keep in mind that even if none of your email subscribers reside in an EU country, some EU residents may be visiting your website and perhaps filling out forms there. Compliance is the best policy.
This new law went into effect on January 1, 2020. While it may not be applicable to most small-to-medium-size businesses, all email campaigns go back to your website, which should be compliant to be on the safe side.
Returning to the CAN-SPAM Act, each email requires that you provide an option for recipients to unsubscribe. This option should be easily visible. Should a customer unsubscribe, respect it, or risk being fined. 
Something else to consider: people don't always opt out of receiving emails because they no longer want to do business with a company, but if you ignore their decision, they most likely will stop being a customer. Also, your B2B subscribers may leave their company or change fields, while B2C customers no longer fit the demographic for your product or service. Give them a positive lasting impression of your business, and they may recommend it to others who are still in the market.
Still sending bulk emails through Outlook? Don't. As Ann Marie of Cascade Valley Designs notes, "If you repeatedly send bulk emails directly from your Yahoo, Gmail accounts or even through Outlook, then you could have your email address shut down by that email provider or by your own Internet Service Provider for what looks like spammy practices."
Besides, sending bulk emails through Outlook and free email accounts reeks of unprofessionalism. Even if your emails get through spam filters, recipients won't take them – or your business – seriously. Our blog post – "Why Your Business Needs a Custom Email Address" – covers this issue in detail. Not to mention your sender reputation, which will take a severe hit. Yes, we have a blog post on that important topic, as well!
Not optimizing your emails for mobile – Although this is the year 2020 and the vast majority of people read their email on smartphones, there remain holdouts who still think in terms of desktop display. Because email campaigns typically are crafted on desktop computers, too many people don't consider how it will display on a small smartphone screen. Quick Sprout recommends the following:
Send a test email to yourself before sending it out to your subscribers.

Avoid long blocks of text. A message that's two or three lines on a desktop could display as up to 10 lines on a smartphone screen – which is too long to keep your recipients' attention, no matter how awesome your offer.

Don't rely too heavily on images. Some email apps won't automatically display them.
In addition, notes Steven MacDonald for SuperOffice, the company's own study found that of the 1,000 business-to-business companies surveyed, one in five email campaigns is not optimized for mobile devices.
No clear call-to-action/multiple CTAs – People are busy. Each email should have one message, and a clear action you want the recipient to take. Too often, an email campaign tries to do several things at once. According to Quick Sprout, multiple CTAs can include the following in the same email: shop now, join our loyalty program, forward this message to a friend, share this on social media, sign up for our upcoming event. Instead, choose one, then create separate campaigns for the others.
Not segmenting your subscriber list – Customers will ignore an email they don't consider relevant to their needs. If your company is B2B, you should address C-suite executives differently from supply-chain subscribers. If B2C, consider the different demographic groups you serve. As Quick Sprout points out, "A 20-year-old male subscriber isn't interested in the same products as a female subscriber in her 50s. So sending them the same message is not a winning strategy." Likewise, "Some subscribers may only want promotions and coupons, while others want your newsletter. Everyone has different needs and preferences."
MacDonald offers this statistic: only 11% of email campaigns are segmented. Why is this a bad thing? "If you segment your list into different groups and customize your messaging to each reader, you'll see higher click-through rates and more-engaged customers."
Not sending a welcome email to new subscribers – Everyone appreciates a warm welcome. When someone opts in to receiving your emails, a welcome email should be immediately triggered. According to Quick Sprout, such emails have the highest open rates compared to every other email category, generating 320% more revenue than other marketing messages. "Furthermore, welcome messages have a 336% higher transaction rate as well as a 196% higher click-through rate than any other email you send."
Think about it – someone took the time and effort to subscribe. If you neglect this initial act of reaching out, your new subscriber may well wonder if this is also your approach to customer service. Responding immediately literally sends the message that your business is just as attentive to all other customer interactions and transactions.
Not paying attention to quality control – No matter what you're selling, a poorly written email with (or even without) typos won't impress anyone. This is a prime pitfall of DIY email campaigns. An effective email campaign reflects professional writing skills and conveys your brand voice consistently, campaign to campaign.
The take-home message
As you can see, many elements go into implementing a successful email marketing strategy. Trying to do it yourself can be an overwhelming task for a small-to-medium-size business, leaving you vulnerable to making these all-too common mistakes.
Virtual Stacks Systems provides comprehensive email marketing and email hosting solutions for organizations of all sizes. 
Contact us to learn how a highly targeted, robust email campaign can help meet your goals.