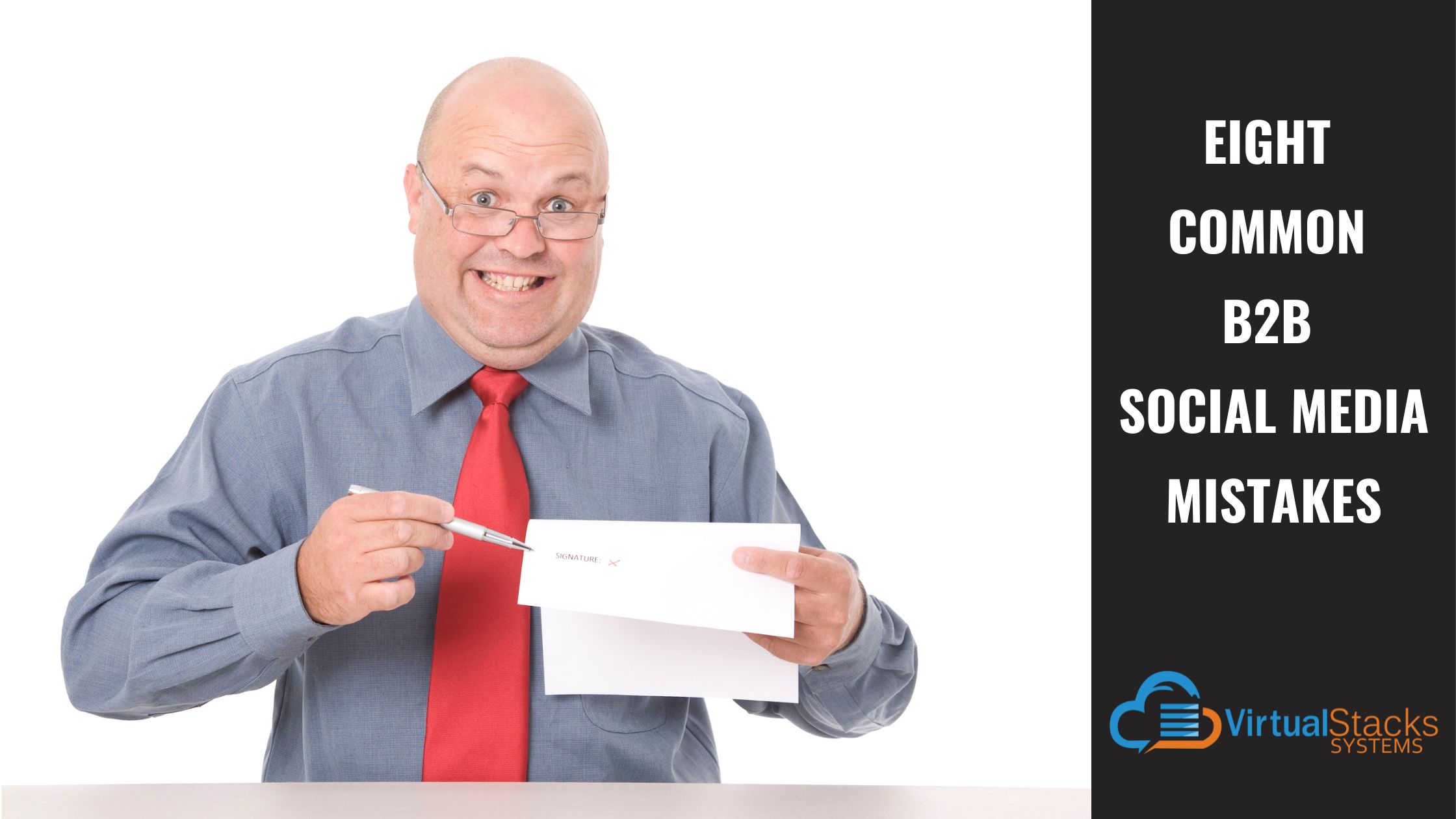 08 Jun

Eight Common B2B Social Media Mistakes

So you've learned that adding social media to your business-to-business (B2B) enterprise is an important part of increasing awareness and building important professional relationships that can drive sales. But making mistakes is easy, as the roadmap isn't always as straightforward as it is for business-to-consumer (B2C) companies. Here are the eight missteps most common among B2B businesses:

1. Treating Social Media as a Silo

According to Ruby Rusine of Social Success Marketing, "Social media is not a stand-alone solution; it needs to be integrated into a broader plan. The best social media strategy is built on the foundation of an effective content marketing campaign. Your content should help you attract, convert and keep customers – all while giving your business credibility in its industry."

In other words, if you or your designated social media manager – either in-house or agency – post on products or services without integrating social media postings into your marketing plan, their impact will be limited.

Rusine makes the following recommendations:

Include social media in your marketing tool box – When you're ready to launch a new product or service, include social media in your marketing plan.

Use social media to generate sales – Once you've launched your product, use social media to drive traffic to your website and increase conversions.

Use social media for customer service – Keep your customers happy and engaged after they've purchased from you. Answer their questions and solve their problems.

Says Rusine, "Remember, if you treat social media like a separate channel, then you will miss out on opportunities to connect with your audience."

2. Boring Content

It doesn't matter how unexciting the rest of the world considers your business's products or services. Your potential customers are waiting for you to offer them solutions that meet their needs! Cut-and-dried content won't engage them. Whatever your field, you can connect with your target audience by writing content that's fascinating as well as informative. Our blog post – "How to Write Fascinating Copy About a Boring Industry" – provides the following pointers:

Be professional, but personable – If you're writing a B2B blog or social media post, keep in mind that the real interaction in B2B is between people in those businesses. Write like a person, rather than an annual report.

Show emotion – Tell how a particular experience made you feel. Were you excited when you saw your company's new line launched at the trade show? Say so!

Go deep – You're dealing with industry peers who want in-depth information, not the superficial treatment that can be assembled by someone outside your field after spending an hour on Google. The more they value it, the more they'll share it among other industry pros – which will help establish you as an expert and drive leads.

Don't write company updates or always promote yourself – The goal of social media posts or a blog is to provide helpful, usable information to customers. Always focusing on your specific product or service will turn people off.

3. Poor-quality Content and Typos

Boring content may not necessarily be poor-quality. It can be well-written, but not at all engaging to your target audience. In this case, poor-quality means posts that read like they were pulled from Google by an intern. Add bad grammar to the mix. And there's no better way to torpedo your business's credibility than typos. They look unprofessional, and indicate that you (or the person in charge of your social media) can't be bothered to proofread before posting. If you aren't paying attention to something so basic, potential customers could well wonder what else you're not paying attention to!

4. Broken Links

One of the main purposes of social media is to drive visitors to your website. Providing a link to a web page that redirects visitors or – worse yet – is broken or winds up on a 404 – Page Not Found error page, will instead drive them away. Always click on a link you include in a social media post to confirm that it works, and will take visitors to the right web page. If you do find errors, of course, fix them!

5. Not Using the Right Social Media Platforms for Your Business

A common error is believing you have to be on every social media platform. Not every platform is conducive to growing business for a B2B enterprise. Focus your efforts on the platforms where your target audience spends the most time – which will probably be LinkedIn. According to Sociallybuzz, LinkedIn is the most popular social media network for B2B marketing, with 92 percent of B2B marketers using it as their preferred social media channel.

Depending upon the nature of your business, Facebook (especially when used with Facebook Ads), Instagram and Twitter also can be good platforms. Twitter is especially effective as a customer support channel.

6. Not Measuring Results

As Rusine notes, "By simply not measuring your social media efforts, you risk not knowing what you are doing wrong and what you are doing right and, therefore, how to adjust your strategy."

The basics of what you should measure include the following:
Reach:

How many people did you reach?

Engagement

: What percentage of your followers interacted with your posts?

Click-throughs:

How many times were people clicking through to your website or blog from your posts?

Conversions:

How many people engaged with your posts and converted into leads and/or customers?
7. Too Much Focus on Sales
Yes, you're using social media as a sales tool. But too much of a hard sell approach turns off members of your target audience. Social media provides the opportunity to educate potential customers not only about your product or service, but how they can meet customer needs and/or solve their problems. The idea is to build relationships based on trust. If they trust you to offer information they find useful, they're more likely to seek you out when they're ready to buy what you're selling. It's also a great opportunity to establish your business as an industry expert or thought leader!
8. Neglecting Your Website
As Rusine wisely observes, "The truth is that social media doesn't replace your website. By ignoring your website, your business is basically disregarding the first step in the social media marketing strategy process. Social media is, by definition, sharing information with others. Your website is the first step in the social media process. Because your website is a personal representation of your business, and it should represent the core values of your company, including the products and services you offer.
"Your social media accounts are where you share valuable content from your website. What social media does is that it helps drive traffic back to your website, especially if you include calls to action in your social media posts."
In other words, there shouldn't be a disconnect between the messaging of your website and that of your social media posts. Your website also should be up-to-date, optimized for speed and based on responsive web design. Providing a great user experience will encourage visitors to stay on your website and look around – and hopefully convert them to become customers!
The Take-Home Message and Our Blatant Self-Promotion
Doing B2B social media right demands a good investment of time and resources. If your business can benefit from the advice given here, we feel that we've helped make the digital marketing world a better place! But if you decide you'd rather leave it to the pros, that's what we're here for! Virtual Stacks Systems provides comprehensive social media marketing services, as well as PPC advertising, website design and redesign, SEO marketing and much more! Contact us to get started.