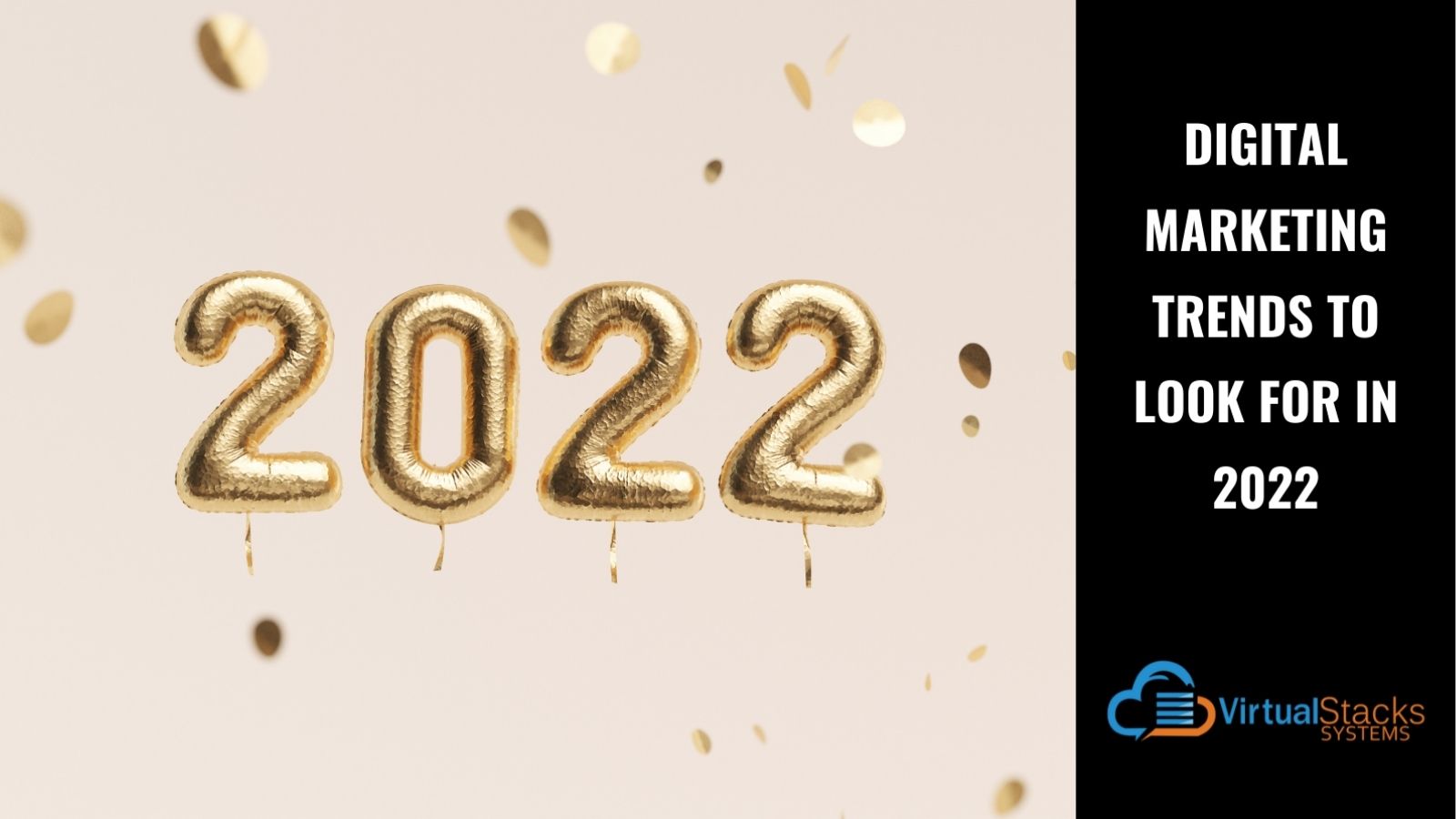 20 Dec

Digital Marketing Trends to Look for in 2022

Time once again to look ahead to emerging digital marketing trends that may affect the way you reach out to potential – and even current – customers in the new year! But we proceed with well-earned caution. Our optimistic blog post of December 2019 anticipating 2020 did not foresee the COVID-19 pandemic – nor did anyone else. Keeping this in mind, all forecasts made by the industry experts quoted here are based upon current conditions under which businesses are operating.
Opening Words of Wisdom
With that, marketing futurist and keynote speaker Mark Schaefer fixes a steady gaze upon the fact that all bets are still off. In his interview for Social Media Examiner, Schaefer notes the following.
"In 2022 and beyond, marketers will be challenged in an era of unintended consequences. Let me explain what I mean. Going into the pandemic, we guessed wrong about everything. Who could have predicted we would have shortages of lumber, electronics, and housing amid a global crisis? Similarly, we will be challenged to 'guess right' coming out of the pandemic because a complex cocktail of new consumer behaviors will dramatically impact how we use the web and social media.
"Here are a few examples. In many families, web-savvy teens took over the purchasing function for a family. Nearly 60% of web purchases are now impulse buys. Live commerce, which combines influencers, livestreaming video, and eCommerce exploded in China and is moving fast in the U.S.
"Those are just three changes among millions of big and small consumer shifts that will result in new trends we cannot begin to grasp. It may take a decade to see the full impact of the pandemic on marketing. For this reason, it is a time to reconnect with customers, question all assumptions we had about what works, and be humble in the face of changes we are just beginning to understand."
Trends for Small-to-Medium-Size Businesses to Look For
Many of the trends being forecast apply mainly to big brands and larger businesses. For example, an increased prominence in augmented reality (AR) to enable consumers to "try on" clothes or test products before purchasing isn't likely to be relevant to your enterprise. The purpose of our humble blog post is to focus on those that are more possible for you to experience.
Also, we'll avoid the platitudes frequently flung about, which are nothing new and which every business should be doing anyway. For example, reaching customers with relevant messaging, being authentic, measuring your ROI, etc.
So here we go, with measured observations direct from the experts themselves!
Facebook Will Still Be the Place to Be
According to Tara Zirker – Facebook and Instagram ads educator – Facebook ads are more effective than ever before. "… Facebook has done some fancy footwork to make some of its easier to use products a lot more effective. Let's hope the trend keeps up! I'm also looking forward to warmly welcoming the next iteration of tracking – a more stable Conversions API and an evolved pixel."
Mari Smith – the self-proclaimed 'Queen of Facebook' – weighs in with the observation that niche Facebook experiences are becoming prominent marketing channels. "Although Facebook continues to dominate as the world's #1 social network with 2.9 billion monthly active users, more and more people are craving experiences in smaller, niche communities and subcultures."
Smith points to Facebook Groups, Live Audio Rooms, Facebook Live and Facebook Reels as areas in which businesses can "… help deepen their relationships and build more trust with their audience."
She recommends Facebook Reels as an ideal opportunity for maximum organic reach and engagement. "Meta will continue to roll out and push this short-form, full-screen video format very heavily. As long as TikTok remains a massive competitor, Meta Platforms, Inc. CEO Mark Zuckerberg and team will give massive weight to similar features. And, right now, that is Reels on both Instagram and Facebook. So, you may as well take advantage of this rising trend for free visibility."
As for Facebook-owned (or should we say Meta-owned) platform Instagram, agency owner Emily Hirsh notes, "The need for quick and new content has become more and more prevalent, so your Instagram marketing strategy needs to align with that by leveraging Instagram Reels and short entertaining videos."
Short-Form Videos are the Future
All talk from the experts point toward such short-form video platforms as TikTok, Instagram Reels and Facebook Reels as gaining increasing predominance in social media and content marketing. Our blog post – "Are Short-form Video Apps the Future of Social Media?" – looks at the reasons for their popularity at this particular time – including Generation Z coming of age and the profound social effects of COVID-19.
Caroline Forsey – manager of HubSpot's Marketing Blog – lists TikTok as number one on her list of Trends to Watch in 2022.
"TikTok has seen undeniably fast growth. In fact, the term 'TikTok' saw a 61% increase in mentions year-over-year during the beginning of 2021, and was the first non-Facebook app to reach 3 million global downloads. 
"With fast growth, it's easy to assume it's a passing fad – but that doesn't seem to be the case here. HubSpot's social team believes TikTok offers unique opportunities to engage directly with consumers, and major brands such as the NBA and Dunkin' are leveraging the app to reach new audiences. 
"Additionally, Ben Jeffries, CEO of Influencer.com, says that '"in 2020, TikTok was the world's most downloaded app and with more and more consumers choosing to use the creative and humorous entertainment platform, brands are waking up to the opportunity to capture a new audience and showcase their brand personality. '"
Elena Melnikova, CMO at Talkwalker, agrees, and elaborates. "In 2022, we'll continue to see the rise of TikTok as more brands explore how they can leverage the app's popularity to expand brand awareness and reach new audiences. Additionally, we'll watch TikTok's ripple effect on the social media landscape at-large, as other platforms alter their features to expand emphasis on short-form, 'snackable' content."
The Outlook for B2B Digital Marketing Trends
Businesses that sell to other businesses have always had their unique challenges. Fortunately, experts in this arena see opportunities developing that can make outreach more engaging and effective in 2022. Not surprisingly, video platforms figure heavily here, as well.
According to Lee Chapman, president of Trew Marketing, "Video has become the dominant medium. Research from Cisco estimates that by 2022, online videos will make up more than 82% of all consumer internet traffic – 15 times higher than it was in 2017. Many B2B marketers are still not fully capitalizing on the power of video but expect that to change in 2022. B2B buyers crave video content, and they are looking for video content at every stage of the buyer's journey. Additionally, in Content Marketing Institute's Manufacturing Content Marketing Benchmarks, Budgets, and Trends With Insights for 2022, videos ranked as the most used (86%) content type, followed by short articles/posts (83%), and virtual events/webinars/online courses (70%). Videos also were the content type manufacturing marketers said produced the best results."
Forsey forecasts that business in the B2B space will increase their investments in Instagram and Twitter in the coming year, noting that many marketers are still seeing increases in ROI across both. Her examples include Twitter reaching almost 200 million monetizable daily active users in Q3 of 2020, up 29% YoY – while Instagram experienced a nearly 14% jump between 2019 and 2020 in its users' time spent on the app, to an average of 30 minutes per day. This was higher engagement growth than all other social platforms.
"As Twitter and Instagram continue to succeed, we'll see more marketers invest in both platforms in 2022. HubSpot's Blog found 70% of marketing professionals plan to invest more heavily in Twitter in 2022, and 63% plan to invest more heavily in Instagram. In 2022, consider where you might increase your own investments to find more ROI from the platform(s) that are already serving your audiences."
If there is still doubt about the role of video, LinkedIn is on board. Its recently launched Creator Mode will add a short video feature similar to Instagram Reels and TikTok. This short-form video feature was announced when LinkedIn discontinued Stories and acquired the Jumprope tutorial video app.
As LinkedIn strategist Judi Fox writes, "Businesses will use this new video feature to market their products and services with short how-to videos and continue to grow their LinkedIn user sessions and LinkedIn video marketing effectiveness … My top 2022 prediction for LinkedIn is the platform will become a more valuable place for video marketing content with a great ROI."
The Take-Home Message and Our Blatant Self-Promotion
In our look-ahead blog post of this same time last year, our message was that no matter what 2021 holds, look for opportunities even in your challenges. We think this message actually applies to the start of every year. Our Virtual Stacks Systems team wishes you a happy, healthy and prosperous 2022! If you need help in your digital marketing, we are here to provide experienced website design, website redesign, SEO services, PPC marketing, social media marketing, reputation management and much more! Contact us today! We are ready to be your partner in success!