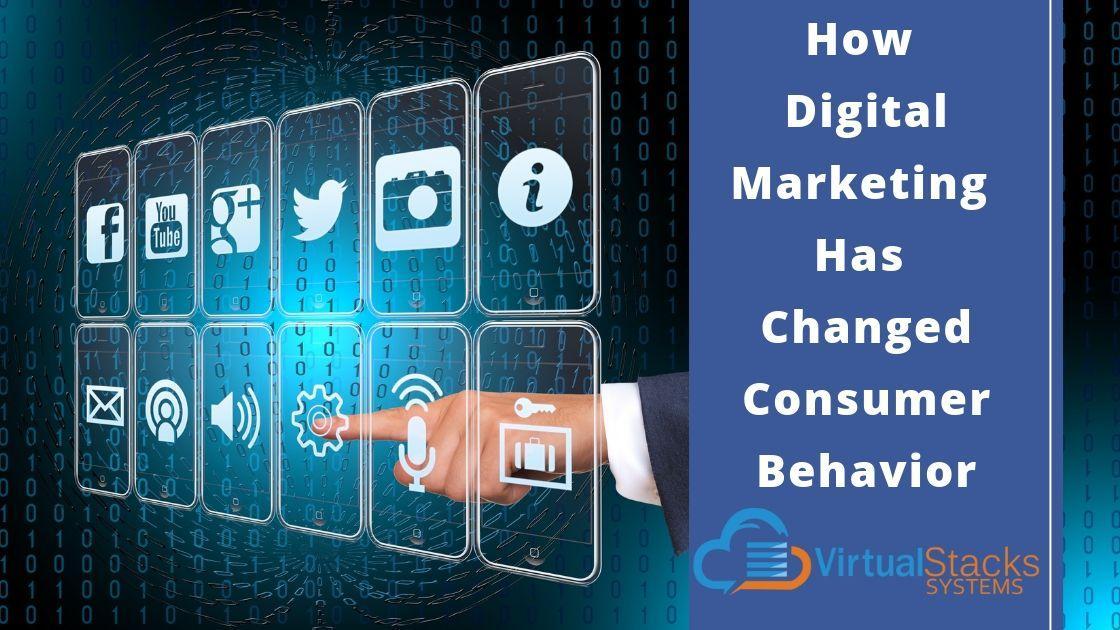 06 Sep

How Digital Marketing Has Changed Consumer Behavior

Do you remember our July 27, 2018 blog post, "Understanding Consumer Behavior in Digital Marketing"? A lot has changed in just over a year! Emerging trends are developing further, and established trends are maturing. In fact, the situation isn't just how digital marketing has changed consumer behavior, but how consumer behavior is shaping digital marketing.

Today's customers purchase on mobile devices, via voice assistants or within their social media feed on Instagram, Facebook or Snapchat. All of these avenues give authority to the consumer, who now decides not only when and how to interact with your brand, but to share that interaction with others – thereby influencing their decision-making process.
The voice of your customers
According to branding pioneer Marty Neumeier's famous quote, "Your brand isn't what you say it is. It's what they say it is." They being consumers, that is. His observation is now more true than ever. As Adam Heitzman – co-founder of HigherVisibility – writes for Inc., "While the way consumers go about buying has in some ways been simplified by digital marketing (i.e., fewer steps, purchasing power at the click of a button), the ways they interact with and reach businesses has multiplied. And, while competition has increased significantly among businesses, there has never been more opportunity for growth and success."
In the past, as Google notes, buyers followed a linear path to purchase: awareness of the product from print ads, billboards, storefront and Yellow Pages (the oldest of old-school, this venerable directory has gone digital, as well); consideration (visit store, call seller); intent (ask for a quote, compare goods in store); and finally, decision (purchase item in-store or order from catalog).
Today's consumers use the internet as a hub. Their decision-making process includes – in no particular order – researching and comparing products online (93% of consumers do so), watching YouTube videos about products, learning about products from display ads, learning about products through social media and reading online reviews (more on that soon).
Considering that consumers can readily provide feedback and comments on social media platforms and review sites, your brand's advocates – and detractors – have a global stage to make their opinions known. Brands that ignore their voices do so at their peril. Even if you're doing something your target market likes, they may be telling you how to improve it, or express a wish for something new and different.
Businesses of every size can benefit from listening. For example, the owner of a doughnut shop should take note if followers on social media say they'd really like a maple bacon delicacy. Or, for that matter, if they're wondering why you still offer the powdered cake flavor. Better yet, you can start the conversation with a poll asking what flavor you should introduce.
Speak your customers' language
So how to connect and engage with your target market? Digital marketing executive Joanna Carter identifies personalization as one of the top trends marketers need to incorporate. In other words, know your audience and speak to their specific needs, concerns and aspirations.
"Using data to inform content and digital ads can aid in the creation of experiences that are highly relevant, as well as different from that offered by competing brands. Not only can personalization enable marketers to hold the attention of their targeted audience, but it can also, ultimately, inspire brand loyalty."
Carter continues, "… creating a customer-centric focus ensures that a consistent experience is created that can be tailored across channels to lead consumers from your website to social media to email and beyond."
Benefits of personalization include content, related items, tailored offers and more, "… all of which creates a great experience and can lead customers down a designed funnel toward the checkout."
Raising your voice search
According to Nielsen, one of every four U.S. homes equipped with Wi-Fi owned a smart speaker in 2018. Our blog post last year noted comScore's research indicates that half of all online searches will be voice searches by 2020. Just two years after that, OC&C Strategy Consultants research predicts more than half of all homes will be equipped with a smart speaker. Of course, this capacity goes beyond search alone, with voice assistants such as Alexa allowing consumers to easily order products.
According to Carter, "Mobile voice search and smart speakers mean that consumers have a different way to interact with brands. They also mean that brands have a big opportunity to optimize results and content for voice search in order to make the most of the number of people now using this technology."
Our November 30, 2018 blog post – "What is Voice Search and How Will it Impact SEO?" – covers ways to optimize your website's pages for voice search. As we noted, voice search isn't the next big thing – it's already here, so now is the time for optimizing your SEO for searches based on the sound of someone's voice in addition to taps on a keypad.
AI – artificial intelligence builds real customer relationships
According to content intelligence platform Atomic Reach posting on Search Engine Journal, some companies are creating apps that allow users to take photos of an object and search for it on their marketplace. These processes would be impossible without the help of AI and machine learning (an application of AI that provides systems the ability to automatically learn and improve from experience without being explicitly programmed).
Add to this list chatbots, e-commerce targeting and improved voice search results, and a brave new world of digital marketing opportunities opens.
"As companies continue to optimize their approach to ecommerce marketing, voice and visual search are going to continue to take center stage."
Virtual reality (VR) reaches out
Revisiting entrepreneur Alexandro Pandro's observations regarding the rise of virtual and augmented reality in redefining e-commerce, "The advent of virtual and augmented reality technologies has provisioned ecommerce vendors with an avenue to display their wares in immersive detail, comparable to the real-life experience … Beyond marketing, the integration of VR and augmented reality … can allow users to visualize themselves using products immediately and provides a unique way to engage the customer."
Case in point: Thread Studio. Geared for t-shirt designers, this software describes itself as "… a new, interactive way to bring t-shirt ideas to life with virtual reality. Flip through color swatches, lay out your designs, and even model your creations on fully poseable mannequins! Once you're done creating, you can share photos with friends, get your shirts printed and delivered, or sell them online."
Immediate and interactive, the experience that VR offers can immerse members of your target audience in your brand and build customer loyalty. As the technology becomes more widespread and economical for consumers, expect VR to play a greater role in your digital marketing campaigns.
The impact of reviews
Getting good word-of-mouth for your business is more important than ever. Only now instead of people sharing their opinion face-to-face, they're taking to online review platforms like Google, Yelp and numerous others. According to Inc., 84% of consumers trust online reviews as much as personal recommendations from people they know. Positive customer reviews may be the single most effective marketing you can do for your business.
On average, a one-star increase on Yelp leads to a 5-to-9% increase in a business's revenue. At the same time, a single negative review can cost a business about 30 customers. Our March 8, 2019 blog post – "The Bottom Line About Online Reputation Management" – covers the need for keeping tabs on customers' opinions, reviews, etc., across diverse outlets, as well as how to  encourage and amplify the positive (and proactive steps to address and defuse the negative).
Regular monitoring of your online reputation is the first step. Some companies place the customer service team in charge, while others hire digital marketing firms or use reputation monitoring tools. While some are just for monitoring and alerts, others have functions that can flag, remove and assign tasks to your team.
"The only thing that is constant is change"
The above headline is a quote by Persian philosopher Heraclitus of Ephesus, who was born in 500 BCE. The world has certainly changed since then, and the world of digital marketing is guaranteed to continue that trend. However it evolves, establishing and building relationships with members of your target market will always be at the heart of the process. Keep listening to them, speak their language and be there to meet them – wherever they are – with what they want and what they aspire to be.
Helping you keep ahead of change
Keeping ahead of change can be a formidable challenge if you go it alone. Virtual Stacks Systems is ready to be your strategic partner with comprehensive solutions that include ecommerce hosting, digital marketing services, social media marketing and reputation management services. Contact us to learn what we can offer!