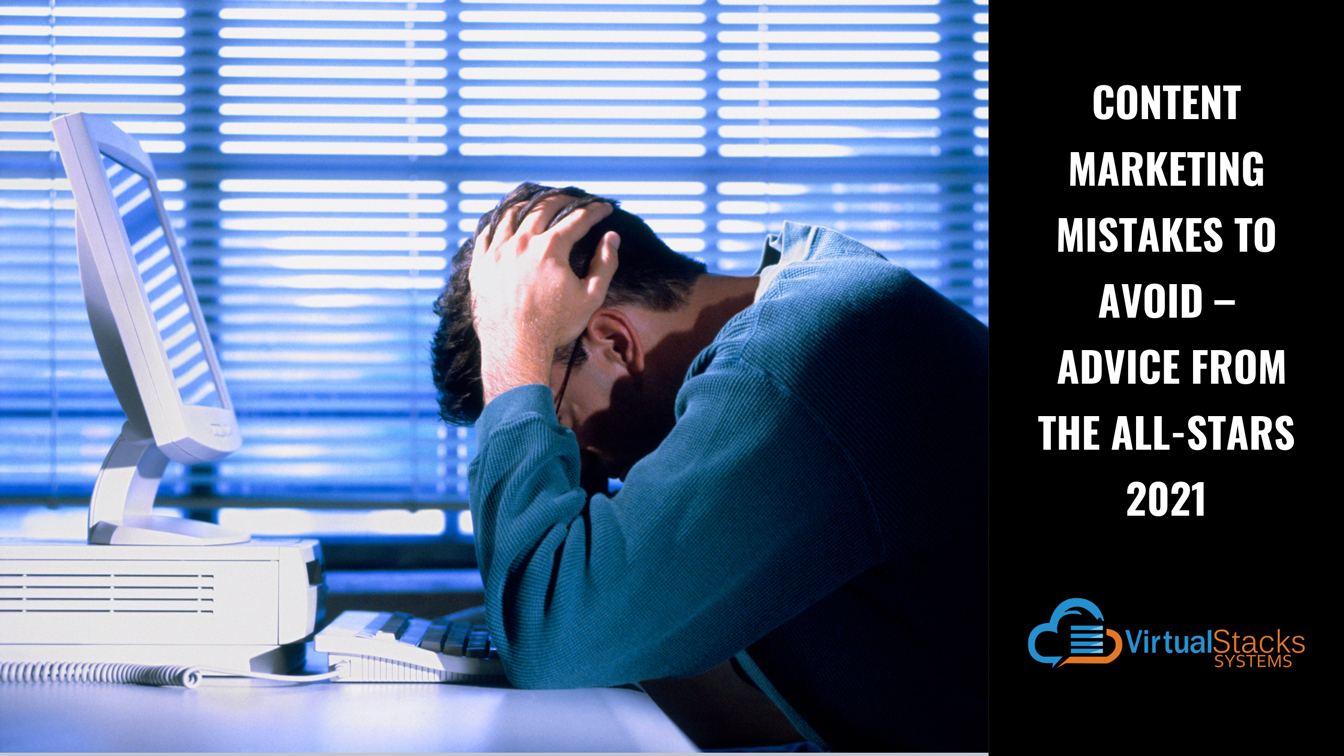 17 May

Content Marketing Mistakes to Avoid – Advice from the All-Stars 2021

Welcome to a time-honored tradition for our humble blog – our annual post of content marketing mistakes to avoid, as identified by prominent personalities in the digital marketing industry. As is understandable, the focus of last year's blog post was on COVID-19-related blunders – such as not adjusting content to acknowledge the profound changes in life and work patterns the pandemic caused. Fortunately, the "new normal" seems to be returning to just plain "normal," which means this year's list of faulty strategies and missed opportunities are of the more typical varieties.
Targeting Everyone Instead of Identifying Your Target Audience
Call this approach, "spray and pray" or "throw it against the wall to see what sticks." It means you're trying to reach as many people as possible instead of focusing on those who want to buy what you have to sell. This observation is from Chris Christoff, co-founder of MonsterInsights:
"Many marketers make the mistake of targeting everyone. As a result, they end up targeting no one. If you want to boost your sales and reach your conversion goals, you have to identify your target audience. When you know your target audience, you also know what their needs are. So you can easily customize your product or service and make it a perfect fit for them. This will automatically boost your sales and increase your profit. It also helps you focus on how to promote it in the market to make it more appealing for your users."
So how can you better identify your target audience? Creating a buyer persona can be a valuable tool. This is a research-based profile that depicts a target customer. It describes who your ideal customers are, their values, the challenges they face and how they make decisions.
Lest you assume that buyer personas are only for large companies, content marketing consultant Amy Wright reveals how small businesses – and even solopreneurs – can benefit from this effective marketing approach.
"For example, let's imagine you're a self-employed personal trainer. You have a website and a blog where you share tips and tricks for staying fit. Obviously, you want to attract customers who are interested in hiring a personal trainer. A buyer persona will help narrow your focus.
"Perhaps you'll find that the majority of your customers are new mothers in their 30's. Presuming this is a market you'd like to continue serving, you can now adjust your website and blog content to target this specific niche. This will make it easier to write copy for your website and to select blog topics that will resonate among your target audience."
Lack of Strategy
We're always fond of paraphrasing our favorite feline, the Cheshire Cat, when it comes to this topic. If you don't know where you're going, any road will take you there. Or not. Without a content strategy, you're just on a road to nowhere (shout-out to David Byrne).
Or as Syed Balkhi, founder of WPBeginner, so succinctly puts it:
"If you have all these great ideas for your content but don't have a strategy to flesh them out, you'll quickly run into problems. All successful marketing campaigns have a strategy that takes them from step one to step two to see fruitful results. Haphazardly piecing content together fails to create a cohesive content plan and drive traffic to your site.
"Unfortunately, it's not as simple as brainstorming an idea, writing, publishing, and watching the conversions roll in. You need to use data and website analytics to gauge what content performs best with readers and what content to stay away from.
"Spying on your competitors also helps you figure out your content marketing strategy. You can look at their best performing content to get an idea of how those topics would perform on your website or blog. Pay attention to content that drives ROI and engagement so you can go back to those ideas when you're ready."
Balkhi also recommends setting SMART goals:
Specific

Measurable

Achievable

Realistic

Time-based
"SMART goals work well for content planning because they turn vague ideas into specific, realistic, actionable ones" Balkhi writes. "They force you to set up your strategy with a timeline so there's an urgency to produce high-quality content for your audience."
Not Researching What Content Your Target Audience Considers Relevant
You may be seeing a pattern as to how all of these "don'ts" relate to each other. Digital marketing legend Neil Patel has the following to say about this particular pitfall:
"You can't afford not to research what is of interest to your customers. Posting content that you think is interesting won't necessarily draw the same appeal to your customer or visitor base. If you're an SEO company, posting about PPC likely won't draw the right kind of traffic."
That's why you won't see any blog posts here about popular TV commercials or how major brands do their marketing. Our target audience is small-to-medium-size businesses – which means we know you work on a very tight budget. We're always mindful about this reality, and strive to provide information, advice and tips that are relevant to your business and your success in reaching members of your target market.
You can start your research with Google Trends and – if you use Facebook Ads – head to the Facebook Ads Manager. Again, spying on your competitors' websites, blog and social media accounts also can help!
Not Creating Evergreen Content
The Balance defines evergreen content as "… content that is always relevant – much like the way evergreen trees retain their leaves all year around. Interesting and relevant content that does not become dated is necessary in order to be found online by search engines."
According to Patel, "Evergreen content can drive traffic for multiple years, whereas time-sensitive topics will only give you a short boost in traffic and then ultimately die off."
Creating quality content about your business, your areas of expertise and your industry in general will provide a solid basis for driving lead-generating traffic to your website over the long haul.
Not Using Visual and Video Content
Eye-catching graphics, infographics and video are all proven content formats for engaging members of your target audience. Textbook-like blocks of copy will quickly induce boredom and likely drive traffic to other websites – like those of your competitors!
Don't have a graphic designer or videographer on staff? Not many businesses do! However, practically everyone has a smartphone capable of taking high-quality video, and most business owners have access to graphic design tools such as Canva, Piktochart, and Venngage. All have a free version, and pricing plans for the full version. These tools are intuitive, which means that even those who have no graphic design or video editing experience can turn out pro-quality results. So basically, you have no excuse!
Ignoring Email Marketing
Contrary to popular belief, email marketing is still very much alive and well! Jeff Keleher, writer and editor for Brafton, makes the following observation:
"It turns out reports of email marketing's death have been greatly exaggerated. Email marketing is more vital than ever, giving brands a direct way to segment, engage, nurture and convert leads … If you play the channel's strengths (automation, segmentation, direct communication) and meticulously craft every campaign and email to engage your audience, email marketing will deliver enormous ROI."
Christoff weighs in with a similar observation.
"Email marketing is one of the most effective ways of marketing your business. You can use it to market your products, promote an offer, talk about an upcoming event, promote a new launch, or do anything you want to boost your conversions. The best thing about it is that, unlike other forms of marketing, it offers you the opportunity to interact with your leads one-on-one by landing directly into their inbox. So by using this opportunity strategically, you can easily convert your leads. This makes email marketing one of the most powerful tools for marketers.
"And even when you're not promoting your business, you can use it to nurture relationships with your customers. To make it more effective, you can even personalize your emails by segmenting your email list. So if you have overlooked its benefits so far, stop doing that now."
Not Including CTAs
So people read your insightful blog post, engaging social media post, etc. What do you want them to do next? Visit your website or its Contact Us page, right? You need to tell them with a call-to-action (CTA)! Our blog post – "X Marks the Spot – Create Call-to-Action Buttons That Get Leads" – covers the art and science of effective CTAs in detail.
Ignoring SEO
There is no effective content marketing without solid search engine optimization (SEO). Balkhi notes that websites that pop up on the second page of SERPs attract only five percent of search traffic. Therefore, if your site doesn't show on the first page of search results, most users won't see it or be able to engage with it. 
"Marketers who create content without SEO in mind are setting themselves up for failure," Balkhi writes. "With so much pre-existing content out there, you need to prove that your content deserves to appear high in search results. Search engine optimization ensures that your target audience finds your content so it drives traffic to your website."
Fundamental steps to increase SEO include keyword research (start with Google's free Keyword Planner), as well as adding a blog if you don't already have one.
Ignoring ROI
Not measuring the return on investment (ROI) of your content marketing efforts means you won't have a clue about what is and isn't working.
"By measuring your ROI, you can identify whether or not your strategies are effective for your business," Christoff writes. "This helps you recognize the marketing campaigns that aren't helping you reach your conversion goals. So you can easily change or modify those strategies and save any further damage that can happen to your business.
"To measure your ROI, you first need to figure out what it is that you're measuring. It can be your click-through rate, sales, traffic, or anything that your conversion goal is. By measuring the result of your goal, you'll know how much you have earned on the total investment.
"Just take the financial gain from your investment and subtract the cost of your investment. Divide that number by the total cost of your investment. You'll know exactly how well your strategies are performing."
The Take-Home Message and Our Strong CTA (Otherwise Known as Our Blatant Self-Promotion)
That concludes this year's edition of the top content marketing mistakes! Now that everyone is getting back to business, this is the time to re-evaluate your digital marketing and make the changes that will help you optimize your new opportunities!
Virtual Stacks Systems offers a wide range of digital marketing services – including PPC advertising, website design and redesign, SEO marketing, review management services, social media marketing and much more!
Contact us today to get started.