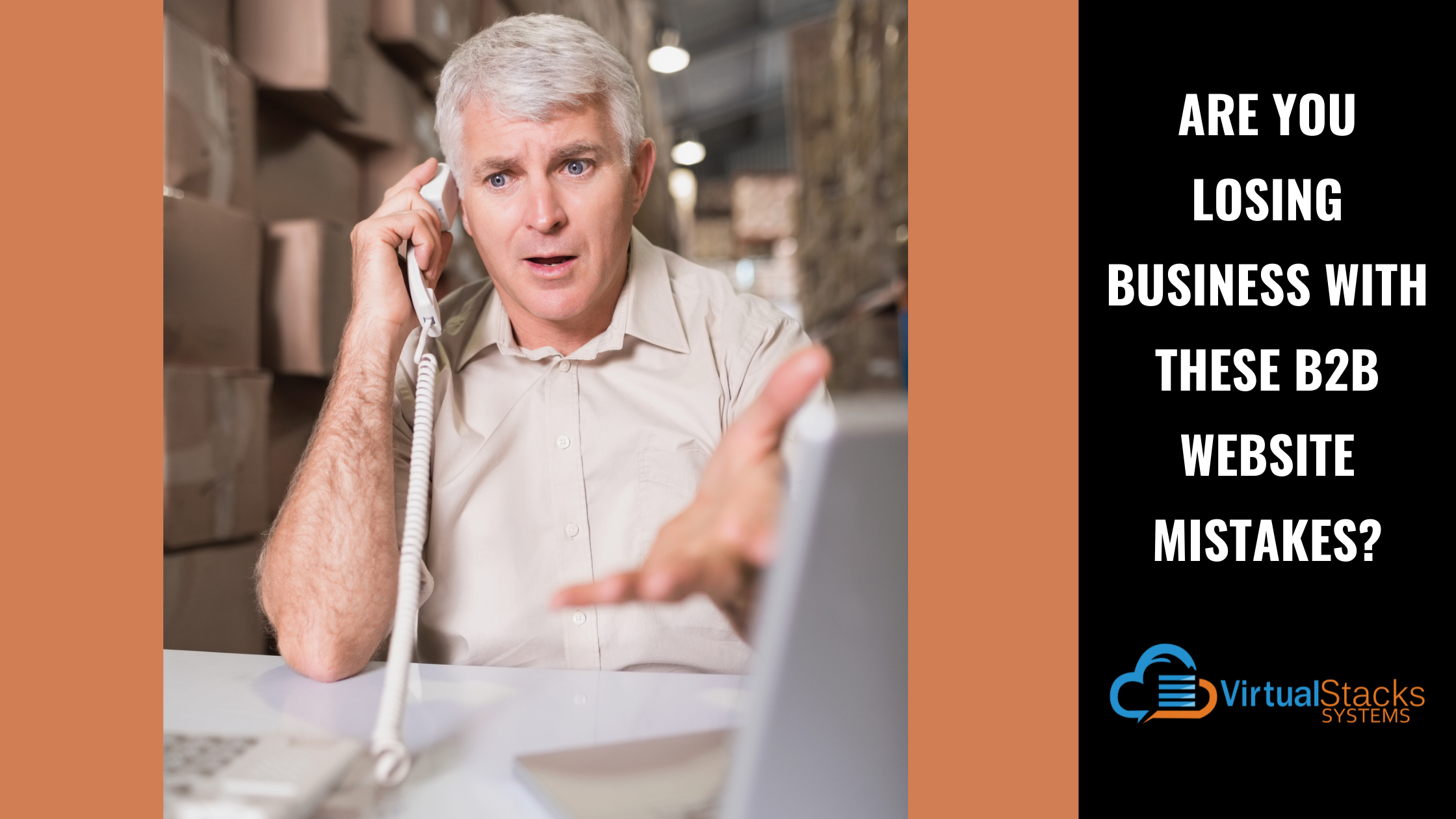 01 Oct

Are You Losing Business With These B2B Website Mistakes?

So your business has been selling products or services to other businesses for over 25 years. Good on you! But if your website looks as if it hasn't changed in all that time, you may not be able to take the next 25 – or even the next five – years for granted. If you think that only B2C enterprises need to be concerned with having an optimized, up-to-date website, think again! The stakes are just as high in the B2B world – perhaps even more so! As we've said before, your business's website doesn't just represent your business, it is your business. Therefore, you must present yourself online with a professional, well-designed website that's able to gain the trust of prospective clients so they convert and remain loyal clients.

It's easy to fall into the trap of believing that your company's reputation speaks for itself, and everyone who is worth doing business with is already familiar with it. But the business landscape has changed radically over the past year on many levels – from broken supply chains to the bankruptcy of established companies and the sudden ascent of new ones. In short, all bets are off, and your B2B website needs to be as competitive as possible.
See Your B2B Website Through The Eyes of Its Visitors
Visit your website and imagine you're seeing it for the first time. Also, imagine this is the first time you've heard about your business, and what you want to learn about it through this visit. We'll wait.
Okay, now that you've seen it through the eyes of your prospects, would you say the experience was positive, or did you notice the following issues?
Outdated design – In extreme cases, the web design in-joke, '1998 called – it wants its website back,' applies. But if you think you're saving money by holding back on an update, consider the findings of Stanford University's The Web Credibility Project, which reported that approximately 75% of people judge the credibility of your business based solely on the design of your website. That's right – refusing to change with the times can actually cost your business in terms of lost customers, reduced sales/market share and an overall poor brand image. This applies to B2B websites as much as it does to B2C sites. Our blog post – "Does Your Website Need an Extreme Makeover?" – covers this topic in greater detail.
But it isn't just a matter of a poor aesthetic experience. Outdated website design also includes outdated functionality and slow loading speeds – which result in a poor user experience and the increased likelihood that visitors will quickly leave.
A text-heavy, cluttered homepage – According to Elevation Marketing, "Your homepage is essentially the first impression of your company, so it's important to make it pleasing to the eye. Many B2B sites pack their homepage full of large blocks of texts or graphics, which can be incredibly overwhelming for the user. While it is critical to ensure your users are informed, there is a fine line between informative and overwhelming."
Closely related to this common mistake is information overload. This typically occurs on websites written by the business owner, who launches into a lengthy account about company history, staff, leadership and industries served. Not all information is equally important, and not all belongs on the homepage. Being unable to prioritize content will simultaneously confuse and bore visitors, whose eyes will glaze over before bouncing off your website – and presumably on to that of your biggest competitor.
In some cases, this bad situation is made even worse when multiple stakeholders have a say in the website's copy. Each business partner may have strong opinions about what information needs to be conveyed, so it all winds up in pretty much the same place – whether or not it provides the information that visitors (your prospects) are looking for.
Me-focused copy – Too many B2B websites focus more on the first "B" than the second. As Jenna Weinerman – marketing director at Updater – writes, "They sell their services as 'we do this,' 'we do that,' or 'we provide this.' What they should be doing, though, is talking about how you can benefit from their product or service. It's like walking into a networking event or cocktail party and only talking about yourself instead of listening to others and figuring out how you can work together. If you always talk about yourself, the person listening won't feel important or valued. In contrast, B2C websites talk directly to the consumer and address their needs head-on."
Not meeting your visitors at each stage of the buyer's journey – The main purpose of your website is to generate leads that convert into sales. Still, many B2B websites don't address the needs of buyers at every stage of the customer's journey. According to Dom Nicastro – senior reporter for CMSWire – "The customer, whether complex or simple, requires content at each stage of the sales funnel."
In short, not everyone who lands on your site is ready to contact a salesperson. But providing them information that they consider valuable throughout their decision-making process can make it much more likely that eventually happens.
Rick Whittington – founder and principal of Whittington Consulting – elaborates on this shortcoming, asking if B2B company owners are doing any of the following on their website:
Building trust with potential customers by providing information that reinforces that you understand their industry and the problems they likely face.

Providing non-intimidating ways to get answers to their questions without getting a sales pitch.

Writing content that's not about your product, but instead about your potential buyer's situation.

Helping customers decide whether your product or service is even an option to meet their needs.
If not, Whittington recommends revising your website's copy to better align with the needs and pain points of your target market. Also, he writes, "A blog is a great addition to a B2B website to give your company a platform to build a library of information about your target industry. Blogs are short enough to read quickly and non-threatening for the buyer that's just doing research. Blogs can also interest buyers and direct them to lead generation pages on your website."
Our blog post – "Why Your Website Needs a Blog" – covers why blogging is integral to your online marketing strategy. According to the inbound marketing experts at HubSpot, businesses using blogs as part of their content marketing mix get 67% more leads than those that don't. The catch: When you start a blog, you need to post on a regular basis – at least once a month. And the content needs to be informative and high-quality, not self-serving or spammy.
A good blog allows you to establish credibility and expertise – and also delivers SEO benefits. Yes, B2B websites need to pay attention to SEO as well as their B2C brethren. Google and other search engines reward fresh website copy with higher rankings in the search engine results pages (SERPs). New content "shows" Google that your website is alive, well and active. Ranking higher in search results is always better than languishing at page five, where your business is likely to remain undiscovered. Most people – even owners and decision-makers at other businesses – only visit the first few results of their search, assuming those businesses are the industry leaders or otherwise the most successful (and therefore, the best).
Outdated information – Those who consider their website a set-it-and-forget-it entity fail to update the copy when situations change – for example, when products/services are added or dropped. If your website posts testimonials, you won't impress anyone if the last praise from a satisfied customer is a few years old. The website copy itself needs to be updated at the time the change is made in order for visitors – a.k.a. your potential customers – to have relevant information.
Poor navigation – How easy is it for visitors to find the pages they want on your website? Confusing navigation results from poor design and layout. Each page should have a navigation bar on the top, and the same navigation links on the footer. Each category should be easy to understand. For example, when visitors see "About Us," they know what to expect. Being clever by calling it "What to Know" or something similarly indirect can backfire.
According to Elevation Marketing, "Many sites feature confusing menu structures that make it difficult to find even the simplest pieces of information … Important pages, such as contact pages and inquiry forms, should be quick and easy to find. As a best practice, your most important content should be within three clicks from the homepage. If users can't quickly and efficiently find the content they need, they are likely to look for services elsewhere."
Not optimized for mobile – Even business owners and decision-makers are more likely to research vendors on their smartphone or tablet rather than desktop computer. A website stuck in the past and not optimized for mobile will display as a miniature version of the site as rendered on desktop – making it impossible to read, much less navigate. Websites optimized for mobile typically have a "hamburger menu" – an icon depicting three stacking horizontal lines that, when clicked, reveal the navigation menu, allowing easy navigation in the mobile environment.
Poorly written content – This is an all-too common situation when website copy is written in-house by someone who is not a professional digital marketing content writer. If you took the DIY approach to save money, our blog post – "Are You Losing Money Writing Your Own Website Copy?" – covers in detail why this is not only a bad idea, but a potentially costly one!
You can probably sense the spoiler alert here, leading up to our take-home message and blatant self-promotion. But the truth is, creating finely crafted content that will drive lead generation and conversions is a job for a pro.
In our own words, "Unlike almost every other blog post written about this topic by other digital marketing agencies, we are not going to give you tips on how you can do it yourself. You can't. Like repairing a car or air conditioner, there are some jobs only an experienced pro can perform. And if your business provides either of these services, you're probably inclined to agree. You've undoubtedly seen the serious – and expensive – damage done when non-professionals go the DIY route in a misguided attempt to save money … It's like being given a paintbrush, tubes of paint and a canvas, and being told to paint a realistic portrait. Most of us couldn't do it."
The Take-Home Message and Our Blatant Self-Promotion
Your B2B website is too valuable an investment to be anything other than a finely tuned lead generation machine for your company! Avoid the mistakes listed here – and the many more that we ran out of space to cover – by hiring a full-service digital marketing agency. Virtual Stacks Systems does it all – including experienced  website design, website redesign, SEO services, content marketing and much more! Contact us today to learn what we can do for you. We're ready to be your partner in success!