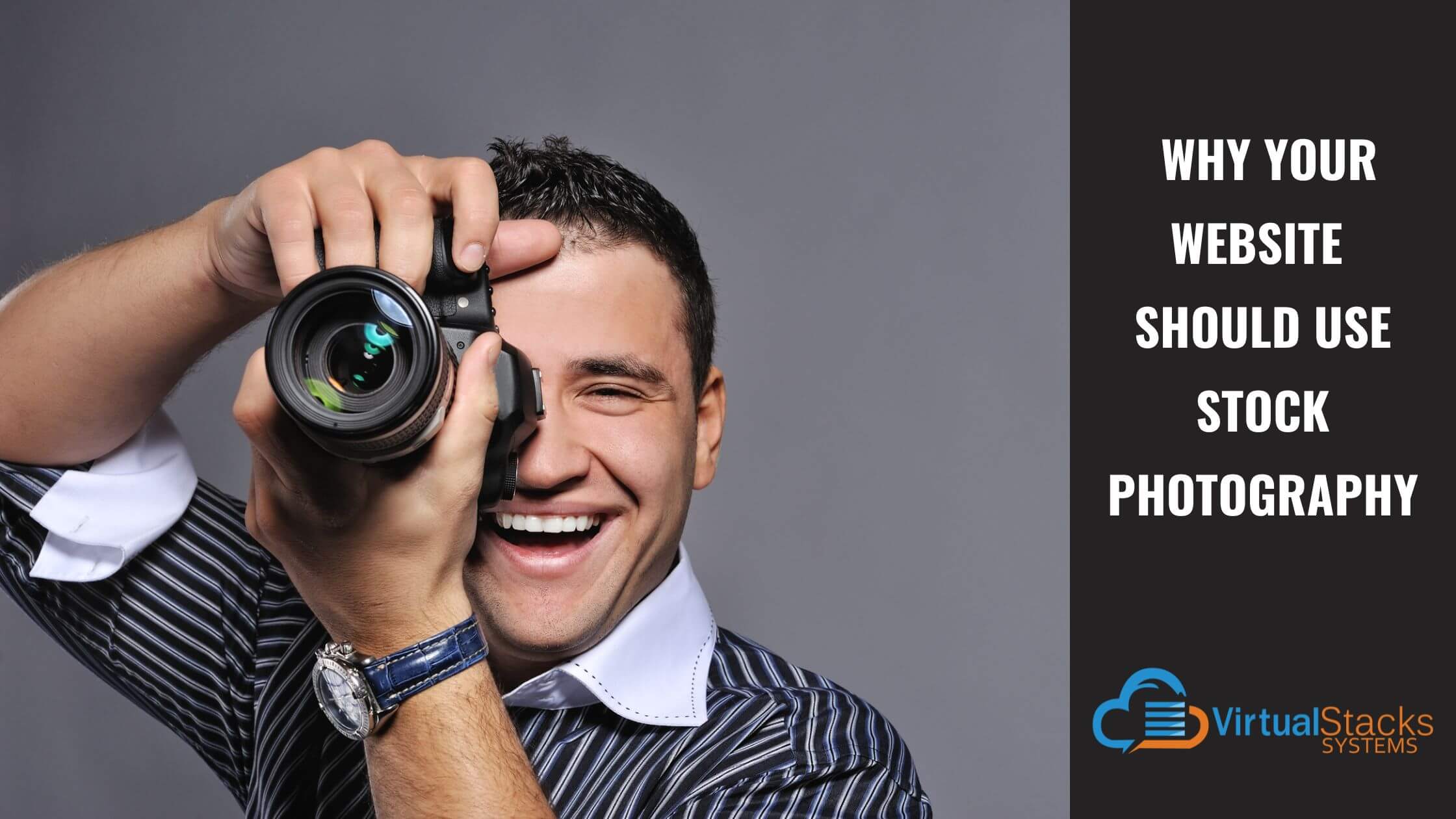 23 Aug

Why Your Website Should Use Stock Photography

Conventional wisdom isn't always wise. Sometimes, someone needs to speak out when an accepted "fact" isn't practical or useful to those seeking help. That time is now, and that someone is us. And the "fact" to which we're referring is the oft-repeated mantra of digital marketing experts that using stock photography on your website is bad.

We not-so respectfully disagree. It's long been our observation that high-powered digital marketing agencies focus on large companies that have plenty of resources and a generous marketing budget. Either that, or they're just not living in the real world, where owners of small-to-medium size businesses have to carefully watch every expenditure to ensure they get their money's worth. When chosen and used carefully, stock photography can give your business the look of the reputable, professional, well-run establishment that it is. It can help build confidence among visitors to your website that they're at the right place – and encourage them to buy what you're selling!
What the "Experts" Get Wrong About Stock Photography
Here are the typical arguments against stock photography, and what the experts recommend – and why it isn't realistic:
The conventional wisdom argument: Stock photography looks generic and cheesy, and doesn't give your business distinctive branding. It makes your business seem less trustworthy because it doesn't show the real location and the real people who really work there.
The conventional wisdom recommendation: Hire a professional photographer! Have the professional photographer professionally photograph your place of business, you and your employees! Can't afford a professional photographer? Well, just take some nice photos yourself and use them on your website!
Why conventional wisdom isn't realistic: We think you see where we're going with this. Professional photographers are expensive. And what many people don't realize is that not every professional photographer can do every kind of job. For example, a wedding photographer may be very skilled and artistic, but that doesn't qualify him or her to photograph interior spaces. Interior photography is a specialized area of expertise, requiring the right lighting equipment and a trained eye to frame the best angles.
This also isn't a job for a friend or family member who has an expensive camera and "dabbles." While you may be tempted to take this route – especially if you've gotten quotes from some pros and it seems like a bargain in comparison – the results still won't look professional, and can be more of a drawback than a benefit to making a good first impression on visitors.
And no, this is definitely not a DIY project. The quality of smartphone cameras is better than ever, but you still need professional-level camera equipment, appropriate interior lighting and a good command of how to frame a scene to produce photos that can proudly represent your business. However, with some basic tutorials, you can take quality, engaging photographs for your social media posts! If your friend the dabbler wants to help out in this department, take them up on their offer. Our blog post – "Get a Sharper Image for Your Brand Through Sharper Images" – provides a user-friendly guide to shooting social media photos, and includes additional advice for choosing the right stock photographs for your website.
Another consideration is the fact that some industries don't lend themselves to being photographed. Sarah Stromsdorfer of My OT Spot – a blog and online community for occupational therapists – makes the point that because of HIPAA regulations, it is not legal for any healthcare facility or provider to use photographs of patients unless the patient signs a waiver and the facility approves it. For healthcare industry websites, stock photography offers an easy solution without the legal issues.
"I find it to be much easier and safer to quickly find a stock image of an older adult or 'patient' in a hospital and just pay the $3, versus taking a tremendous amount of time hiring out people to act as patients," says Stromsdorfer in an interview with Masooma Memon for ReferralRock. "I think it's much harder to take your own professional pictures of places, items and situations, so I recommend stock images for most industries for ease."
The Advantages of Stock Photography for Websites
Stock photography is economical and readily available. Best of all, it's of premium quality. Photos are professionally composed, with optimized lighting, resolution and other editing effects. They give your website the professional polish that photos taken by an amateur lack.
"Stock images … provide convenience and allow brands to elevate their website landing pages and articles," says Bernice Quek of Progress ABMS in her interview with Memon. "Images are crucial for conveying your intended messages while beautifying your pages to attract readers."
In other words, high-resolution, sharply focused professional-grade stock photos will represent your business better that somewhat blurry, poorly composed snapshots taken on-site. Frankly, the impression visitors would get of the latter example is that of a less-than-professionally run business. If you don't pay attention to the quality of your website – including the photos – potential customers will wonder how closely you're paying attention to the quality of your business.
How to Use Stock Photography on Your Website
The conventional wisdom about avoiding stock photography did come from a good place, as examples of inept use were – and unfortunately still are – widespread. Here are a few simple rules for making wise choices:
Don't use photos you've seen on other websites or social posts.

Don't select the first photo you find. Chances are many others have also used it.

Look for photos featuring people who reflect the culture of your business as closely as possible. Avoid photos of people wearing business suits if your company's style is casual.

Chose photos of people in settings and groupings that look like they would actually occur in your organization.
Keep in mind that your website is an important part of your business's brand identity. No matter how small, your enterprise is a brand. Therefore, your website should embody your brand identity through its design, colors and photos. Starting with a solid visual brand identity, choose your stock photography accordingly. For example, if you own a machine shop, go with photos that have an industrial look. In her article for Boss Project, Samantha Mabe – owner and designer of Lemon and the Sea – emphasizes the need to choose photos that fit your brand colors and style.
"Instead of choosing images that look great, but don't fit your brand, start your search with your brand in mind. Then, even if you find other beautiful options, you won't be tempted to spend your hard earned money on something that won't work for your business. Even if you're using a stock library, don't try to use every image available. They may be beautiful, but if they aren't on-brand, you're going to confuse your audience and make your website less inviting and streamlined."
Stock Photography Resources and Legalities to Keep in Mind
Several services offer royalty-free stock photos, including Morguefile, Pexels, Pixaby and Unsplash. Subscription services such as Depositphotos and Shutterstock offer tiered plans for a monthly fee, although these are more appropriate for agencies and larger companies that have an ongoing need for stock photography. To get a little ahead of our blatant self-promotion, hiring a digital marketing agency gives you access to a much wider range of photo subjects that are more highly specific to a variety of professional, healthcare, retail, restaurant and service workplaces.
Whichever stock photo source you use, carefully read its terms of use to be sure you comply. For example, Pexels doesn't allow unaltered copies of a photo or video to be sold as a poster, print or on a physical product without modifying it first – among other restrictions.
The Take-Home Message and Our Blatant Self-Promotion
Stock photography in and of itself need not be clichéd and impersonal. Chosen and used wisely, it can elevate your website and encourage visitors to take their first steps on the customer journey. Of course, your business also needs a good web design or redesign – as well as strong SEO to rank high on search engine results pages (SERPs), and winning content to further engage visitors once they're arrived. Our experienced Virtual Stacks Systems team offers website design and redesign, SEO services, social media marketing, email marketing, PPC advertising, review management services and much more, so you can focus on your business! Contact us to get started.