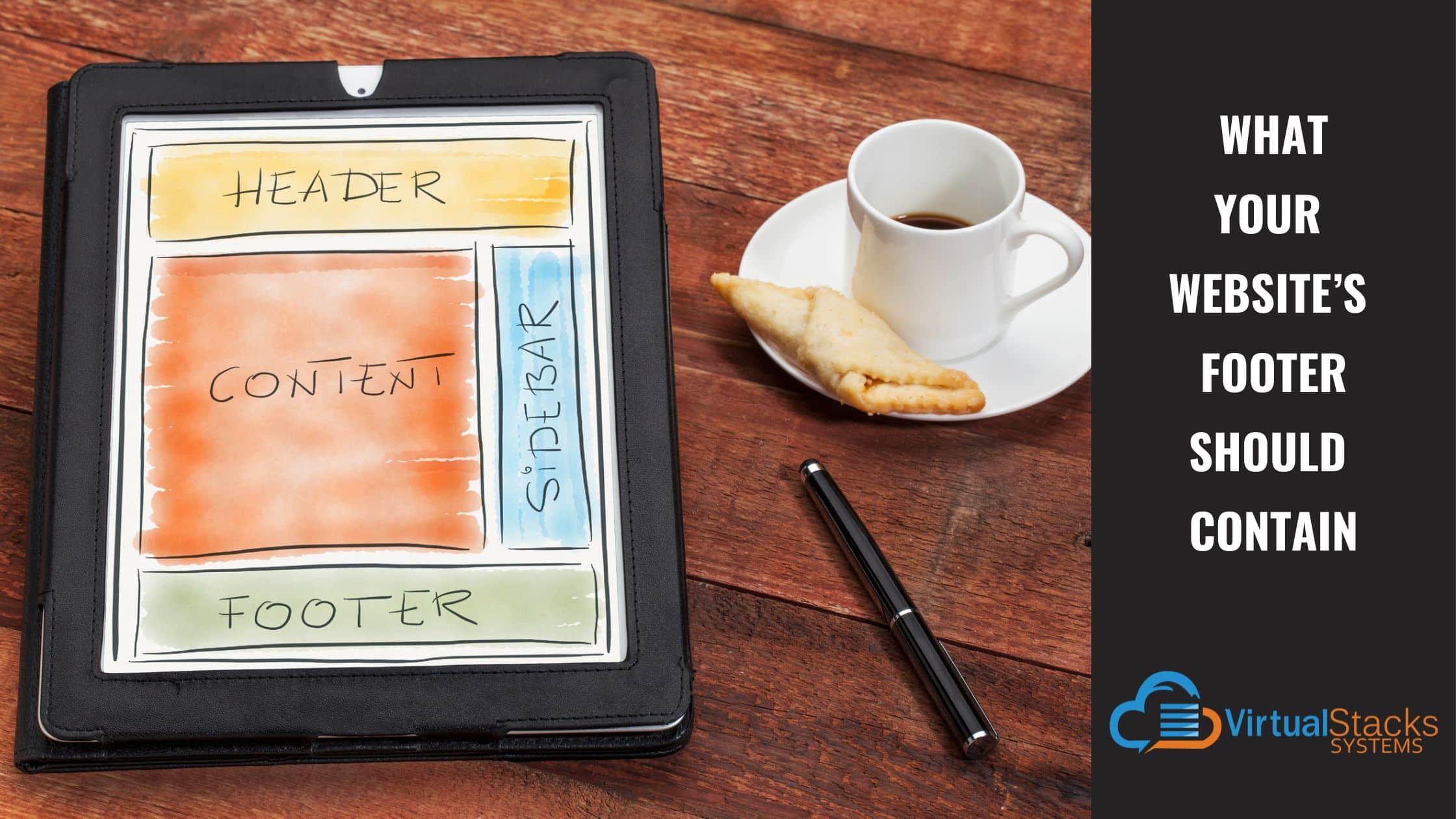 03 Apr

What Your Website's Footer Should Contain

Consider the website footer: That unchanging section of information near the bottom of every web page that includes the copyright notice, links to pages also featured on the top navigation menu, and perhaps a disclaimer and links to the company's social media platforms. But did you know that the seemingly humble footer is an important part of your website's success in keeping visitors on site, easily finding the information they're looking for, and – ultimately – converting into a lead or customer? Or that a well-designed and well-planned footer also can boost SEO? Yes, your website's footer can do all this, and more!

But first, let's make clear what a footer is not. Sandra Boicheva of htmlBurger provides this helpful clarification:

"The website footer is not a sitemap or a catch-all where the entire website content is squeezed into titles in columns. It's in fact the last section where you can leverage a secondary call to action, convince your visitors of your expertise, drive engagement by linking to your social media, and much more."
Why Your Website Needs a Footer
We have seen small websites without a footer – usually for e-commerce businesses. Truth be told, they don't look legitimate. It's especially important for an e-commerce enterprise to quickly establish trust with potential customers, as they don't have a physical location that people can visit, or that can be seen on Google Maps.
Yes, people do judge a business by its storefront, and if they can't drive to your place themselves, they can at least see its Google Maps photo to decide if it appears to be tidy and professional, or run-down and sketchy. If you don't have a storefront or office space, your website has to do all the heavy lifting! Think of the footer as its foundation.
What to Include in Your Website Footer
The information on footers varies depending upon the nature of the business and size of the website. According to WordPress expert Maddy Osman in her article for Icons8, there are three major considerations:
Content –

This is dependent on your company and goals.

Structure –

Content organization directly contributes to usability and engagement.

Aesthetics –

This refers to how your website footer looks in relation to the website as a whole.
Using these considerations as a basic guide, the footer should include the following:
Your logo – Even though your logo is (or should be) on every page, it also needs to be on the footer, as it is a summary of your website's content. This reinforces your branding. If applicable, include any trade association logos.
Brief brand/business description – Basically, who you are and what you offer. Short and sweet is the key.
Copyright notice – Including this information stakes your claim to your website and its content being your own, and provides protection from plagiarism. In her article for Telerik, web technology writer Suzanne Scacca writes, "Granted, the second you create and publish a website, it's copyright protected. However, including that line at the bottom of the website serves as an extra layer of protection in case someone decides to rip off your content and you need to take them to court over it."
Contact information – Depending upon the nature of your business, this should include the physical address (if applicable), email address, map (or link to a map) and phone number. Make it easy for visitors to your website to find and contact you, rather than just leaving this information exclusively to the Contact page. Our blog post – "Five Questions Your Small Business Website Should Answer for Visitors" – covers the importance of providing comprehensive contact information.
Navigation links – Visitors should be able to navigate your entire site from your footer, as well as from the top navigation bar. As Sean Tice, Creative Director for North Street writes, "They present a path to continuing engagement. By including navigation links in the footer, you make it easy for site visitors to keep exploring without forcing them to scroll back up."
Social media icons with links – "Social media is a major tool for bloggers, website owners, and marketers alike," writes Simon Keating for Jetpack. "Social media icons give you a unified interface to place links back to your social channels, encouraging interaction on platforms other than your website." However, be sure to remove icons for social media platforms you're no longer active on.
Privacy policy/Terms of use – "Some websites may need a privacy policy page because it's required by law or a third-party service." Osman writes. "A 'Terms of Use' page is similar and explains what the visitor agrees to when visiting a website. To give an example, if you go to a website for a company that sells alcohol, you'll be asked to share your age or agree that you're 21+ to proceed."
Contact form – For some businesses, having visitors fill out and submit a contact form is a way to acquire qualified leads. Medical practices and businesses providing professional services often have a contact form for requesting a consultation. According to Osman, the advantages of having a link to this form in the footer include the following:
Form submission is easy to track as a goal completion in Google Analytics.

Forms can integrate with third-party software, like a CRM.

Forms allow you to send certain questions to certain people.
Sitemap – In the words of Google, "A sitemap is a file where you provide information about the pages, videos, and other files on your site, and the relationships between them. Search engines like Google read this file to crawl your site more efficiently." It also helps Google and other search engines index all of the pages on your site – which helps SEO. A sitemap in the footer is helpful for larger websites.
Do Website Footers Help SEO?
Yes – but it's a qualified "yes." Not every website is big enough to make a sitemap necessary – especially sites for small local businesses. However, there is a way to optimize what you do have.
According to Justin Berg, founder of Rock the Rankings, footer information links to internal pages, which helps visitors navigate your website.
"Internal linking structure is very important for SEO, and also for helping users navigate your website in a natural way … Google wants to understand whether you've added footer links only for SEO purposes, or if they exist to help the end-users in their navigation process.
"If Google determines those links were added to help users navigate your website, they are considered a positive item and Google will crawl those links. If these links are added strictly for SEO purposes, this will be seen as a negative in the eyes of Google and certainly something you want to avoid."
The Take-Home Message and Our Blatant Self-Promotion
Once you look at your website's footer in a new way, you'll be able to make it a more effective tool in driving more traffic to your business, or generating leads. Of course, effective website development, design and content need to work together to make that happen! Our Virtual Stacks Systems team is adept at website design, website redesign, SEO services, social media marketing, email marketing, PPC advertising, review management services and much more! Contact us to get started.