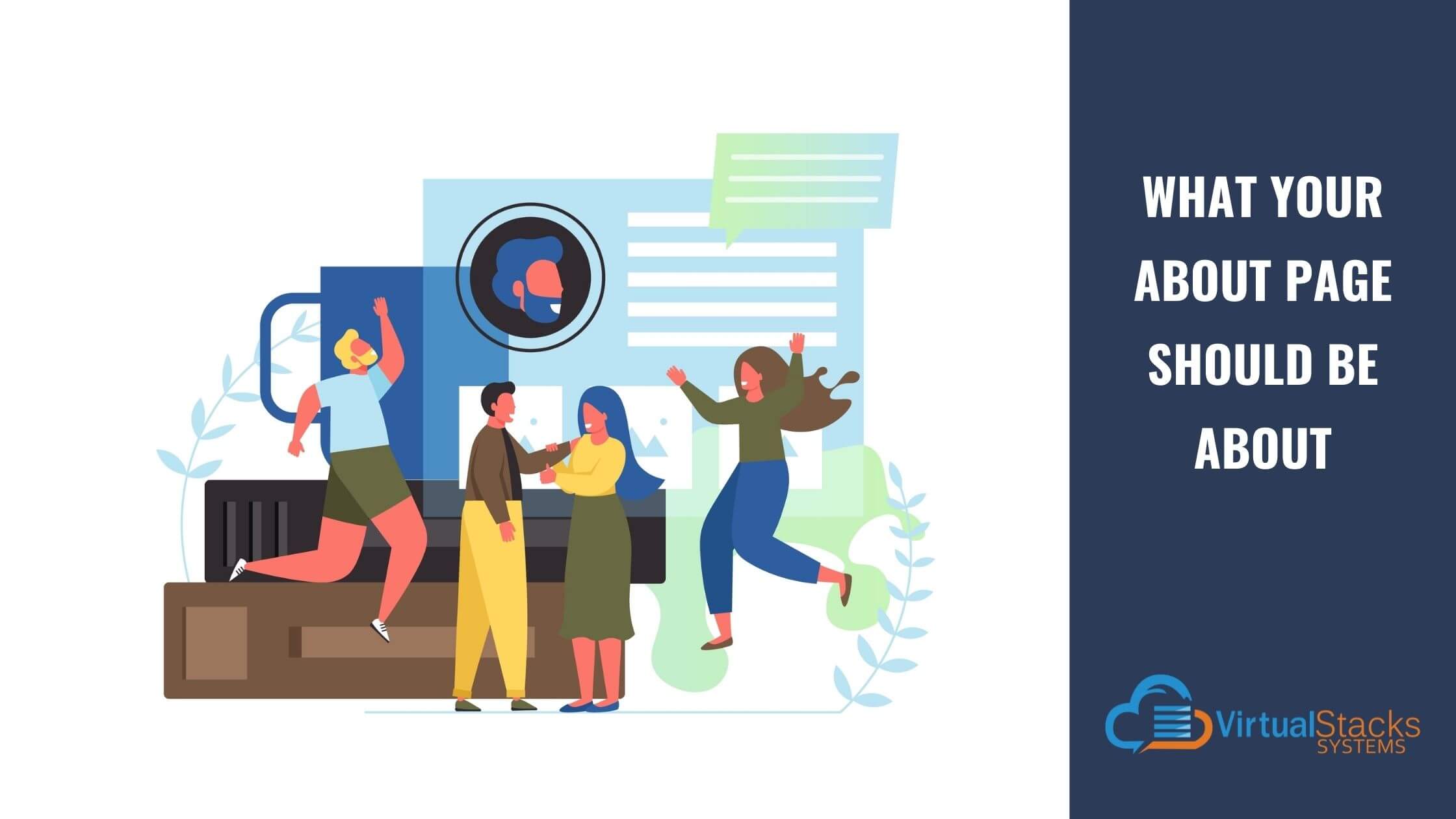 25 Jul

What Your About Page Should be About

Next to your website's Home page, its About page is probably the most important in terms of engaging visitors and putting them on the road to becoming customers. Yet, this vital page is often the most difficult for small business owners to write if taking the DIY approach – which we don't recommend, for reasons that our blog post – "Are You Losing Money Writing Your Own Website Copy?" – covers. Even if enlisting professional help, you may still grapple with conveying your business's unique background, identity and value proposition into words that a content writer can use as the basis of a compelling story.

In order to give your website the outstanding About page it deserves, we offer this guide on the purpose of the About page, what it should tell members of your target audience and what it should not do.
The Purpose of the About Page
The About page of a small business website should establish credibility and trust by telling the story behind your enterprise. A basic approach is to utilize the so-called "Five W's" of journalism, adapted to business:
Who

are you?

What

does your business do?

When

did your business start?

Where

is your business located? However, don't mistake this for the Contact page. Your town is all that matters at this point, not the complete address. Visitors can then get an idea of your proximity to them, if they didn't see your Google Business Profile (formerly known as Google My Business). You may also take this opportunity to embellish and set the scene if your location is brick-and-mortar. For example, "We are downtown, in the thriving arts district." Such details can entice potential customers through your doors, as you're offering an experience that goes beyond a mere transaction.

Why

should people choose your business over your competitors?
Keep in mind that visitors click to your site's About page for information that the Home page prompted them to seek. They may be interested in your products or services, but want to learn more before deciding to visit or schedule an appointment. The About page is where they should be able to do that!
While visitors might not think about it in so many words, Reseller Club notes that they're looking to the About page to answer the following questions – some of which are similar to the Five W's:
Is it a private, public or a family-owned business?

Is it a big company or small?

What are the core values of the company?

What is the company history?

Who is the owner of the firm?

What makes the company special?
For ecommerce websites, the About page is even more significant, as it carries almost the full responsibility of assuring potential customers that your business is legitimate and reputable. BigCommerce describes the situation as follows:
"Ecommerce is a rapidly expanding segment of overall commerce, with more stores being opened each and every day. An about us page helps a business distinguish itself from the competition. This individualization is valuable for businesses that are using drop shipping or are otherwise selling products offered by other stores. Customers place a great deal of value on price, delivery options and customer service, but will also remember a store that has a more developed personality. The about us page helps online retailers develop a relationship with customers and build trust by putting a face and a story to the name on the storefront.
"About us pages serve much the same purpose for retailers who sell less-common or unique items as well. Additionally, they allow for an in-depth explanation of what brought the ecommerce store owner to the specific market and the thought process that led to the items being created and sold."
Elements of an Engaging About Page
The fact that a visitor clicked on your website's About tab is a good sign they're interested in your business! Now that you have their attention, the About page needs to keep them interested and prompt them to take the next step – whether it's to continue to your Products/Services page, pay a visit to your location, schedule a consultation or get a quote. In order for them to do so, include a strong call-to-action (CTA) and prominently placed CTA button they can click to get them there. Our blog post – "How to Make a CTA That is Irresistible" – covers this topic in detail.
As an About page is intended to make a more personal connection with visitors, knowing your target demographic is essential. The tone, brand voice and approach will be much different for an audience of young mothers than for surfers. Consider how your products or services will help them better accomplish what they want, perform tasks easier, solve their problems or get more enjoyment from their experiences. Speaking the language of your visitors will help them engage and connect with you.
In order to do so, see yourself as a member of your target demographic. Would you want to do business with your enterprise based upon your About page? If you are a member of your business's demographic, tell that story! You'll have even more credibility, because your product or service represents a solution to a challenge of theirs that you've experienced firsthand! But whatever story you tell, that story needs to be about you and your business rather than what you sell. Products/services information belongs on that page. This is the page to let what's unique about your business shine through! Sell yourself here!
The About page is where you can show potential customers the advantage your business has over a big brand. Everyone knows where they can go for a fast burger, but your place has its own spin on serving up hamburgers and offers a more relaxed, fun dining experience. It isn't often a small business can outdo a corporation, but the About page offers that valuable opportunity!
This leads to another pertinent point. Your About page needs to be a page – not a paragraph or two. Take the time to convey your unique history, value proposition and mission statement. Many other businesses offer the same products, services or – in the case of eateries – type of food as yours. Inspiring people to choose you over your competitors by setting yourself apart can't be done in a measly couple of paragraphs.
A word of caution: The only acceptable designations for the About page are "About" or "About Us." You want visitors to find what they're looking for a.s.a.p., and getting creative will only backfire. Calling this page "Who We Are," "Our Company" or anything else can cause confusion – and a quick bounce to a competitor's website!
What an About Page is Not
Now that we've established what an About page is, here is what it is not:
A sales pitch – Avoid a hard-sell sales pitch. At this point, visitors are mainly interested in learning more about your business, rather than being ready for an online purchase or a visit in person. In fact, aggressive sales messaging on your About page could very well make them decide against going to your brick-and-mortar location, as they'd expect to be immediately pounced upon and pressured to buy something.
TMI overload – Your About page should be about you, but only in as much as your personal background and experiences led you to start your business. Delving into your childhood, high school years, family life, pets, hobbies, etc., are examples of irrelevant oversharing. Unless any of these just listed directly inspired you to open shop, including them on your About page is just too much information that distracts from what visitors really want to know.
Your Contact page – As previously mentioned, your website's Contact page should be dedicated to your business's complete address, phone number(s), email address and directions. Including it on your About page is off-message and disruptive. In addition, having a separate Contact page boosts your website's SEO!
Your LinkedIn profile – This is more of a potential pitfall for single-owner proprietorships. An About page that reads like – or is based upon – your LinkedIn profile will come across as dry and impersonal. Even if your enterprise is business-to-business, other business owners and decision-makers want to feel the enthusiasm you must feel about what you do and what you offer. LinkedIn profiles are typically just-the-facts to help visitors quickly determine if you have the qualifications and experience they're looking for. Visitors to your About page want to learn more about you as a well-rounded entrepreneur.
The Take-Home Message and Our Blatant Self-Promotion
To paraphrase the tagline of a well-known tire manufacturer, because so much is riding on your website's About page, it needs to be the very best it can possibly be! As also previously mentioned, writing effectively for this important page – as well as every web page – is a job for the pros.
Our experienced Virtual Stacks Systems team offers website design and redesign, SEO services, social media marketing, email marketing, PPC advertising, review management services and much more! Contact us to get started.