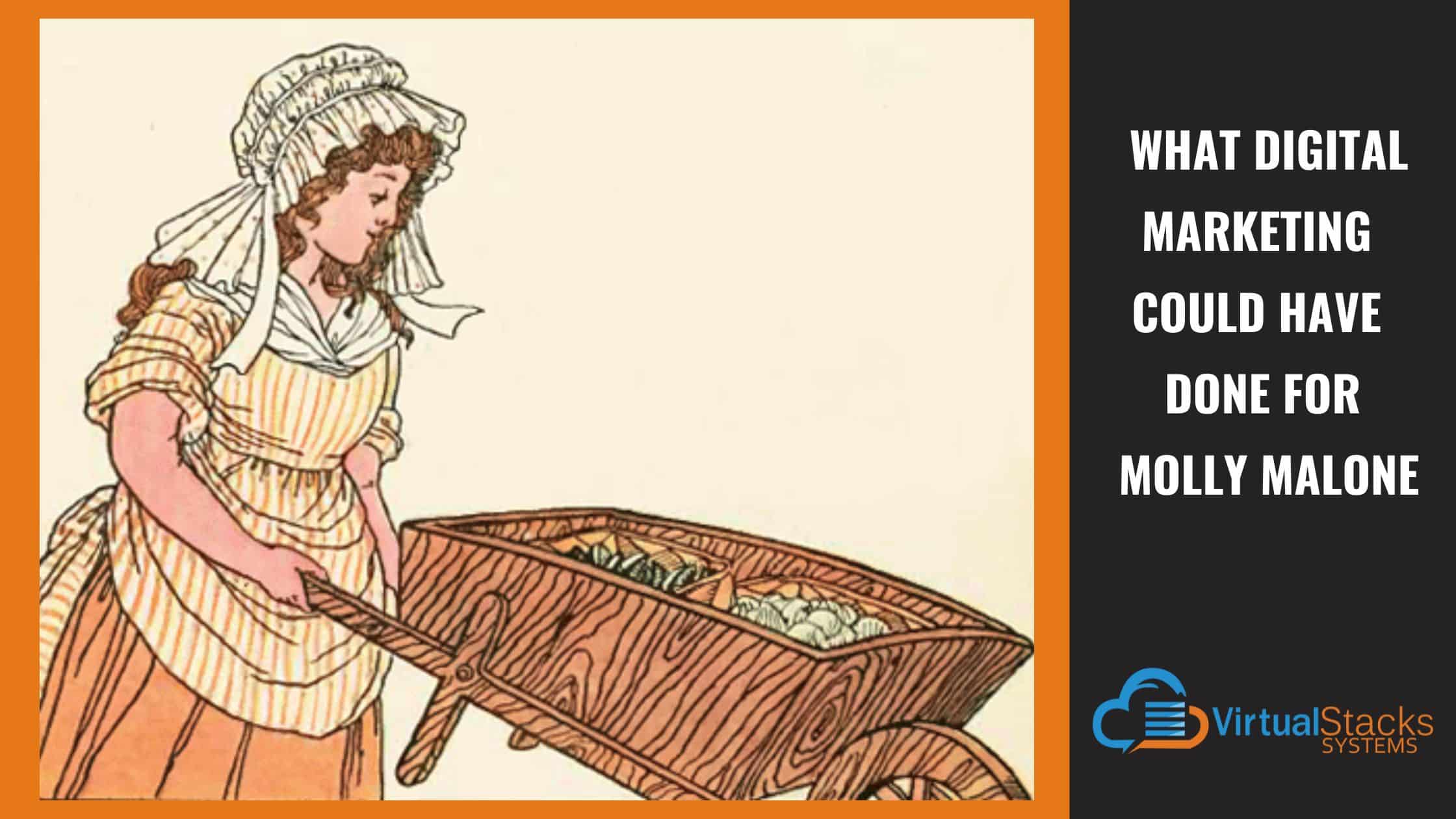 30 Nov

What Digital Marketing Could Have Done for Molly Malone

Are you the owner of a small business who is still not convinced that digital marketing can do anything to build your brand, boost your sales and – dare we say it – make you and your enterprise famous? What if we relate the story of a small businesswoman who could have greatly benefited from digital marketing, had it existed in her day? Operating as a sole proprietorship, she had an excellent product and above-and-beyond work ethic (more on that later), yet struggled to earn a living, and tragically passed away after contracting a fever.

This entrepreneur was none other than Molly Malone. Immortalized in a popular song and a bronze statue in Dublin, her origin is open to speculation, befitting the legend she's become. Although she was more likely fiction than fact, Molly had what it took to be successful – but circumstances aligned against her. So let's give Molly a new story, with a much more upbeat ending made possible by her smart use of digital marketing!
Molly Malone, Inc. – A Woman, a Wheelbarrow and a Dream
Here's young Molly Malone, her wheelbarrow full of the best from the Dublin seashore – the freshest cockles and muscles in the city! She wants everyone to know their quality, so she literally sings their praises as she goes along her route: "Cockles and muscles, alive, alive, oh!" But although she has some regular customers, Molly's sales tactics weren't moving the needle. Time to get help from a professional – a digital marketing agency, that is!
Molly met with the agency's team, and discussed her short- and long-term sales goals, and the steps they would take. Here's what they came up with!
Molly Malone Gets a Website
Molly asked, "Do I really need a website? I'm just a one-person business!" The agency team told her that no matter how small the business, a website is essential, for several reasons:
A website is the online "home" for your business – whether or not you have a physical location. Your customers and potential customers will always know where to find you, and learn about your products or services.

 

A website provides great branding for your business! Molly could choose the look and feel of her mobile market's website, giving people a sense of being on the Dublin seashore. Add some beautiful photos of said scenic seashore for an eye-catching Home page that will keep visitors engaged and encourage them to explore the rest of the site!

What's the story behind Molly's business? The About page of her website relates how her parents started the small enterprise, which Molly eventually carried on. She's the second generation continuing a commitment to offering fresh, quality shellfish!

How about a blog? Molly loved the opportunity to share seafood recipes, ideas for entertaining and her favorite spots in Dublin. Now, she was setting herself apart from her wheelbarrow-pushing fishmonger competitors! People would make it a point to seek out Molly and

her

wheelbarrow, instead of the impetus always being on Molly to find customers.

 

A website gave Molly the ideal place to sell merch! The agency told Molly that she should use her catchy song as her business's tagline, and put it on t-shirts and coffee mugs – and sell them on her website. Molly soon had a new revenue stream! Cockles and muscles, alive, alive, oh!
Molly Malone Conquers Social Media
Molly Malone was a natural for TikTok! She created a dance to go along with her song, which caused a sensation and went viral. Parents all over were tired of hearing the refrain, "Alive, alive, oh!" but tried to perform it nonetheless when they thought no one was looking. Molly soon became a celebrity. According to folklore, Molly was quite attractive, which never hurts in the social media world.
While TikTok provided a big boost for Molly and opened new opportunities, Facebook and Instagram offered more long-term engagement with her target audience. She posted live streams of herself at the wholesale fish market purchasing the wares she'd be selling, bantering with the people there and adding a good deal of entertainment value. It wasn't all business, though. Molly would often live stream from points of interest in Dublin, of which there are many.
The agency also recommended Twitter for Molly so she could post where she and her wheelbarrow would be, and the time they would be there. This allowed Molly's customers to easily find her along her route, as well as communicate with her and make special requests. Would Molly be sure to have a pound of cockles ready for the dinner party a customer was planning? The happy customer posted a photo to Molly's Twitter account of the prepared feast being enjoyed by the guests!
Molly Malone Achieves Success
Thanks to digital marketing, Molly established an online presence that translated into business success! In our updated version of her story, Molly became a celebrity who got a show on Food Network while running her popular market and restaurant – a far better fate than the one she met in the song, in which her ghost still pushed her wheelbarrow through Dublin's streets. That's the ultimate work ethic we mentioned earlier!
Yet in a way, Molly's spirit – fictional though it may be – represents the spirit of entrepreneurship, living on in every small business owner dedicated to achieving their vision. If Molly would have been able to do it with the help of a digital marketing agency, so can you, no matter how humble your circumstances. Which leads us into our blatant self-promotion! Our team at Virtual Stacks Systems welcomes the opportunity to help you create a plan targeted to meet your marketing objectives. Every small business is unique, and so are our solutions! We offer experienced website design and redesign, SEO marketing,  social media marketing,  PPC advertising, review management services and much more!
Contact us today to get started!