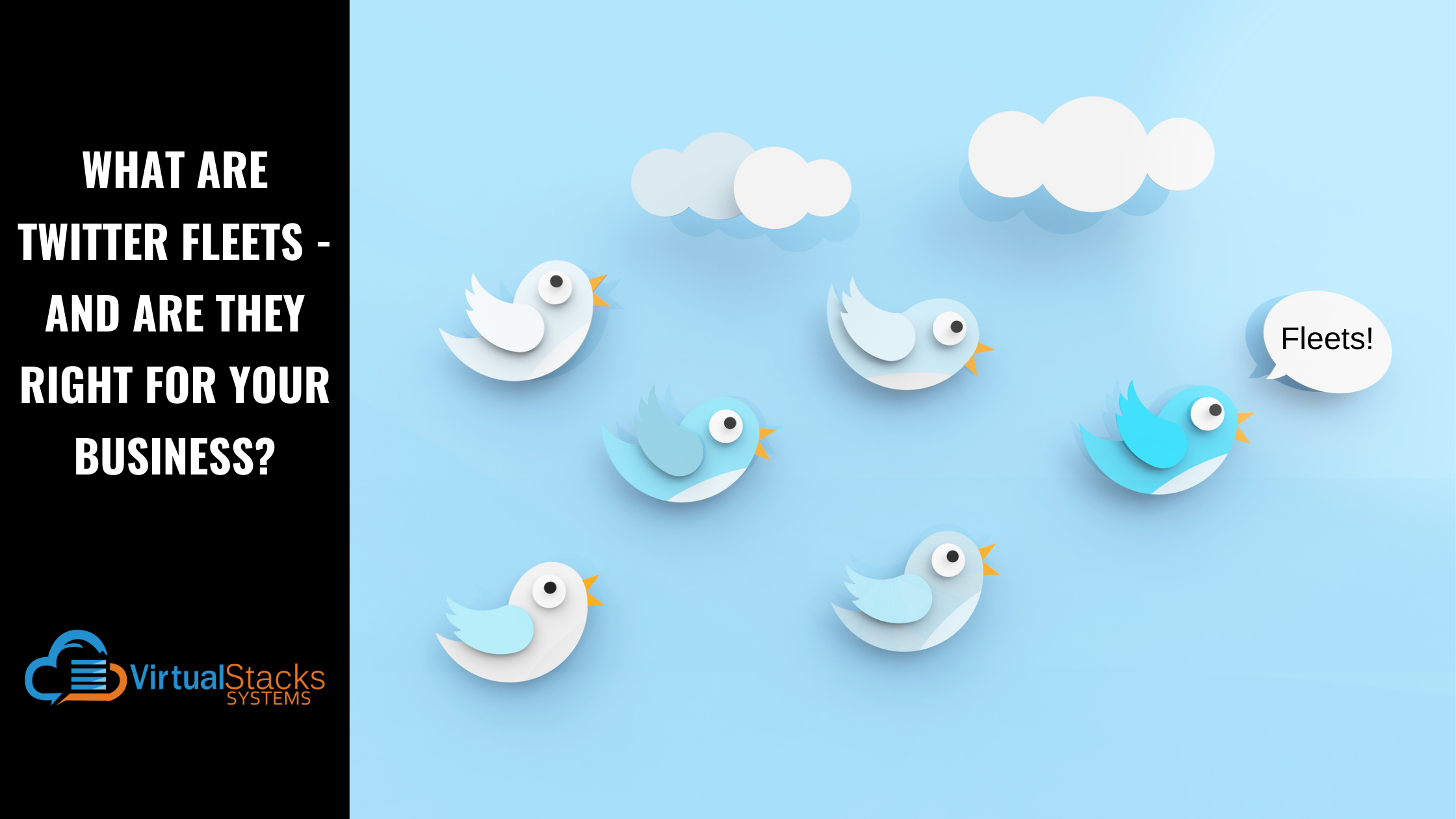 19 Feb

What Are Twitter Fleets — And Are They Right for Your Business?

Embracing social media marketing is one of the best ways to connect with your audience online as a business or organization. Each social media platform offers its own unique features and attracts its own unique audiences. It's important to understand how these audiences interact with these social networks so that you can better connect with your own specific target audience.

While many social media platforms utilize similar features, they each take their own spin on them, too. This is especially true for the "stories" features started by Snapchat and found nearly everywhere — including now on Twitter! Known as Fleets, these Twitter "stories" offer even more opportunities to engage and interact with your audience.

So, what are Fleets, how do you use them, and what can you do with them to get the word out about your business? Let's find out!
Twitter Launches New "Stories" Feature Called Fleets
Twitter is a very in-the-moment platform. Users flock to Twitter in order to converse and share their thoughts in real-time, but normal Tweets can still have a weight of permanence to them. For Twitter users with an active feed, Tweeting out every entertaining thought they have might distract from more important Tweets and Retweets. Enter Fleets!
In November 2020, Twitter officially launched Fleets as a "stories" feature similar to those now found on Snapchat, Instagram, Facebook and LinkedIn. Like other stories features, Fleets last only for 24 hours and can be viewed at the top of the mobile app only (both iOS and Android). Text, photos, videos and embedded Tweets can all be used in Fleets.
Previously tested in South Korea, India, Italy and Brazil before making its more global debut, Fleets has shown to help encourage both new and old Twitter users to jump into conversations with each other. Twitter plans to keep updating the Fleets feature set based on users' feedback, with such features as stickers and live broadcasting to eventually be added.
How to Create a Fleet
Businesses and individuals alike can use Fleets on their Twitter accounts while using the mobile app! If you haven't tried out the feature already, we'll walk you through how to create your first Fleet. 
The Fleets feed (where you can see all the Fleets from accounts you are following) appears at the top of the home section of the app. To get started, tap the "+" symbol next to your own profile picture. Then, you have the option to write a text fleet with 280 characters, add photos, videos and GIFs, as well as react to other Tweets, photos or videos. Then, tap "post," and your Fleet has been made. It's really that simple!
To share a Tweet from elsewhere on Twitter, select the "Share" button on the Tweet, then choose "Share in Fleet." After that step, you can add your own customized reaction.
Of course, you still need to follow Twitter's rules when posting Fleets just as you would for traditional Tweets. To report an inappropriate Fleet, select the "v" icon near the top.
Ways Your Business Can Use Fleets
If your business or organization uses Twitter, Fleets can help boost its visibility and reach. Here are a few ways your business can use Twitter Fleets as part of your social media strategy: 
Share Time-Sensitive Offers

— Due to their short 24-hour lifespan, Fleets can be a great way to share quick time-sensitive offers and promotions to your loyal Twitter audience. This creates a feeling of urgency about the offer, encouraging your audience to take advantage of it before it's gone.

Do Giveaways

— Similar to time-sensitive or limited-time offers, you can also engage with your followers by doing giveaways for your products, services or merchandise with the help of Fleets. Because Fleets appear at the top of everyone's Twitter feed, using Fleets to promote a giveaway helps make sure your announcement doesn't get lost in the shuffle. 
Go Live

— If your business or organization is participating in a live event or even giving a live virtual event, Fleets can be a great opportunity to show off the highlights of that event in real-time. This is an effective way to get your audience engaged and curious to participate in the event itself.
Reward Loyal Followers

— With Fleet's conversational nature, brands could directly ask for followers to reply to their Fleets and DM them with responses to questions or content, as well as relevant photos. Collecting these responses with permission and sharing them on subsequent Fleets is a form of user-generated content, and it shows your loyal audience that your brand genuinely cares about their voice.
Share Behind-the-Scenes Footage

— Audiences enjoy seeing behind-the-scenes content from brands because it shows the humanity of the people who make it all happen. This builds authenticity and relatability — qualities that are extremely important right now in social media marketing. Share behind-the-scenes photos, videos, company trivia and more!
Be Educational

— If you have a long message to share on Twitter, you'll have to make it a long and lengthy thread. To avoid deterring your audience from your educational content, transform it into Fleets instead! Your brand can use multiple Fleets to deliver relevant content that is both informative and engaging through multimedia features such as text, color customization, photos and video. Fleets can also be an opportunity to repurpose your best-performing informative content!
The Take-Home Message and Our Blatant Self-Promotion
The world of social media is constantly changing. When you're busy running a business, how can you have the time to keep up with it all and still develop an effective social media marketing strategy? That's where the social media and digital marketing experts at Virtual Stacks Systems can help! We're a digital marketing agency focused on helping businesses and organizations succeed with their online strategy. Learn more about our social media marketing and other services, and contact us today to discuss your needs and get started!