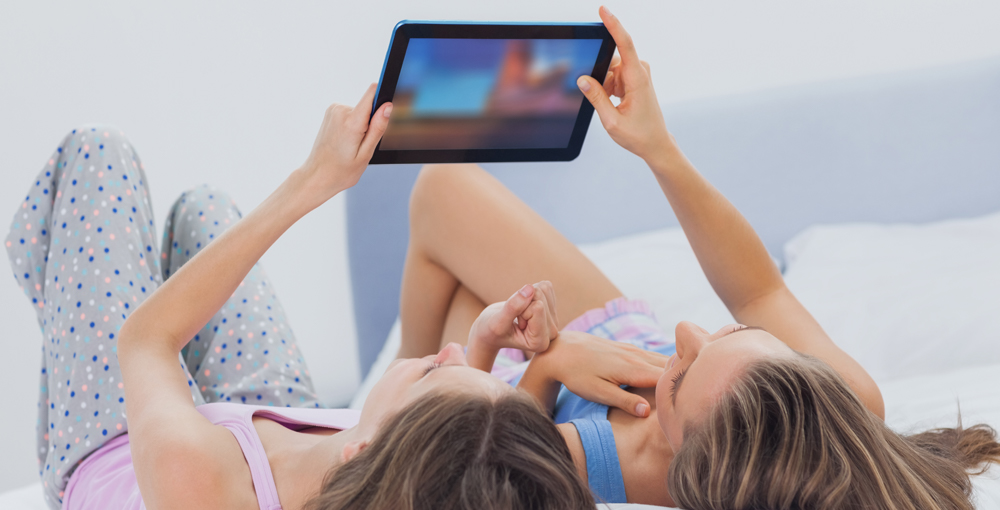 19 Sep

7 Video Marketing Tips From The Experts
How to Measure Your Success Without Relying on Views
Video marketing only continues to grow over time. With platforms giving preference to video content, everyone wants to get in on the video-first game.
Because of this, tools like Promo and Animoto are gaining a lot of attention, thanks to the ease of access and affordability. But how do you know if the video marketing tips you follow are actually working?
Video metrics are a bit more nuanced than social media or SEO data, and thus, need a closer look to measure any sort of real results.
As this form of content marketing is continuously developing, not everyone measures success the same way. We reached out to business owners, internet marketing company professionals and video experts to see how the pros are measuring their video marketing.
Here are the tips we gathered that will help make your next video marketing campaign a success:
Tip #1- Measuring Views Alone is Not Enough
"Facebook counts a view for anything more than three seconds. You can accidentally watch a video on Facebook while scrolling through your news feed, 100% unintentional. The data we recommend people to look at for Facebook video is "how long do people actually view your video" We see that people, on average, view our client's videos about 15 seconds" –James Harper of GoEdison

Unlike a click or an impression, a view can be a bit deceiving when it comes to the numbers. How many times have you opened a video by accident, only to stop it as soon as you hear noise? What about when the video wasn't what you thought it was?
Click. Out. Goodbye!
Yet, if you watched only a few seconds of the video, some platforms consider it a view. Even if no meaningful content was delivered. In order to identify how your video marketing is really working, you need to dig further into the metrics.
Tip #2- Make it Tempting
"Scarcity improves conversions."- Drew Cerullo, CEO, Better Profit Growth "Without a call-to-action it's hard to measure ROI."
Imagine you only have 15 seconds to convince someone to buy something. It takes some strong selling skills to do so. That is unless you are in a "sell me this pen" situation a la The Wolf of Wall Street. People are on the go, busier than ever. If they take the time to click on your video, there better be an incentive. A reward, so to speak, for doing so. Consider offering an exclusive discount, trial, or another incentive via a call-to-action within the video. The idea is to create a sense of urgency and exclusivity for taking the time to press play.
Tip #3- Know The Results You Want
"Many companies fail to strategize and set goals before deploying marketing tactics […] Yes, data is everything, but it doesn't mean everyone is using it adequately." Julia Angelen Joy– PR and Social Media Consultant.
If you're only measuring views and likes, you're missing out on a whole lot of information. You may be confused as to why wondering such a high response is yielding so few conversions. Before beginning a video marketing campaign, take the time to strategize.
This customer profile from Single Grain highlights an example buyer persona.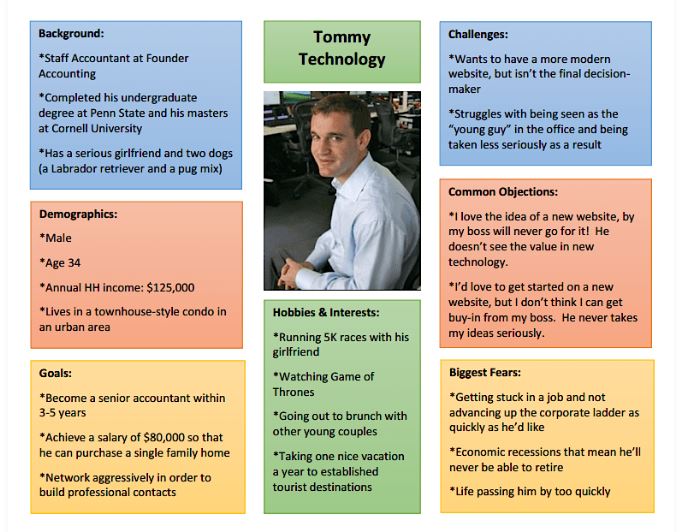 Create a path that you want your potential customer to take. Have at least an idea of that customer's profile. Know what you aim to achieve through your video marketing. Do not bother doing it JUST to keep up with the competition. Like a major film would never shoot without a script, never make a video without a plan.
Tip #4- Focus on the Right Platform
"The biggest shift has been that every social media channel is forcing creators to be native to their platform and each platform is a little different […] We all have to continue to keep up with these channels that are updating at the speed of light and more and more want customers to stay on their own platforms." – Aaron Norris MBA at The Norris Group
If a platform has video capability, does not mean you NEED to add video to it. Hone in on the platforms on which you have already built an audience. Otherwise, you may find yourself needing to make five or more variations of the same content for each different platform. Instead, choose 2-3 that will have the biggest impact for your particular business.
Tip #5- Use Video Marketing as a Supplement
"Video works well within social media as an engagement tool that reels your target consumer into whatever you are promoting in a more fun and interesting way. A great way to integrate video within a social media platform is by cutting down the content from say a 10-minute informational video on one of your products to a shorter 30-second video that is easily digestible for your consumers." –Tracy Julien, VP of Marketing at Guided Choice
Give 'em only but a taste of what you're offering. As mentioned, people are busy. They may stumble their way into your video and only stick around for a little while. Bait the hook with the best pieces of already great content. Perhaps it takes 5+ minutes to really convey the effectiveness of your custom mobile apps or ecommerce hosting. The problem is, especially on social media, very few to no one will sit there and consume it.  Boil this content down to the most important, most exciting points. Make it fun and informative, but most importantly, fast. Be sure to make it easy for a viewer to find more information. If they can't, well, what's the point?
Tip #6- Use Video in Advertising
"Each social network actually gives more organic priority to video versus regular image-based content. When you get more organic traction with your video, it'll perform better from an advertising perspective than just a standard ad." – Jason Parks, The Media Captain
While a well-designed visual ad campaign has more than enough room to be successful, video tends to stand out from the competition. Think about it, when scrolling through social feeds, you see more ad content than anything else. And unless it's something particularly striking, or something you're already looking to buy, chances are, you are going to scroll right past. Luckily, especially on Facebook, you see your feed tend to favor videos over other content. Have you noticed static images uploaded as if they were video? That is an attempt to trick the ranking algorithm. Skip the banner ad and create a 15-second video ad instead.
Tip #7- Find Balance Within the Content
"Most viewed and shared videos typically provide both information and entertainment." David Burrows of theMM. Agency
When you have mere seconds to grab the attention of the viewer, you may have a hard time finding your focus for your content. The good news is that video content is still content marketing. You can apply the same major rule that you apply to blogs, social media, and email campaigns: make it valuable, and with your audience in mind.
No one wants to have sales-y jargon yelled at them for 30 seconds straight. Even short format content should have at least a minimal story arc: present a problem and reveal a solution.  Dare to have a little bit of fun with how you execute your video content. You'll see a better response to an interesting video than a dry, direct one.
It seems the recipe for video marketing success can be boiled down to strategy, data analysis, and great content. Sound familiar? It should. While it is easy to get entangled in new applications and quick recipes for success, the formula remains the same.
Which of these video marketing tips are you going to add to your strategy?                                                       
—
Ready to launch a new video marketing campaign? Looking for an integrated marketing strategy that includes web design, Orlando SEO services , and video marketing for your company launch? Virtual Stacks Systems can help you build your marketing strategy from the ground up.