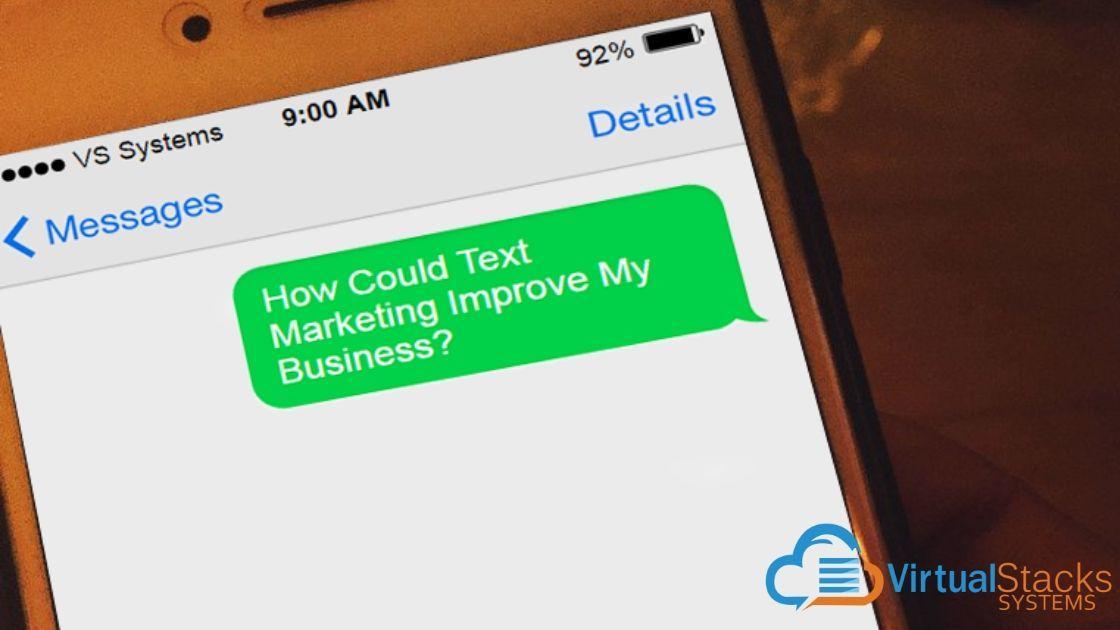 23 Aug

How Could Text Marketing Improve My Business?

The first text message was sent in 1992 – which is about 200 years ago in tech years. Even though this form of communication has been around longer than some readers of our humble blog have been alive, it's now the hottest trend in marketing. And with good reason. Short message service (SMS) – commonly known as text messaging – is a very effective way of reaching your existing and potential customers with discounts, promotions, coupons, reminders, notifications and events to engage participation while building loyalty.

Consider these facts:

Now consider this baffling fact: Only 48% of businesses are currently equipped to communicate with customers via text. If yours is part of the 52% that aren't, keep reading!
Customers want to receive your texts
Unlike other types of marketing – such as email marketing, for which you can buy lists (which we don't recommend), your existing and prospective customers must opt in to receive your texts. Compliance with this regulation is required by the Telephone Consumer Protection Act.
So, how do you get people to opt in to receive your texts? Turns out, they're eager to connect with your business in this manner! According to content marketing expert Bethany Johnson writing for the Content Marketing Institute, 85% of mobile device users prefer a text from businesses over phone calls or emails.
In addition, Johnson references Quiq's 2017 research report, which states that the majority of consumers would pay more for a product or service that comes with text support, and feel more positive toward brands that offer mobile messaging. Even more revealing, the report states that two-thirds of consumers will actually pay more for something if it was supported by a C2B [consumer-to-business] mobile messaging channel.
"Respondents stated that on average, they would be willing to pay 17% more than the product or service cost, and this has profound implications for organizations that are looking to deploy a platform. If consumers are willing to pay a premium for the convenience and responsiveness of their preferred communication channel, this has a direct positive impact on the ROI calculations, and there are potentially even new revenue models to be capitalized on."
To no one's great surprise, the research report reveals that Millennials are the primary drivers of mobile messaging adoption. The report continues:
"Millennials are now the largest living generation, with a population size in excess of 75 million, and making up a third of the US population. Marketers have been focused on this group for many years, but as the full segment is now in adulthood, it has become a top priority for customer service managers as well. Given that all of the data indicators are heightened for this group, the mobile messaging imperative is clear and growing, and especially so for organizations with Millennial-centric products and services, such as online retailers or streaming services."
Customer engagement and mobile coupons
The basic components of an SMS marketing campaign include a keyword and a shortcode. For example:
Text "PIZZA" to 123456 for our deal of the day!
"PIZZA" is the keyword that users type in the body of a text message; "123456" is the shortcode to which users will send their message. When the user sends the keyword, this is considered the previously mentioned "opt in." You can reach those who opt in with future coupons, offers, promotions and even contests to keep them engaged with your business.
Other means of getting people to sign up for your text messages may include filling out a form or submitting their phone number on your website.
Because people like to feel they're getting something special, you can offer promotions that are exclusively available through your text marketing program. Some businesses have SMS "clubs" that encourage customer loyalty through VIP incentive campaigns.
The interactive nature of texts is another advantage to customer engagement. As Johnson notes, "Receiving a text, opening it and considering a response puts uses in an active role. Often, marketers time campaigns in hopes of serving audiences right around the time they need that touch. With text messaging, the customer decides when to interact. This takes all guesswork out of the 'right people at the right time with the right content through the right channel' formula."
However, be careful when using text messaging to reach out. Johnson relates the cautionary tale of a colleague – Ardath Albee, CEO of Marketing Interactions Inc. – who arrived at a hotel at which she had a reservation. The room wasn't ready, so the front desk offered to text her when it was. Albee appreciated the convenience, but received another text soon after settling in her room, asking her to rate their hotel – then asking her to rate her stay on TripAdvisor. What Albee had initially considered a positive experience with the hotel's text messaging turned negative because of its bad timing and overeagerness.
In Johnson's words, "To ensure that your SMS marketing is as successful as a trusted friend's communication, use it to serve your customer first, not your brand."
Businesses that benefit from SMS solutions
Both B2C (business-to-consumer) and B2B (business-to-business) companies can use text marketing to increase ROI and brand loyalty. For B2B, word your offers in an appropriately professional way – more LinkedIn than Twitter, of course, and be sure to emphasize the value your offer will add to the recipient's business.
According to B2B News Network, SMS marketing can be an effective means of lead generation, as well as customer engagement. Text messages are simple, short and have a high conversion rate. The average response rate for a bulk SMS campaign is around 30 per cent.
Whatever your business or target audience, Melani Deyto – Director of Marketing at TextMarks, emphasizes the importance of having a strategy before implementing text marketing. Writing for Forbes, her verbatim recommendations are as follows:
First, be sure you understand your audience. Are they always on their phones, and do they prefer interacting with your business through text – or do they prefer phone calls? For time-sensitive matters, what is the best way to reach them?

Second, make sure you have a plan for promoting your text group and getting people to subscribe. A successful text campaign means building up a mobile database of people who opt in to receive your messages.

Finally, texting works best when part of an omnichannel strategy. A seamless experience across SMS, email, social and all other channels will bring the most return on your investment.
Now that you're thinking about text marketing
Unlike many other marketing channels, text marketing is economical and within easy reach of most businesses. Virtual Stacks Systems offers a robust SMS text marketing solution ideal for every need – and provides tracking and reports so you can see the success of your campaigns.
Combined with our other services – such as email marketing and social media marketing – we can give your company a comprehensive solution that positions it as the ultimate destination for the customer journey. Contact us today to learn more and get started.