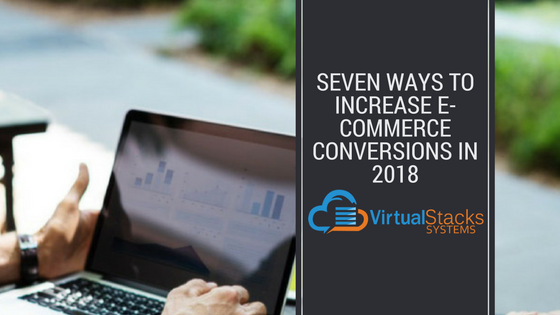 06 Feb

Seven Ways to Increase E-Commerce Conversions in 2018

According to the eMarketer, total e-commerce sales worldwide are expected to reach $2.77 trillion in the year 2018.

The e-commerce market has shown a steady increase in the last five years  ̶  a trend that is likely to continue. From $1.34 trillion in 2014, the e-commerce industry is projected to reach a whopping $4.48 trillion in the year 2021.  

E-commerce is a growing, yet complex market in which to succeed. It is a growing market because more and more people are turning to the internet for shopping. After all, online shopping isn't just convenient, it spoils consumers with a variety of choices that aren't as readily available in a brick-and-mortar retail store. And it is a complex market because not every e-commerce business owner is enjoying great profits.

If you are in the highly competitive e-commerce industry, conversion rates should be the greatest area of concern. Your e-commerce website may receive numerous visitors, but if they leave without becoming customers, it isn't generating sales.

However, you don't necessarily have to spend a great amount of money to improve your conversion rates. A website makeover may be in order, but there are many conversion rate optimization techniques that can improve your figures.
Understanding E-Commerce Conversion Rates:
The percentage of people who visit your website and complete the desired action is known as the conversion rate. This is the percentage of people who visit your site and buy from your online store. Nevertheless, this is not the only parameter for gauging success.
Any of the following actions can qualify as a conversion: a online sale, a buyer adding an item to their cart, someone adding an item to their wish list, social media shares, email signups and any other key performance indicator (KPI) you think is valuable for your e-commerce business.
Conversion rate optimization (CRO) is the method of finding ways to help the shopping experience of visitors to drive sales. On average, e-commerce conversion rates vary from 1% to 2%  ̶  but this is when you are doing most of the right things. For example, if 10,000 people visit your online store and 100 conversions are taking place for a particular period, your conversion rate is one percent.
7 Ways to Increase E-Commerce Conversions in 2018
1- Use more product images and visuals – Attractive product photos make a big difference. People want to look at what they're planning to buy, making product images one of the major factors in improving conversion rates. Because visitors can't pick up and touch the items, providing as much visual information as possible is essential to enhance the shopping experience. Use high-quality, high-resolution images, with enough white space around them to prevent a cluttered appearance. Also include photos that show the product from different angles. And don't skimp on size: Large images can increase your sales by as much as 9.4%.
2- Use high-quality product videos – Add videos to your marketing strategy! Videos now appear in 70% of the top 100 search results listings, with viewers being anywhere from 64-85% more likely to buy after watching a product video.
Businesses that use product videos generate revenue faster than those that don't. However, low-quality product videos don't help in increasing the conversions – 62% of customers form a negative opinion about the brand if the product video is poor quality.
3- Product descriptions are important, so improve them – Well-written product descriptions help your visitors convert to customers if they find all the relevant information alongside the product. Text should be in an easy-to-read font and point size, and in high contrast to the background. Add a summary of features and benefits for those who are currently just browsing.
Writing original product descriptions – rather than just pasting the manufacturer's – can also boost your website's search engine rankings. Hiring a professional copywriter on a freelance basis may be worth the investment.
4- Improve your checkout process and resolve cart abandonment issues – Cart abandonment is a common problem. According to a study by Forrester, 89% of customers have at some time left the website without completing the sale.
There are many reasons customers abandon a cart, including: mandatory registration, shipping costs, site speeds, comparison shopping (visitor not yet ready to buy), doubts and/or distractions.
Improving your checkout process by making it simple, easy and user-friendly may remedy the situation. For example, provide guest checkout so that customers aren't required to register before buying. About 80% of U.S. online retailers offer guest checkout. Or, when a registered customer abandons their shopping cart, send a follow-up email asking if the reason was an issue you can help resolve.
5- Encourage your customers to post a review – Online shopping is about trust. Customers who give good reviews are bound to increase your conversion rates. More than 60% of online buyers read the reviews before purchasing the product. About 88% of individuals say that they have faith in the online reviews, and that they carry the same weight as personal recommendations.
Encourage your customers to post a review. Offer incentives, such as a discount, reward points or even a gift. The positive reviews can increase conversion rates, while negative reviews can provide a valuable opportunity to address the issue and ensure an improved shopping experience. If you've taken action to solve the problem, reply to the complaint. Removing negative comments or reviews can harm the reputation of your business.
6- Offer free shipping – About 28% of online shoppers will abandon their purchase because of shipping costs that weren't revealed until checkout, and 74% will do so if they consider the shipping cost too high.
Offering free shipping to all customers is an ideal way to increase conversion rates. It attracts new customers and acts as an incentive for repeat business. If you do add shipping costs, be sure they are clearly stated.
7- Offer choices, but within reason – Too many product choices can overwhelm visitors. According to HubSpot, Columbia University questioned the widely accepted belief that choice is good through the "jam study." Customers were offered the choice of six different jams in one location and 24 flavors in another. Of those with six choices, 40% were more likely buy, as compared to 3% faced with 24 choices. The result is clear evidence that too many choices discourage buying.
Product filters – which display a specific number of products on each product category page – also can lower conversion rates.
If you're ready to increase the conversion rates of your e-commerce store, Virtual Stacks Systems can put our industry best practices to work for you. From product images and engaging videos to other conversion optimization techniques for connecting with your target audience, Virtual Stacks Systems will help you improve conversions, drive sales and increase your overall revenues.