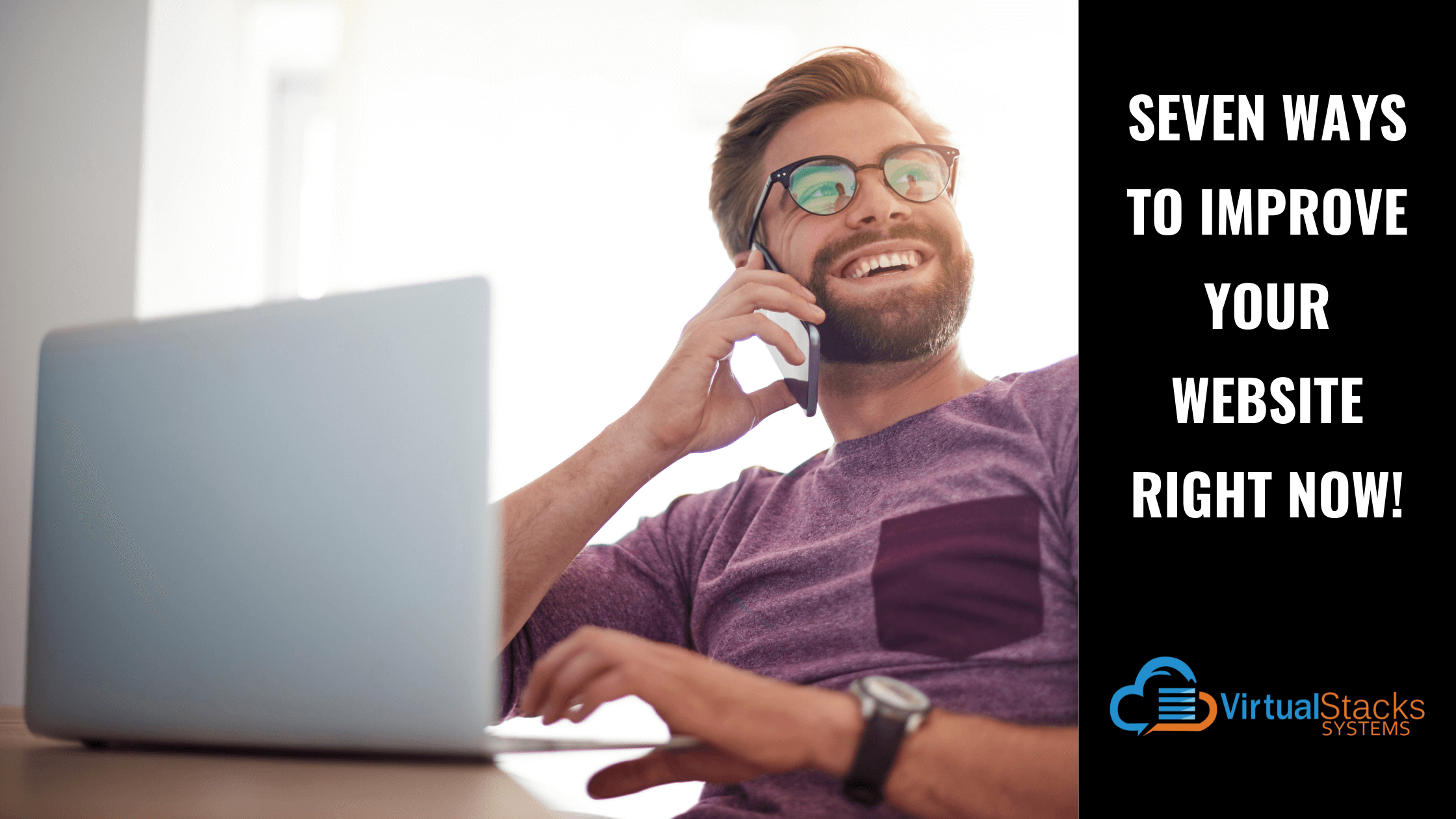 18 Apr

Seven Ways to Improve Your Website Right Now!

Small business owners look forward to making changes to their enterprise's website about as much as they look forward to a root canal. If not painful, the prospect is at least time-consuming and tedious. But did you know that there are seven simple actions that you – or your digital marketing agency – can take quickly to give your site the updated information and functionality it needs? Here they are!
Test the Functionality of All Clickable Actions –

Go through your website as if you were a customer, or prospective customer. Fill out every online form, sign up for your email list and/or newsletter. Subscribe to your blog, and confirm that its comments field works. If your website is e-commerce, go through the ordering and checkout process. Visitors who try to perform any of these actions and fail due to some glitch probably won't bother to let you know. They'll just move on to another website – most likely one of your competitors!

Make Sure Your Plugins and Software are Up-to-Date –

While it may seem that you're inundated with alerts about a new plugin or software update, not installing them can eventually cost your website in functionality and security. "You might feel like you see an alert of a new software or plugin update every other day," says marketing writer

Kristin Hicks

in her article for

Constant Contact

. "It's easy to ignore them when they seem so constant, but oftentimes those updates specifically address security vulnerabilities and sometimes they provide additional improvements and features as well … Often, these updates don't take too long and they can make a big difference to how secure your website is."

Check for Broken Links –

"When a user encounters a broken link on your website, their experience is interrupted," writes Shayla Frederick for

Denverdata Web

. Calling broken links the "ultimate dead-end for user experience," she says, "This interruption can lead to heightened levels of frustration as users try to figure out where to find the answers they were looking for." It should go without saying that your visitors will soon stop looking – at least, on your website. Frederick recommends checking for broken links on a monthly or quarterly basis, and remove them or create redirects. The

Online Broken Link Checker

is a free resource that allows you to find broken internal and external links across your website.

Delete Old Social Media Icons –

If your business has been around awhile, your website may still have the G+ icon. While there were some who loved it, Google+ – Google's attempt to take on Facebook – failed to find its audience and was quietly discontinued in 2019. Not to be unkind, but if the icon is still on your website, it's the equivalent of having a dead plant in front of your store. It makes visitors think that if you've neglected to remove it, what else are you not paying attention to?                                         
Ditto for the icons of other social media platforms you may have abandoned because they weren't delivering the results you'd expected, or handling social media was more demanding than you or your employees had thought. YouTube is one such typical platform. In such cases, do more than remove the icon – remove the social media account itself. Our blog post "Why You Should Kill Your Zombie Social Media Accounts" – covers the importance of deleting social media accounts that you no longer use. Of course, the other option is to commit to being active on them again. But if time and talent remains the issue, you can hire a digital marketing agency that offers social media marketing to take the wheel. Yes, we know – we're getting into our blatant self-promotion a little early!
5. Update Your Contact Information, Policy and Copyright – These are all important details included in your website's footer that are easily overlooked during the day-to-day operation of your business. However, you'll immediately lose credibility among visitors who find that department phone numbers, email addresses, etc., have changed and the copyright year is past. Out-of-date company policy as it may pertain to terms of service, returns and other pertinent issues can also result in unhappy customers and hurt your reputation.           As DreamHost writer Megan Hendrickson notes, "There's little more frustrating than returned or unanswered email." She advises to make sure your customers' queries are going to the right inbox by double checking and, if necessary, updating your email address and other contact information.
6. Update Your SEO and Your Content – As we always say, SEO isn't a set-it-and-forget-it action. It should be ongoing, keeping up with questions members of your target audience are searching for, demographic buying patterns and more. If you haven't revisited your website's copy for at least a year, it may not be ranking in the search engine results pages (SERPs) for what today's consumers are looking for. Especially given the profound changes in consumer buying patterns starting in 2020, you literally can't afford to assume your potential customers have been unaffected and still shop as they did in 2019.                                                                                                                                                                                                 Be sure your keywords are relevant. For quick help, SEMRush's Writing Assistant that can help you identify specific areas to make your content more SEO-friendly. It's available on the SEMRush website, and at the Google Docs Add-on Store. While you're at it, check your website's existing content for typos, poor grammar, misspellings and punctuation errors.
7. Update Your Company Biographies – This won't apply to every website, but if yours features the bios of your executives, managers and sales staff, make sure they're up-to-date. While showing website visitors that there are real people behind your business is good practice, leaving up biographies of former employees produces the opposite impression. Your organization's credibility will take a hit if a potential customer sees the bio for Dave in sales, then calls and finds out he left two years ago.
Time for Our Take-Home Message and Blatant Self-Promotion
Improving your business's website need not be a frustrating, laborious process. But, of course, having the right full-service digital agency on hand can make the job even faster, and ensure that all is done with optimal expertise. Our dedicated Virtual Stacks Systems team provides comprehensive digital marketing services that include website design, website redesign, SEO services, content writing, social media marketing, pay-per-click marketing and so much more! We are ready to be your partner in success.
Contact us to learn more and get started!