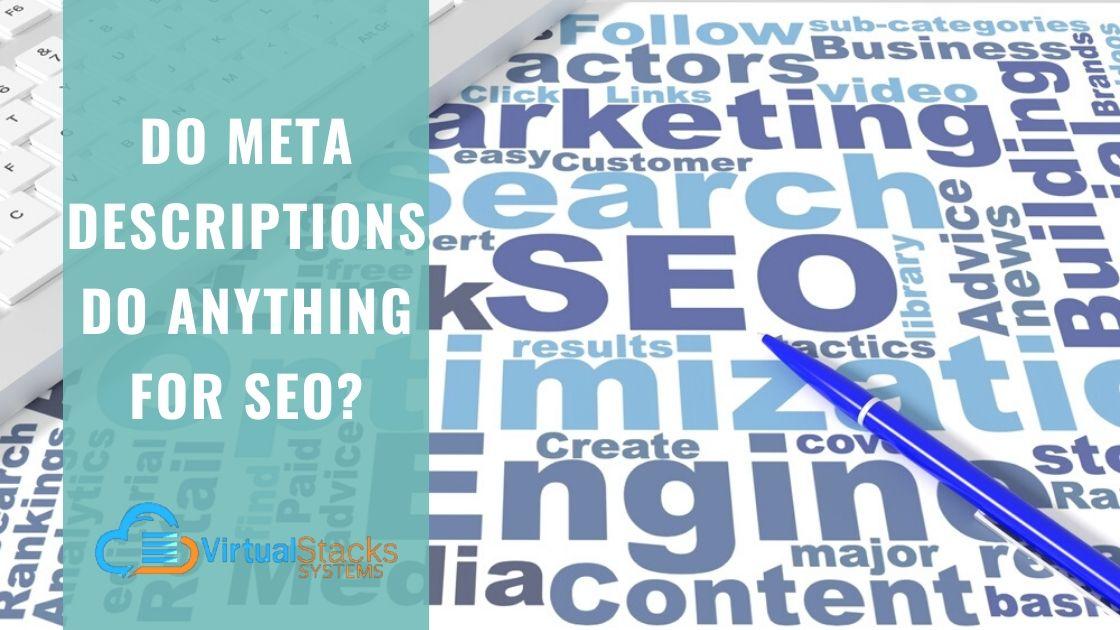 06 Jul

Do Meta Descriptions Do Anything for SEO?

If you've ever been house-hunting, you probably searched quite a few places. The homes that appeared run-down or nondescript most likely had you drive past without a second glance. But those with good curb appeal – such as a fresh coat of paint and attractive landscaping – got your attention and perhaps prompted you to contact the real estate agent for a tour.

Well, the same holds true for meta descriptions – those 160-character snippets that summarize a web page's content in search results that let visitors know what the page is about. Neglecting them could have the same effect as letting the shrubs get out of control on the lawn of the house you're selling.
What are meta descriptions?
To go into further detail, each search result on search engine results pages (SERPs) provides a brief summary of what the web page is about, located just under the title of the page. Note, this refers only to the individual web page the search brings up – not a description of the entire website. The ability of your web page's meta description to catch eyes and drive click-throughs gives your business a real advantage – although Google is, as usual, cagey as to how it achieves this.
According to Google, neither meta descriptions nor meta keywords factor into its ranking algorithms for web searches. However, as Moz has observed, meta descriptions can impact a web page's click-through-rate (CTR) on Google, which can positively impact a page's ability to rank. So while meta descriptions are not a direct ranking signal, they are – says Opporty founder Sergey Grybniak – "… an important aspect of on-page SEO" and as such, should be optimized. Grybniak goes so far as to call meta descriptions "mini-ads" – which is an apt observation.
Michiel Heijmans – partner and COO at Yoast – weighs in with the following. "Google uses click-through-rate (CTR) as a way of working out whether you're a good result. If more people click on your result, Google considers you to be a good result and will – based on your position – move you up the rankings. This is why optimizing the meta description is so important, as is optimizing your titles."
The art of the meta description
Now that you know their importance, here's how to spruce up the curb appeal of your meta descriptions to drive visitors to your website instead of past it!
Returning to Grybniak's characterization of meta descriptions as mini-ads, he writes, "Since meta descriptions act as 'a pitch' in the SERPs, you can use them to control the narrative around your site. The better you deliver your message with unique copy, the better chance you have of driving more traffic to your pages and increasing CTR."
Brian Harnish – Senior SEO Analyst at Bruce Clay, Inc. – writes in his article for Search Engine Journal, "Crafting a well-written meta description that is closely related to the topic of the page, is interesting to users, and is highly optimized for user intent can increase conversions significantly. In addition, when you do this, there is anecdotal evidence to support that the increased traffic and CTRs will cause Google to promote your site."
5 worthwhile tips from Grybniak for writing great meta descriptions
Keep copy readable –

Avoid keyword stuffing, which is the fundamental rule of SEO. If people perusing the search results see it, they'll assume your website is also spammy, and not visit. Keep the reading flow natural, with sentences that make sense, rather than out-of-context parts of text.

Write specific copy –

A meta description should include all specifics and details that match the page content. Vague, general wording won't help users, or spark their interest in clicking through to your page.

Use numbers, special characters and symbols –

According to

Orbit Media Studios

, headlines with numbers generate

73 percent

more social shares and engagement. Meta descriptions that incorporate numbers and any character – including emojis – other than letters also can help drive traffic. Just be sure it makes sense to use them.

Write with the customer in mind –

Writes Grybniak, "The first two questions your customers ask when coming across any search result are, 'What is this page offering?' and 'Why should I visit this page?'" Meta descriptions should answer these questions.

Include a call-to-action (CTA) –

This is optional, but if you do so, avoid the hard-sell approach. A call to schedule an appointment or learn about a special offer is clear, yet respectful to your potential customers.
Don't forget keywords
Although Google insists they don't use keywords in meta descriptions as ranking factors, keywords in bold text show up in meta descriptions! Doing research on keywords most likely to pull up your web page as a result for search queries is well worth your while. Do searches for your competitors, and see which keywords turn up for them. The better your meta description matches user intent, the more click-throughs your page will get!
Ignore this advice at your peril, as Grybniak observes that if your meta description is not relevant to a page, Google will pull the first sentence with a relevant keyword and show it in the search results.
The wide world of meta tags
Meta descriptions are but one type of meta tags. In his excellent tutorial for beginners, Joshua Hardwick – Head of Content for Ahrefs – delves into the six most important meta tags:
"Meta tags are snippets of code that tell search engines important information about your web page, such as how they should display it in search results," Hardwick writes. "They also tell web browsers how to display it to visitors. Every web page has meta tags, but they're only visible in the HTML code."
If you have an in-house web developer, it could be worth your while to meet and discuss your site's meta tags to make sure that your developer is up-to-date on best practices and is incorporating them. As with all website-related issues, it's never a matter of set-it-and-forget-it. Returning to our curb appeal analogy, once you tour the home, you may find some issues needing repair that could prevent a sale.
Even if you don't have the personnel to follow all of the webmaster-level steps Hardwick presents, just knowing what best practices involve can help you find a professional who does possess the expertise. Our digital marketing team at Virtual Stacks Systems is your one-stop shop for website development, website redesign, SEO services and experienced content writing that reaches and engages members of your target market.
Contact us today to learn more and get started!