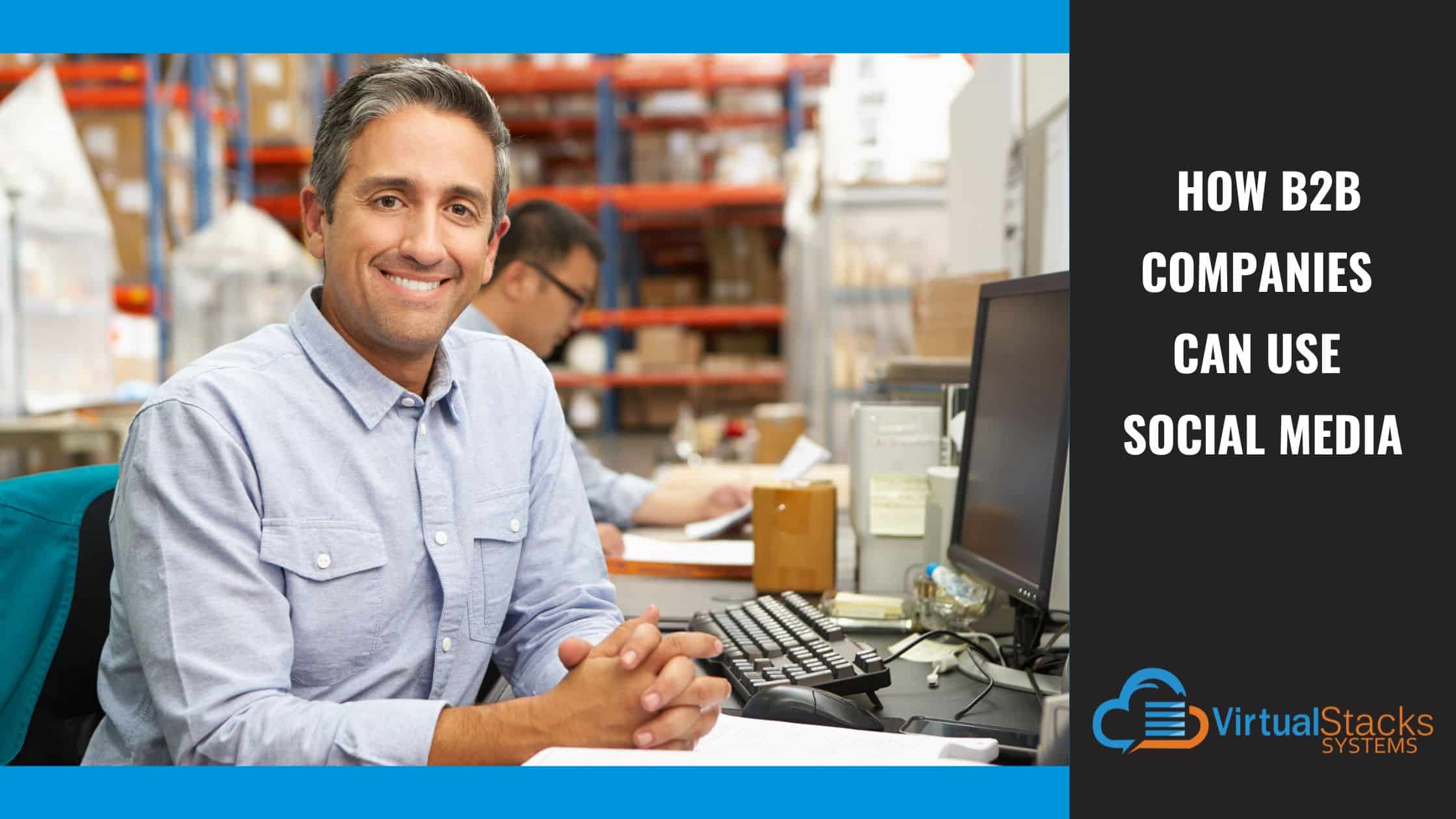 30 Nov

How B2B Companies Can Use Social Media

As a business-to-business (B2B) company, you may be great at manufacturing widgets, but not so much at getting the attention of the CEOs, purchasing officers and other decision-makers at the companies likely to buy them. Taking to social media can take you where you want to go, but it's necessary to use a different approach from business-to-consumer (B2C) enterprises. As online marketing expert Neil Patel bluntly sums up the situation, "A lot of B2Bs are terrible at social media. But in today's social media-saturated environment, B2Bs can't afford to stink. For some reason, B2B companies have lagged behind B2Cs in both the adoption of social media and using it effectively."

So how to turn this situation around? First, understand the goals of social media for B2B companies. While you may be focused on the ultimate goal – generating leads – cultivating a social media presence is a process. The effort has great potential to pay off, as the 2021 Gartner CMO Spend Survey reveals. According to its findings, B2B marketing leaders have shifted focus to social, mobile and SEO, with 53% increasing investments in social marketing. Meanwhile, 40% have decreased investments in event marketing, and 36% have decreased spend on digital advertising.

The encouraging news is that companies in your target market are receptive to your messages and ready to connect with you! You just have to know how to establish your company as relevant and credible on social media.
Creating a B2B Social Media Strategy
As Christina Newberry writes in her article for Hootsuite, "You need a solid B2B social media strategy plan for both short-term gains and long-term growth. 60% of the most successful B2B content marketers have a content marketing strategy. Compare that to only 21% of the least successful."
If content marketing is a new concept to you, the Content Marketing Institute (CMI) defines it as follows:
"Content marketing is a strategic marketing approach focused on creating and distributing valuable, relevant, and consistent content to attract and retain a clearly defined audience — and, ultimately, to drive profitable customer action."
Social media channels are critical for a range of content marketing needs, including content distribution, community engagement and competitive insights. Content marketing gives your company the valuable assets to successfully reach and connect with potential customers. However, Newberry says that aligning goals with business objectives is essential.
"Just like a good B2C strategy, every B2B social media plan should answer the following two questions: What are the company's business objectives? How will B2B social media marketing help achieve them?"
However, she observes that while B2C social media campaigns drive sales, B2B social is more "top of funnel." Therefore, social media goals should focus on longer-term business objectives. Newberry cites the survey by CMI, 2021 B2B Content Marketing: What Now? The survey reveals that respondents listed the following top three overall goals for B2B content marketers:
Create brand awareness (87%)

Build trust and credibility (81%)

Educate audiences (79%)
"Generating sales or revenue comes in at number 8" in the survey, writes Newberry, while noting that the top three goals actually do contribute to lead generation.
Newberry recommends getting started by using the tried-and-true S.W.O.T. framework, which identifies the strengths, weaknesses, opportunities and threats within your competitive landscape. This will provide a good basis for your social media plan.
How to Make Your B2B Business Stand Out on Social Media
Don't be boring – "A lot of B2Bs are boring," says Patel. "At least they think they're boring to the uninitiated. Their self-perception as a boring company becomes a self-fulfilling prophecy. Because they think they are boring, they act boring. They write boring articles. Their social media posts are boring."
This need not be the case. Our blog post – "How to Write Fascinating Content About a Boring Industry" – notes that every industry involves some degree of change and innovation, and has some degree of influence in the larger world. Conveying these stories to your target audience can position your brand as an authority, and, of course, at top-of-mind when it's time to choose a vendor or make a purchase. Our blog post – "What is Quality Content?" – covers the essential elements of the title. Regardless of the industry, the basics apply. Quality content is original, well-informed, informative and actionable, and connects with its audience.
"Each B2B with an unintelligible product or service needs to develop an angle that is both understandable and appealing to a broader audience," says Patel. "This will allow them to create an initiative or idea that can gain traction on social media."
Put a face to your company – How many B2B social media posts do you read that give you no idea of who runs the business? Decision-makers at the companies you want to do business with appreciate a sense of personal connection. Instead of anonymous social media postings and blog posts, be the face and voice of your company – or enlist someone in your organization comfortable with the role. Posting about the pride you take in the quality of your product will mean more when it comes from you, personally, than from a generic statement. And signing your blog posts and providing specific examples about how your company solved a problem or faced a challenge will establish you as an industry expert and increase your company's credibility.
Patel offers the following tips:
Use a first-person voice when writing updates and articles.

Use a brand front person to tweet, post updates and write articles.

Use real people with their names in customer service.

Initiate engagement and outreach from a real person.
Use the Right Social Media Platforms for B2B
Basically, this comes down to using LinkedIn – the choice of 97% of B2B companies. Known as the Chamber of Commerce of social media platforms, LinkedIn is where business owners and sales people build their professional connections to nurture leads and get new clients.
As Patel observes, "The social goal of most B2Bs isn't just traffic. It's the right kind of traffic. More specifically, it's leads from that traffic. That's why LinkedIn has been the social media sweet spot of most B2Bs. LinkedIn does for B2Bs what Facebook, Twitter, and Pinterest have all failed to do. It forms professional connections based on a single goal … On LinkedIn, you see fewer baby pictures, fewer cat videos, and nothing about 'Dave just checked in at Downtown Bar.' LinkedIn, devoid as it is from issues like 'relationship status' and 'favorite TV shows' is much more appealing to the world of B2B exchanges."
To be fair to Facebook – now officially known as Meta – a Facebook business account and page present a more professional image than a personal page. However, according to Ironpaper, "Facebook might not be worth your B2B organization's time, but only data can tell whether or not that is true. Using Google Analytics, measure to find out whether or not Facebook increases the lead pool and what happens to those leads. Are they converted in the sales funnel? Do any become clients? Working with the sales team, follow along the journey of all Facebook leads to find out whether or not it's worth continually posting on Facebook."
But before you jump into LinkedIn with renewed effort, it's important to know the platform's written and unwritten rules. Our blog post – "Know Your LinkedIn Etiquette" – covers in detail how to follow LinkedIn's best practices and mind your manners to avoid offending those you want to connect and do business with – as well as getting kicked off completely!
The Take-Home Message and Our Blatant Self-Promotion
While doughnuts are easier to sell than widgets, it is possible to reach those who are in the market for your fine widgets through social media. If you need help, that's what we're here for! Our experienced Virtual Stacks Systems team offers website design and redesign, SEO services, social media marketing, email marketing, PPC advertising, review management services and much more! Contact us to get started.