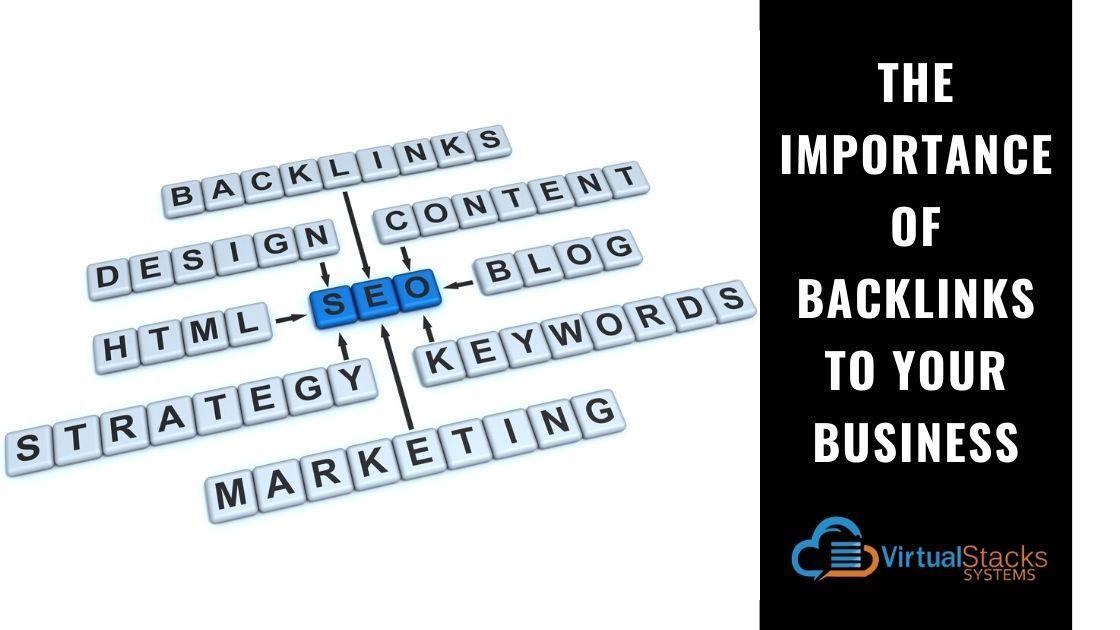 14 Aug

The Importance of Backlinks to Your Business

If you are relatively new to the study of SEO as it relates to driving traffic to your business's website, you may have already discovered that there's no magic bullet. Many different practices need to work together to achieve this lofty goal. If making proper use of keywords is beginner-level SEO, consider the art of earning backlinks as intermediate-to-advanced level SEO. 

No need to feel intimidated, though. As we always say, knowledge is power! Learning the basics about backlinks now will make you better informed when you're ready to integrate them into your SEO strategy yourself or talk with a digital marketing agency about doing so for you. For additional background information, read our blog post – "The Importance of Backlinks in SEO – What You Need to Know."
What are backlinks?
As Moz simply states, "A backlink is a link created when one website links to another. Backlinks are also called   ̀inbound links´ or   ̀incoming links.´" Basically, it's a vote of confidence for your website, as it means that the site that linked to yours considers your content trustworthy and valuable.
Most search engines – especially Google – look for your website's backlinks to see how your pages are related to each other, and in what ways. Backlinks from high-quality sources increase your site's authority and ranking in search engine results pages (SERPs). As Moz elaborates:
"Through links, engines can not only analyze the popularity of websites and pages based on the number and popularity of pages linking to them, but also metrics like trust, spam, and authority. Trustworthy sites tend to link to other trusted sites, while spammy sites receive very few links from trusted sources (see MozTrust)."
In short, backlinks aren't the only ranking factor, but they are one of the most important. Elijah Masek-Kelly – founder of Powerful Outreach – provides a very descriptive explanation of the process. Backlinks help Google find and index your website's new content. Keep in mind that blog posts count as new content – which is why we emphasize the importance of blogging on a regular basis!
He also mentions another fun fact: Backlinks get the attention of Google's web crawler, Googlebot, sooner rather than later as it makes its rounds through the World Wide Web. "In essence, your website is now queue-jumping, and your content is getting indexed faster because of the backlinks that you earned for it."
As Roger Montti writes for Search Engine Journal, "Modern search engines today use a combination of AI, machine learning, links, and page analysis to rank websites. An important change with how sites are ranked is that the kinds of links that are used for ranking purposes have been narrowed down to the most relevant. The goal has always been to count links that are meaningful to the content they are linking to."
How can backlinks help a website get more traffic?
Because backlinks can improve your ranking, the higher up your website is in the SERPs, the more likely people searching Google for what you sell will encounter your website before those of your competitors.
As Masek-Kelly writes, "The whole point of ranking higher in the search engine results pages is to get more eyeballs to your website. The more people see it, the more visits you get, and your chances of landing a sale or monetizing via ads increase. Backlinks themselves have the potential to drive qualified traffic to your website, especially if they are placed in content that's published on high-traffic sites relevant to your niche.
"Not only are you getting a chance to impress a potential new client that way, but the steady stream of traffic coming your way now is another signal to the Google algorithm that your content is high quality and valuable enough for others to recommend it."
How can you get backlinks?
There is a right way and a wrong way to get backlinks. The wrong way falls under the realm of black hat SEO, which will get your website heavily penalized by Google if you're caught. Our blog post – "Five Signs of Black Hat SEO to Avoid" – covers such issues in detail. Paying for backlinks is a major no-no. However, those unfamiliar with black hat SEO tactics may think purchasing backlinks is acceptable practice – an honest mistake, considering that businesses selling links can easily be found on Google. So just because you can find Google ads on Google offering "quality backlinks," doesn't mean they're legit!
There are other wrong ways. Montti cautions against registering on discussion forums to announce a giveaway or including links in your comments on other people's blogs. Which is also just plain rude. "In general, a link that is controlled by your company or your agent can be considered spam. The result of poor link building practices may manifest in the form of ranking positions sliding away."
Fortunately, there are numerous white hat means of acquiring backlinks. HubSpot's Irina Nica provides an extensive list, which you can reference for details. Truth be told, many of these methods require a heavy commitment of time and resources that most small-to-medium-size businesses probably lack – or don't apply to your particular field. We're bringing you the highlights.
Use images to attract backlinks and mentions – Infographics are a popular visual asset that can earn backlinks. Other visuals that Nica recommends include the following:
Charts and graphs using original data

Diagrams that visually explain complex concepts

One-page templates

Free photo galleries for others to use
Use directories – You should already be on Google My Business, which is free and prominently showcases your local enterprise. In fact, content marketing expert Amelia Willson calls it "the granddaddy of web directories." Having reviews on Yelp and TripAdvisor can also help boost your rankings and traffic. Willson's Search Engine Journal article lists 21 web directories that may benefit your business. Nica's article lists three other directories:
Become a resource for reporters and bloggers – It's easier than you may think to become a trusted, authoritative source within your industry. Help A Reporter Out (HARO), is a free service that connects experts with writers looking for contributors. HARO will send you an email with queries from writers in your industry. Choose those that are relevant to your business, and reply. Every time a publication quotes you, your website will earn a backlink. In addition, as Nica notes, "By becoming a trusted source, you'll also increase your brand awareness and drive referral traffic to your website."
Overall, smart content marketing is an excellent way to get backlinks. Montti provides the following insight.
"Content creation for the purpose of cultivating traffic is one of the smartest ways to cultivate natural links. Instead of focusing on obtaining links from the article itself, create a piece of content that focuses on driving traffic to your company site … Any content that is good enough to drive traffic is good enough to cultivate high-quality inbound links."
How do you know if you're earning backlinks?
As you will seldom be told when another site has linked to yours, a backlink checker is essential to determine if your efforts are succeeding. Several free backlink checker tools are available. Nica recommends the following.
The take-home message and our blatant self-promotion
While we've provided some recommendations for ways your business can conduct basic backlink building, it's still a demanding task requiring an ongoing commitment. If you're intrigued by the possibilities it offers, our social media and web development team at Virtual Stacks Systems can do the heavy lifting. We also write engaging blog posts that will keep your website supplied with great new content! Contact us to learn more and get started!