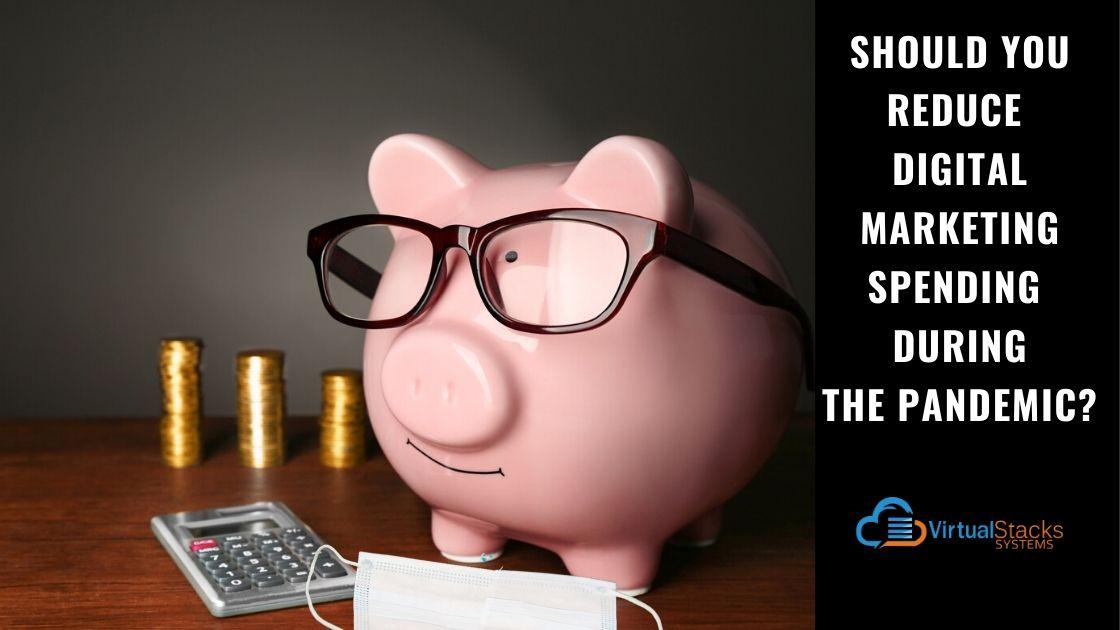 03 Apr

Should You Reduce Digital Marketing Spending During the Pandemic?

Businesses are now in uncharted territory. The impact of the COVID-19 pandemic is being felt throughout all industries, reaching from global brands to small-to-medium-size enterprises. If you're reassessing your digital marketing budget, it's important to know how to reallocate dollars to keep you competitive when business as usual resumes.

While your first reaction may be to cut all digital marketing, it's ultimately counterproductive. Taking an objective look at what you have, where you are and where you need to be perhaps isn't easy. But every journey begins with that first step. So let's start by breaking your digital marketing down into individual channels. In other words, don't panic. Here are some tips to help during hard times.
Should I continue my SEO efforts?
On this point, industry experts agree – continuing your SEO efforts is essential. Writing for Search Engine Journal, Tony Wright – CEO of Wright Time – recommends the following:
"Even if overall sales of your product or service go down because of the economy or the pandemic, you can offset some of your losses by investing in a comprehensive search engine marketing program that puts you in front of those that are still in a buying frame of mind."
After all, says Wright, "People still need products and services, even if they are self-quarantined for 14 days. In fact, when people stay home, my bet is they are going to be searching more rather than less."
The advantage of search is that it's measurable. To paraphrase Wright, look at sales or leads in your analytics, which allows you to pivot budget and effort when needed. If you work with a digital marketing agency that provides search engine marketing, your agency contact may recommend moving budget to keyword phrases that have stronger buyer intent, or promote content that will appeal to the current mood of the consumer.
"Buyer behavior is sure to go through significant changes in the next few months. It's important that your marketing efforts can pivot based on data."
Next up is SEO marketing expert Nick LeRoy, who also recommends continuing SEO – and content marketing – efforts in his article for Search Engine Land.
"If you choose to reduce spend in your SEO and content marketing efforts, you significantly risk your organic rankings. Once search demand returns (and it will) you will still drive considerably less organic traffic than before the COVID-19 pandemic began. Right now, it's vital to maintain – if not grow – your SEO campaign."
Should I reduce my paid search during the pandemic?
Also, writes LeRoy, "If your company's product or service isn't deemed an 'essential need' then you may want to consider pulling back on your paid spend. Failure to reduce spend can make even the most profitable campaigns turn negative for return on ad spend (ROAS). Proceed with caution if you know your product/service isn't a top priority for your consumers right now."
WordStream offers an insightful article on this important topic, featuring input from several industry professionals. We encourage you to take the time to read it in its entirety. The main takeaway: keep on top of how changing markets may affect your paid search and paid social accounts.
Mike Emilliani – managed services senior manager – makes the following observations and recommendations.
"Paid search reflects the market; it isn't the market itself. So if people's search trends have gone somewhere else in the moment and that Invisalign treatment or bouquet of flowers isn't, rightfully, on their mind anymore—that's a reality. Check for drops in traffic – clicks and impressions – in Google Analytics and Google Ads. Those will usually signal that something is happening and will manifest into a drop in conversions."
Adjusting your strategy could also mean limited budgets or pausing certain campaigns. According to account manager Tyler Ward, "Some clients are worried about the decline in leads or foot traffic that they are experiencing. My recommendation at this point has been to either lower budgets for or even pause non-essential campaigns at the moment for certain industries, and then to focus ad spend on branded terms due to the higher quality traffic they naturally receive. For those SMBs that have tight annual budgets, the reallocation of ad spend toward more effective marketing periods could be essential to their success."
Reporting from the front lines, Main Street ROI reiterates the need to reassess and reallocate your marketing budget. For example, as trade shows have been canceled or postponed due to COVID-19, the agency recommends diverting some of that budget into other channels – such as digital marketing.
"Also, some of our clients have paused or reduced online advertising with Google Ads, for example, and moved that budget over to search engine optimization (SEO). That way, they can make improvements in their organic rankings that will help them overtake their competitors when the pandemic is over. If you have shut off ads and you can afford to continue to invest in marketing, then I would strongly recommend reallocating that budget to improving your search rankings. This is an investment that could yield a very strong return once business returns to normal."
Should I continue my social media/content marketing?
Our blog post answered in the affirmative on this question! Even if your business has had to temporarily close its doors, keeping your social media presence active keeps your audience members engaged with your enterprise.
Main Street ROI agrees, noting that if you're currently not able to see customers or patients in person, there are other means in which to generate leads, revenue or schedule appointments. For example, provide virtual consultations or delivery service – as well as promote or sell products. The last example is applicable to estheticians and day spas that offer private-label products. Your clients may not be able to visit your establishment, but they can still use your skin care treatments and/or oils. They'll be much more inclined to reschedule appointments when your doors reopen!
Should I continue my email marketing? Should the tone or subject matter of my messaging change?
As LeRoy states, "Email is cheap AND effective. Considering you can't impact search demand – leading you to potentially decrease paid search/media – you may be able to claw back some scale with email campaigns. For some industries, it's as simple as reminding customers that despite brick and mortar stores being closed, they can still get all their needs met online.
"Remember to be mindful of the seriousness of the COVID-19 pandemic and ensure your clients/customers that you are here to help. This isn't the time to hard sell or promote special COVID-19 'deals.'"
Some major brands that have increased social media spending due to COVID-19
We're going to swing back to Main Street ROI's take on how to compensate for trade show and industry conference cancelations. If this impacts your business, NewsCred relates how IBM quickly adapted to the cancelation of its Think conference in San Francisco. IBM is rebooting the event as a new 'digital' conference scheduled for early May. The pioneering tech company is relying on interactive content to maintain the event's values and missions without the risk of travel.
Predictably, as AdAge reports, brands "… in categories like cleaning, TV streaming, food delivery services and virtual video conferencing have seen upticks in sales and their stock rise." While most of the big brands' campaigns can't readily be scaled down to SMB-level, some good ideas can be had. For example, Dial Soap's Facebook and Instagram ads have been promoting the CDC's recommendation for hand-washing. Dial is seeing up to 25 percent day-over-day increases in ad impressions, up to 25 percent on YouTube and up to 30 percent on Instagram.
So you're not a major soap manufacturer? Dial's campaign can still be a good source of inspiration if your business specializes in cleaning supplies or services. Just look at what your next-level competitors or corporate brands are doing, and see what you can learn and adapt from them!
Analytics continue, even in difficult times
According to LeRoy, Brett Patterson – Digital Analytics lead at Siteimprove – brings up an interesting point that may go overlooked. If your business now has its employees working remotely, their activity on your company's website could influence your digital analytics data. "Your typical filter won't catch workers working remotely, unless they are possibly using a VPN or other remote network connection. This means your employees might be counted in your analytics metrics, even though you had previously created a filter for this."
When the going gets tough, the tough get going!
Remember that journey we started our humble blog post with? If you're ready to take the first step, we'll be there with you! Virtual Stacks Systems offers website design and redesign, SEO marketing, social media marketing, PPC advertising, review management services and much more!
Contact us today to get started! And remember – we're all in this together!