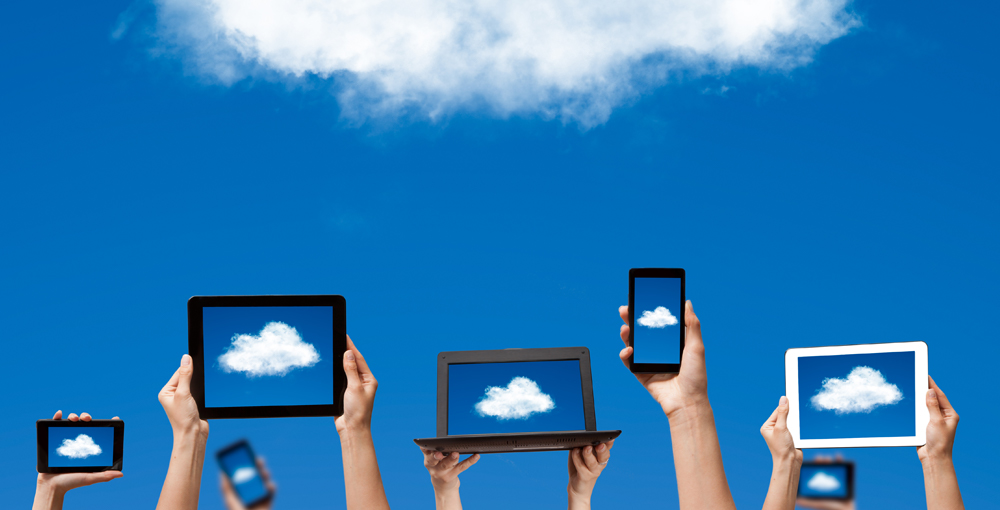 23 Oct

Where Is The Cloud?
Answering The Question You Were Afraid To Ask
The cloud, to those outside of the data realm, is as intangible as its namesake. An airy, out-of-reach presence that seems to linger above (Around? Beneath?) Us and, somehow, holds all of our data. Where is the cloud, anyway? Yet, as many people struggle to answer this question, they somehow know that they use the cloud every day. From that Google doc to the movie they streamed on the plane, to the dump of photos they cleared off of their iPhone. The "cloud" may be the buzzword to end all buzzwords, seeing as so many people use it, but so very few can describe what it is. Here is some background on the cloud:
The History of Cloud Computing
The phrase has been in increasing use over the last 10 or so years. But cloud computing or at least its basic infrastructure has been around for over half a century! In the 1950's, back when computers were much larger (Like, size of a room larger), one would log onto a "dummy terminal", basically an interface with very limited controls, to use the larger, more capable computer. Without the mainframe, the terminals were pretty much useless. This was the very early conceptual version of cloud computing. In the 1990's it was becoming increasingly clear that the internet would become the essential information-sharing powerhouse that it is today. Engineers started to draw a "cloud" to represent this network of information sharing. It was not long before engineers at Compac coined the term "cloud computing". A little less than a decade later, we were using the internet to store and download files, but from where exactly? The cloud.
The cloud: defined.
The cloud, while whimsical and mysterious sounding in nature, is actually not all that complicated. Simply, all the data transmitted and shared around the internet needs to go SOMEWHERE. That somewhere is a global infrastructure of connected servers and data center that hold on to, receive, and send back data at absurd speeds. Once high-speed internet became commonplace, it no longer made sense to store all data on your device. That is a lot of information and would require very large amounts of storage. Why do that when you can just save it "online" or, rather, in the innumerable data centers. Now, you do not need a multi-terabyte hard drive to have access to years upon years' worth of data. It can all go to the cloud (at a cost, for THAT much information) Hardware does not mean as much, provided you are on a reliable network. But here's where things can get a little tricky, depending on your service provider. When you send your data to the cloud, it lives on your provider's server. Depending on the contract and/or terms-of-service of that provider, they may technically now own that information.
Critiques and Critics of Cloud Technology
Some of the biggest concerns in regards to the cloud are:
Where is the information stored?
How many copies of that information exists?
Can the company be trusted to remove copies of deleted content?
Furthermore, many service agreements fail to clearly define the ownership of content, leaving a big hole if legal issues were to arise. So where is the cloud? The majority of cloud servers call the United States and Ireland home. But cloud servers are global. This means that the data stored on the servers is subject to the information laws of that specific country. In places that have more stringent laws toward data protection and privacy, this may not be a big deal. In other places were laws are loose or ill-defined, you may run into challenges when it comes to ownership and privacy. At the end of the day, more often than not, cloud service providers are responsible for protecting your data. Why else would you be paying them? Yet, some terms of service do specify that if government organizations request your information, they will pass it on to them. Often, without a warrant. It is worth taking a look at the fine print before choosing a cloud storage provider. Another area of concern for cloud-based technologies is in the workplace. When important documents are password protected in a cloud server, and employees have access to them, there is a certain modicum of trust that must be in place. Often times that sensitive information is available anywhere, just as long as the employee has the password. If an employee were to develop malicious intentions, it can be catastrophic for an Orlando SEO company. That said, it is a lot easier to change passwords and monitor network activity than it is to locate a stolen hard drive, or worse a piece of paper with passwords scribbled down on it.
The Benefits of the Cloud
Imagine if you had to personally store every photo you've ever taken. Every message you've ever sent. Every song you've enjoyed? That would require a lot of storage. Terabytes of data, rather quickly. So imagine you had all of that information on your personal computer. Your house gets broken into and the burglar steals your computer Now, all that information is gone for good. Now picture that metaphor on a grander scale. An increasing amount of the world's digital information lives on secure servers, often thousands of miles away. While hacking and privacy are concerns, they occur less often than human error (spilling coffee on your external hard drive is more likely than you may think.) Cloud programs have saved businesses and individuals a lot of money. When a student cannot afford Microsoft Office (which itself has an online version) they can use free Google Docs. Adobe now has the Creative Suite, which is subscription-based, rather than the old tangible versions of its products like Photoshop and Illustrator. Companies save tremendous amounts by not having to worry about server storage or application requirements. Entire businesses now operate remotely, thanks to the cloud. Good-bye, rent! Goodbye, utilities! And Goodbye, administrative costs! The cloud is also pretty reliable when it comes to keeping your services up and running. As servers are spread out globally, up-time is pretty much guaranteed. When servers are on-hand, a lot can go wrong. Power outages, user error, or faulty parts can crash your servers, and potentially shut down your business for hours, to days at a time. The cloud takes this responsibility out of your company's hands, and into that of a reliable provider. Virtual Stacks is proud to offer cloud hosting and cloud storage to our clients through our data center. Our cloud server will provide the bandwidth you need while protecting your information from online threats, keeping your business secure. Virtual Stacks also offers integrated marketing strategies including web design, SEO, PPC, and video marketing. When it comes to digital solutions, our internet marketing company can support your business all the way. With us, you will never find yourself wondering "Where is the cloud?" ever again.