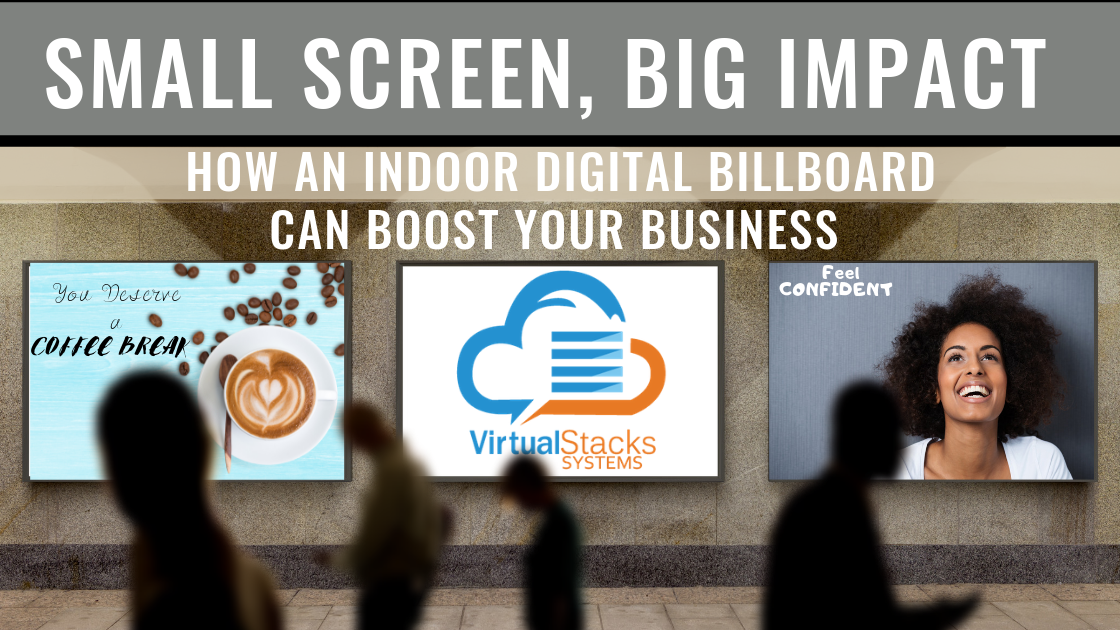 16 Aug

Small Screen, Big Impact – How an Indoor Digital Billboard Can Boost Your Business

We can't help ourselves. Wherever a TV is on, our eyes are immediately drawn to the screen, and we start watching – and either consciously or subconsciously pay attention. If you want to grow your local business, this characteristic can work to your advantage. 

The ever-increasing popularity of indoor digital billboards attests to the power of this advertising medium to reach consumers with relevant, targeted messages as they spend time at your establishment – engaging them when they are the most receptive.

But don't take our word for it. The Indoor Billboard Advertising Association (IBAA) offers the following eye-opening statistics from a recent survey.
98% of respondents reacted positively or neutral to seeing indoor ads.

89% of respondents "agree" or "strongly agree" that indoor advertising is a good way for messages to be seen.

Three out of four respondents thought about changing behavior after viewing an indoor ad.

Average audience captivation for indoor advertising was rated 22 times greater than that for print ads.

84% of respondents recalled seeing specific ads indoors.
What is an indoor digital billboard?
Don't be put off by the word "billboard." The typical indoor digital billboard is a digital monitor. It may be wall-mounted or free-standing on a counter or display area. But instead of TV programming, the monitor runs still ads, video ads or both types. 
An indoor digital billboard can build brand awareness by placing the right message in places where the right people see it during their stay. Because indoor digital advertising displays can be positioned anywhere, businesses are able to select specific locations that cater to their target demographic.
Make the most of dwell time
Indoor digital billboards take advantage of "dwell time" – the measure of how long someone remains in a specific area. By identifying the dwell time of your target audience, an advertiser can determine the number of brand impressions your guests/customers will receive – which increases the likelihood that they'll follow through with the desired action.
What type of advertising is most effective?
Writing for OnSign TV, marketing specialist Till Carlos observes the following about the type of advertising most effective for indoor digital billboards.
"Indoor digital signage provides more personal and specific information to an already invested consumer. For example, a billboard or an outdoor display may tell the audience that your business sells the best coffee in town. Meanwhile, the indoor display speaks to the coffee drinker with a particular and immediate demand for coffee. It shows him a detailed offer, pricing, features, and more. While it should equally be clear and quick in providing information, digital signage has more time to work on the viewer indoors than outdoors."
In addition, Carlos notes, "Indoors, the audience doesn't just stumble upon your display. They willingly entered your business. They already know what to expect and you can proceed with a more targeted and direct content strategy.
"When used indoors … your audience knows and expects certain things from your content. This gives you the freedom to go to a more personal level with your content … Interactivity makes things more personal, and that's what makes it a perfect match with the indoors."
Indoor digital advertising helps your local branding
Even in today's e-commerce world, people still value local businesses. You can order a gourmet coffee blend online to brew at home, but the experience of lingering over a cup at your favorite café is very different. Showing members of your target audience the competitive advantages of your business will go a long way in keeping it top-of-mind when they're looking for a neighborhood merchant.
Affordable and versatile
Thanks to its low price point and cost per impression, indoor digital advertising is well within reach of most businesses. Customizable plans that fit your specific budget prevents overspending or advertising to those who are not members of your target audience. The marketing dollars invested in an indoor campaign can go further and increase your ROI.
Unlike other types of advertising, indoor digital billboards can run multiple messages on the same display, and be quickly and inexpensively changed to promote new offers – ensuring that your messaging is always relevant.
Advantages of Indoor Digital Billboards Over Other Types of Advertising
Outdoor billboards – Expensive, and unable to be targeted to your desired market demographic. Traffic passes too fast for message to make an impression.
Online media – Your ad competes for attention with other content on the website, and may be deliberately blocked by the viewer.
Cable television – Expensive, and no guarantee that enough members of your target market will see your ad when it runs.
Print – Typically needs to run as part of a multi-channel campaign to be effective. Again, no guarantee that the target audience will see the ad or pay sufficient attention to it.
The take-home message
Indoor digital billboards allow your business to engage and connect with potential new customers – and stay top-of-mind of existing customers for long-term retention. Virtual Stacks Systems provides comprehensive indoor digital billboard services – including monitor, ad design, photography, videography, animation and copywriting. We offer customizable plans that are affordable for every business. Contact us today to learn more and get started!