27 Jan

Online Reviews & SEO: What You Need To Know
What This Means to Your Bottom Line
As a small business owner, how would you feel if 9 out of 10 of your customers told you that they came to your business, practice or office because of a review they read online?
Shocked, I would imagine.
And then thrilled – ready to pat yourself on the back for building such a strong reputation and strategy for acquiring and managing online reviews.
Now, while the above data is absolutely true, the problem is that most of your new customers (or patients) never divulge this information. They simply make an appointment or buy a product from you and carry on with their day.
However, a study conducted by BrightLocal reveals that roughly 92% of consumers read online reviews and use them to decide who (and who not) to do business with. In 2014, the rate was roughly 88%. So the trend is not going away anytime soon.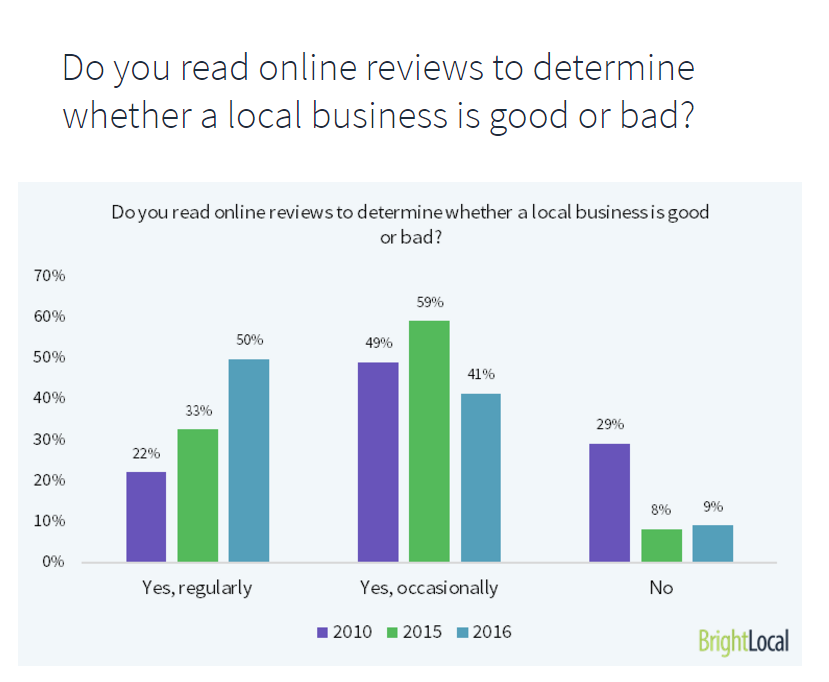 That is why in this post, I will be covering how online reviews affect your customer's purchasing decisions, along with how capturing positive reviews (and combating negative ones) will fit into your local SEO campaign.
Let's get started.
How Your Customers Use Online Reviews
Before we get too deep into the data, let's explore how online reviews are used by customers and where reviews fit into the purchasing cycle for a specific product or service.
Generally, by the time a customer starts looking at reviews, they already know what they need or want. They also have an idea of what business or provider can meet those needs, and they are in the process of narrowing down their list.
A critical point to note is that the time gap between reading a review and making a purchasing decision is incredibly small – it is often hours or even minutes.
Once the decision is made, it is an immediate yes/no decision that is rarely (if ever) reversed. As a small business owner, your online reputation has a strong, direct influence on your bottom line.
Consumers search for a new local business almost once a month (or 9 times per year).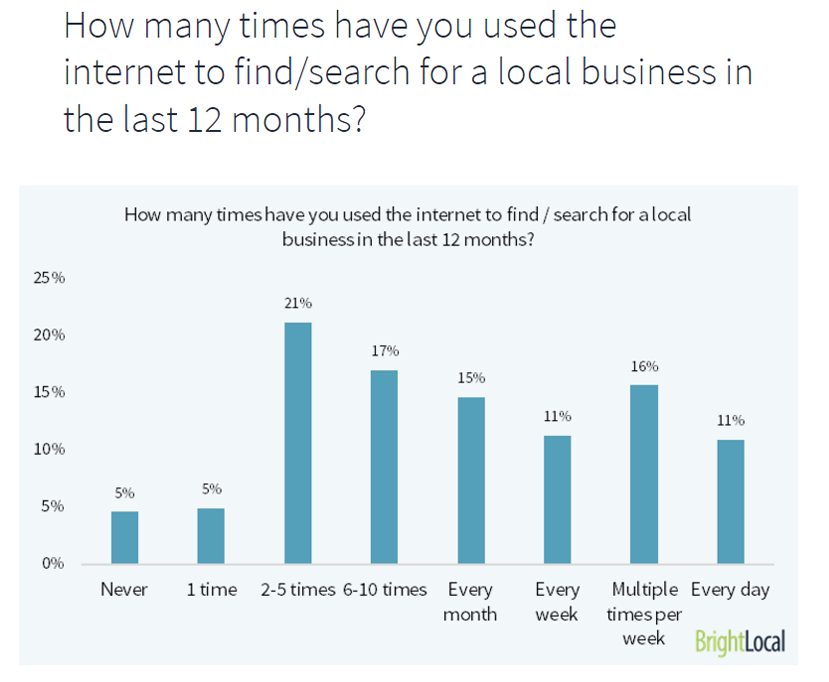 How many of those consumers are reading reviews when the search? A whopping 91%! And 17% are doing so more and more often.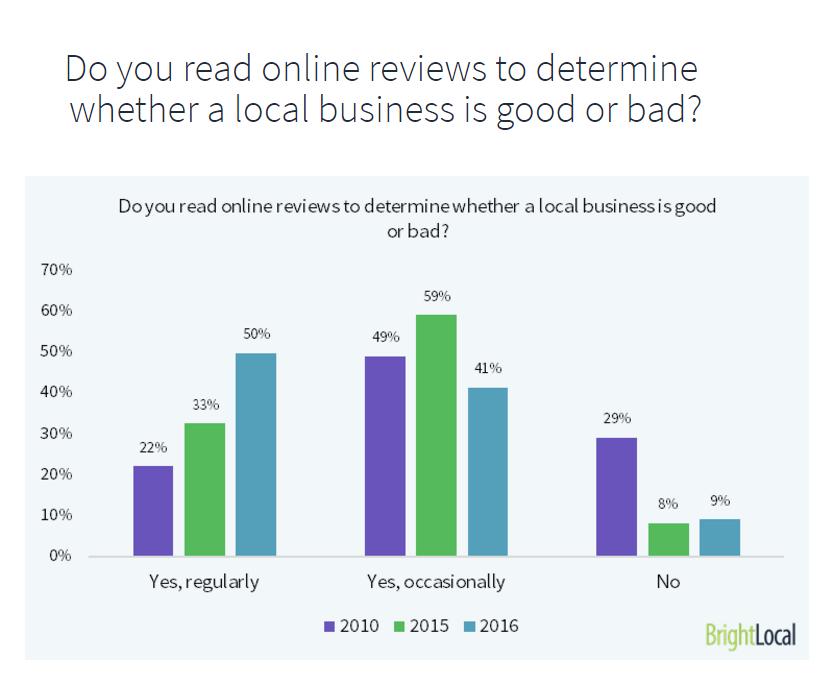 But does the survey reveal how many reviews consumers read before making up their mind? Luckily, the answer is yes!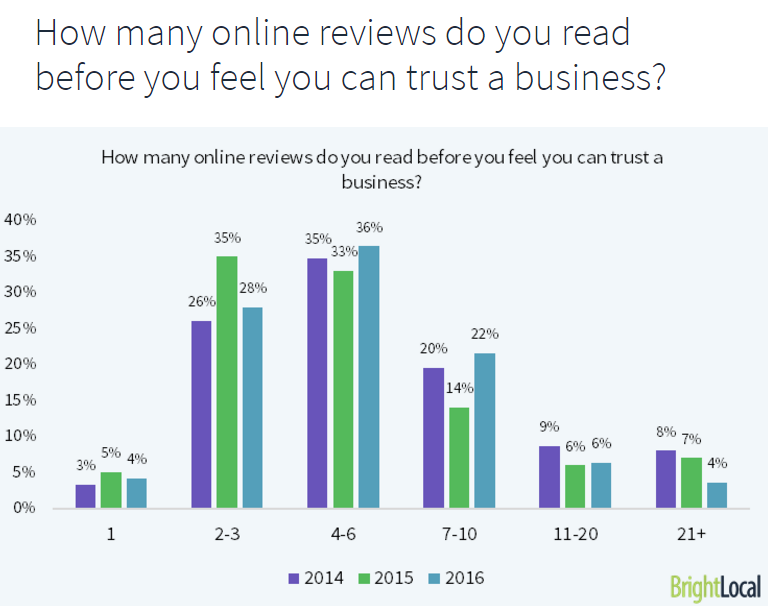 Meanwhile, another survey conducted by Dimensional Research shows that online reviews impact the purchasing decisions of 90% of consumers, with negative reviews keeping 86% of potential consumers from doing business with a certain vendor.
How Online Reviews Impact Your Local SEO
Search engines love online reviews. Why? Because consumers love them. And Google, Yahoo and Bing are in the business of making consumers happy by delivering up the results they truly want. The faster and more accurately they can provide consumers with relevant results, the more likely a consumer will keep using that search engine.
It's no wonder Google is the search engine of choice for nearly 90% of all consumers worldwide.
But I digress. Back to reviews and how they affect how you rank online. Here's an example. Below are screenshots of results for the search "dentists in Orlando, Florida."
Notice what comes first? Alafaya Center for Cosmetic and Family Dentistry, with 122 total reviews and an average 4.8 Star Rating. After that, University Dental Group with 23 reviews and the same rating, followed by Smile Dental with 14 reviews and an average 4.0 rating.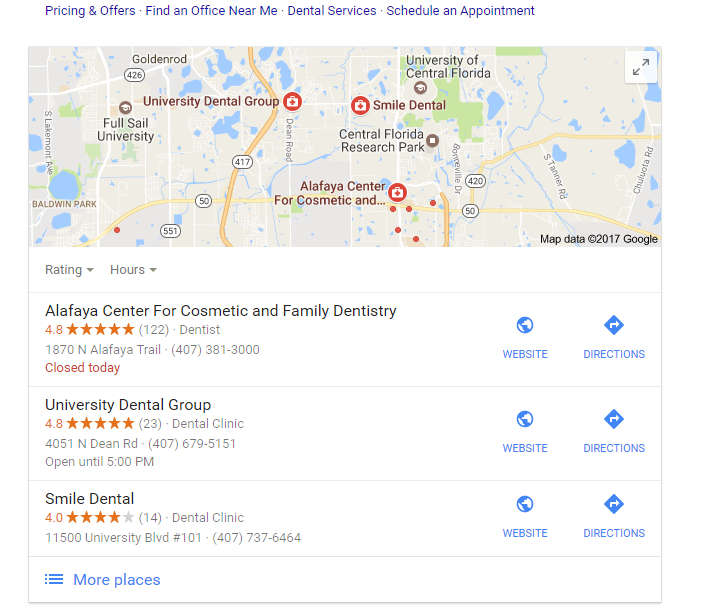 Notice a trend here? Google, along with Yahoo and Bing, prioritize companies, businesses and vendors with the most reviews (or the highest average score) because they know those are the businesses customers will be most likely to visit.
Moz.com did a survey in 2015 that drives this point home even more. In their Local Search Rankings Factor Survey, they narrowed down 114 ranking factors (things that affect how high a local business appears in search results) to the top 20.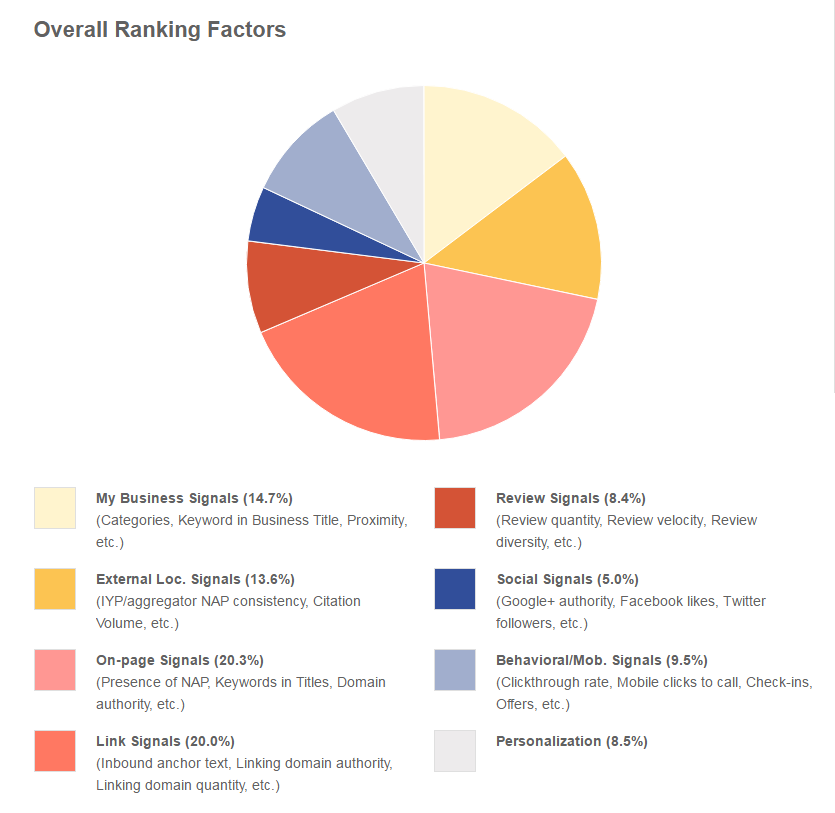 Then, they narrow that list down to the top 7.  While things like location, citations in directories and use of the right keywords on your site are most important, the quality and quantity of local reviews came in at #6.
In other words, the amount and quality of your reviews from customers makes 8.4% of your total ranking score.
So, it's clear you can't ignore online reviews – instead you need to carefully manage and collect positive reviews to create a strong online reputation.
How to Create a Positive Review Strategy
Before you can even begin deciding on how to collect the most positive reviews, you need to decide which review platform works best for you and your business.
Is it Yelp? Foursquare? BBB.org? Manta? Or just plain Google?
Here's a quick and easy way to find out which platform to focus on most. Simply do a Google search with your industry + the word "reviews". For example, you would search "dentist reviews" if you are a dentist. You would get something like what you see below: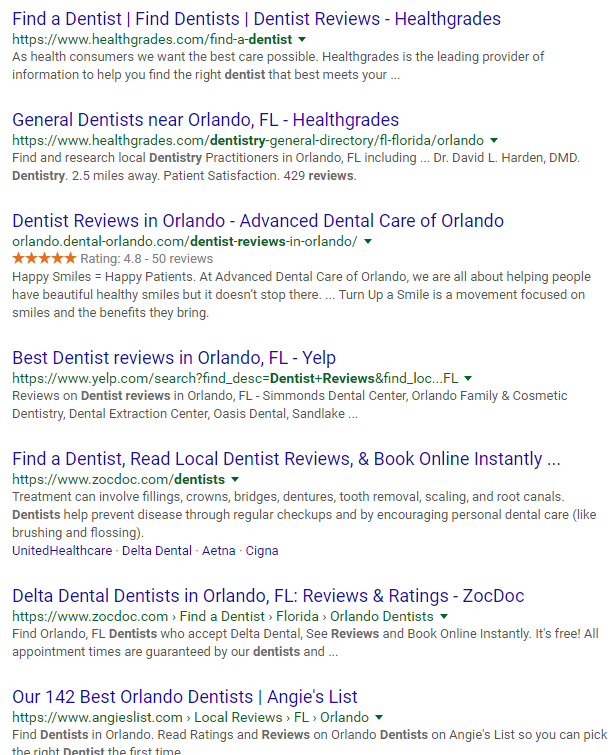 Based on this search results page, I would focus on the following review platforms if I was a dentist:  Healthgrades, Yelp, Zocdoc and Angie's List – in that order.
See how easy it is to find a starting point? However, it is important to keep in mind that each platform has their own review policy. For example, Yelp forbids businesses from soliciting reviews, and if they find a business that does, they will swiftly remove them from their platform.
While most other platforms have a less strict policy, you can read a few of their guidelines by clicking on the links below:
Don't find your platform here?
Just Google your platform name + the words "review guidelines" or "review rules," etc. You should find what you need.
Once you're comfortable with these review guidelines and know exactly where you want to start gathering reviews, you need a review collection strategy.
Here are some ideas, but this is by no means an exhaustive strategy list! The sky is the limit, as long as you are giving people an incentive (even if it is just the feel-good vibe of helping out a small business).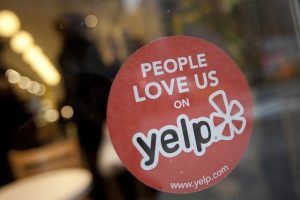 Get a "People Love Us on Yelp" sticker. Then, post it on your front desk, store window, check-out area or anywhere where your customers will see it AFTER their positive experience is done. Click here to request one now!

Just ask!

Train your staff to (politely) encourage customers, patients, etc. to leave a review. Read the "Art of the Ask" from Constant Contact to learn how to do this well.

Create a promotion. Note: Only do this if it meets the review guidelines of your chosen platform. Everyone loves incentives after all, right?!Look at this creative review promotion from our friends over at Daniel's Lawn Service & Pressure Washing, Inc. for a great example on how to make review initiatives fun. Now that you understand the why and how of collecting and keeping online reviews, get out there and start! You might just get a few reviews that brighten your day and remind you why you do what you do in the first place! And when is a pat on the back ever a bad thing? If you want to know more about building a strong online local presence, give Virtual Stacks a call, or look at our Orlando SEO services page for more info on what we offer.
Maintaining a good reputation with your customers is key to keeping your brand strong in the years to come.