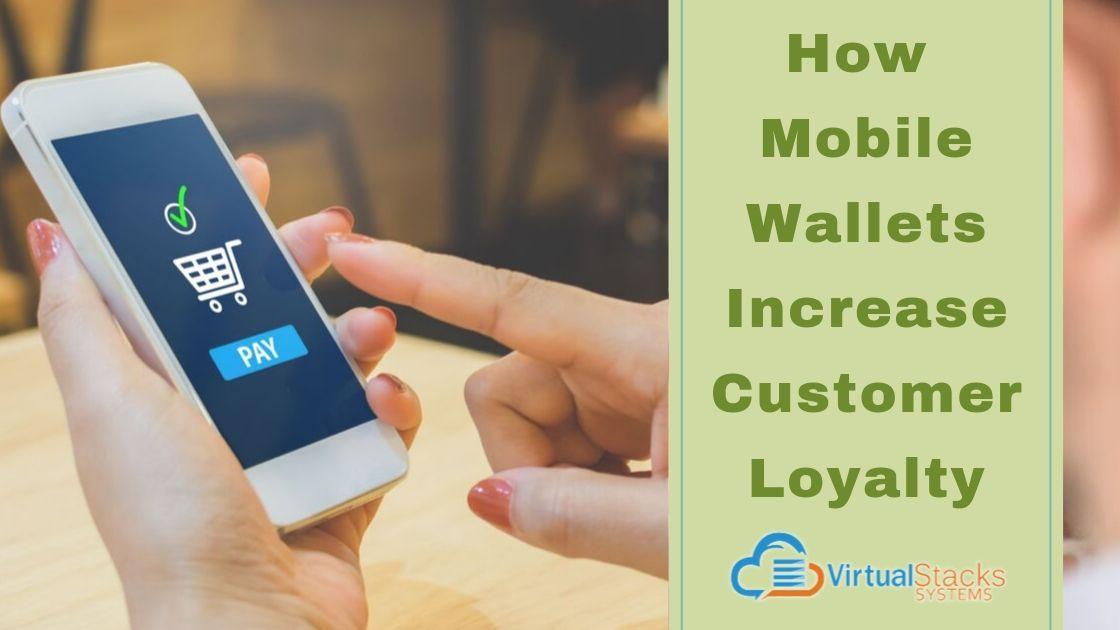 20 Sep

How Mobile Wallets Increase Customer Loyalty

Mobile wallets are quickly gaining popularity with consumers as a convenient, secure way to conduct transactions of all types. Basically the digital equivalent of a physical wallet, a mobile wallet is a place to store, organize and access a digital version of payment and non-payment items on a mobile device – keeping credit cards, loyalty cards, coupons, stored value cards, membership cards, tickets and more all in one place.

So re-read our first sentence – the part that goes "… quickly gaining popularity with consumers …" Because if this is the first time you've heard of mobile wallets, you've got a lot of catching up to do! Fortunately, you've come to the right blog for your Mobile Wallets 101 education – as well as to score a big advantage that can get you into the game immediately!
What is a mobile wallet?
As noted in our April 5 blog post – "How a Mobile Wallet Can Help Your Business" – although the words "mobile wallet" and "digital wallet" are sometimes used interchangeably, mobile wallets are housed in an app on your mobile device, while digital wallets can be accessed online on a desktop, laptop or mobile device.
Although both store payment information, they are implemented differently. Writing for Investopedia, Will Kenton notes, "Mobile wallets are used by people who would rather not carry a physical wallet when making in-store purchases. For this reason, these wallets have to be used on mobile and easy to carry platforms. Apple Pay, Samsung Pay, and Android Pay are examples of mobile wallets that can be installed on a hand-held or wearable device. A regular PayPal account is a form of a digital wallet, but when it is used in conjunction with mobile payment services and mobile devices, it functions as a mobile wallet."
In fact, there's nothing special to do or extra to buy to get a mobile wallet. It's pre-installed on most smartphones – Apple Wallet on iPhone and Google Pay on Android. Other mobile wallet apps are available for downloading.
Increase Brand Loyalty
As useful as mobile wallets are for consumers, businesses and marketers have exciting new opportunities to increase brand loyalty. With more of the business-consumer relationship becoming digital, businesses increasingly face the challenge of establishing and maintaining consumer loyalty.
Maeve McKenna Duska – senior vice president of sales and strategic development for USA technologies – observes that "… the combination of mobile payments and loyalty programs provides a way for brands to continue to interact with consumers, as person-to-person, physical interaction quickly becomes a thing of the past."
A survey by Urban Airship conducted among 1,000 U.S. and 1,000 UK adults found that 73% of consumers are more likely to join loyalty programs if points and rewards are automatically updated on mobile wallet loyalty cards. Also, 54% of those surveyed have already used a mobile wallet card – and wish brands would use this channel more often.
According to Urban Airship, "Mobile wallets … are now among the top four ways consumers prefer to stay updated on sales, offers and coupons, alongside decades-old channels including websites, email and text/SMS. Adoption is especially high for people with above-median household incomes and millennials, an age group where apps and mobile wallets displaced text/SMS from the top four preferred communication channels. The young and more well-off also skew much higher in behaviors that make mobile wallets an ideal fit, from letting physical coupons go unused or expire, to desiring the dynamic engagement and reminder functionality that mobile wallets provide."
Citing this eye-opening survey, McKenna Duska writes, "What's even more intriguing is that more than half of those consumers expressed a desire to use their mobile wallets for functions other than payment … That means that in addition to building a lasting bond with your customers through a digital loyalty program, you can now send them meaningful lock-screen reminders – say, before a discount coupon or airline miles expire – while incentivizing them to make a purchase decision. Think of it as mobile content marketing that's always in your customer's hand."
She also notes that the ability of loyalty programs to be digitally stored within a mobile wallet overcomes the two largest hurdles of loyalty program longevity – consumers forgetting their card, or forgetting that they even signed up in the first place.
"With mobile payment tech, you're a single push notification away from creating the next digital touchstone directly with consumers."
Writing for Retail Dive on how merchants tie loyalty to mobile wallets, Michelle Saettler relates how merchants in all industries are benefiting from applying creative solutions. She quotes Alex Campbell, co-founder and chief innovation of Vibes, a Chicago-based mobile marketing technology company.
"The most important factor is to know your customer. Know what each customer values the most and then find a way to reward them in a way that reinforces that bond. Next, because the content is digital and on my phone, it must at least appear to be customized for the individual. Ideally you want reward and loyalty content to be timely, relevant to where someone is, and personal."
Digital coupons offer the most immediate benefits for businesses. While retailers traditionally have been tracking the use of physical coupons, their digital versions in a mobile wallet can provide more data much faster – which, Saettler writes, will help retailers better understand and influence their customers' purchase process.
"For example, it no longer takes months for retailers to know if a particular coupon is actually influencing customer behavior, it takes minutes. Loyalty programs can now reward individual customers with whatever that particular customer values the most."
Overcoming Growing Pains
Despite the great potential that digital wallets hold for building customer loyalty, challenges remain. Saettler writes, "In the United States as well as other markets, mobile wallets have yet to take off in a meaningful manner, mainly because the wallet providers are struggling to create added value that appeals to customers against traditional payment schemes like credit cards. Also, companies in the U.S. have been slow to assemble a critical mass of participants across the mobile wallet ecosystem to make the wallets a real consumer alternative."
Another substantial challenge is working mobile pay into the existing marketing mix.
"But it is not all about convenience," Saettler cautions. "There are several brands that have offered mobile pay but have failed. Simply 'going mobile' is not a precursor for guaranteed success. The program itself must be well-designed and integrated with the in-store experience."
For businesses that have an innovative vision paired with a strong strategy, mobile wallets can offer customers the choices they want, right at their fingertips – and help keep them engaged and buying.
Now for that big advantage we mentioned earlier
While it's easy for consumers to use a mobile wallet, you may be wondering how you can reach customers in this way. All you have to do is make your business available. Virtual Stacks Systems' Mobile Wallet will get your business on the platforms and apps that members of your target market use, interacting seamlessly with other applications and content for an effortless and expedient customer experience.
Our industry-leading mobile wallet will help your business achieve:
Multi-channel distribution

QR code distribution

Email distribution

NFC pay distribution

Connected content
Your customers will enjoy:
Instant delivery

Automatic device detection

Location- and time-based reminders

Immediate updates

Multi-language options

A personalized experience
Contact us to learn more and get started!