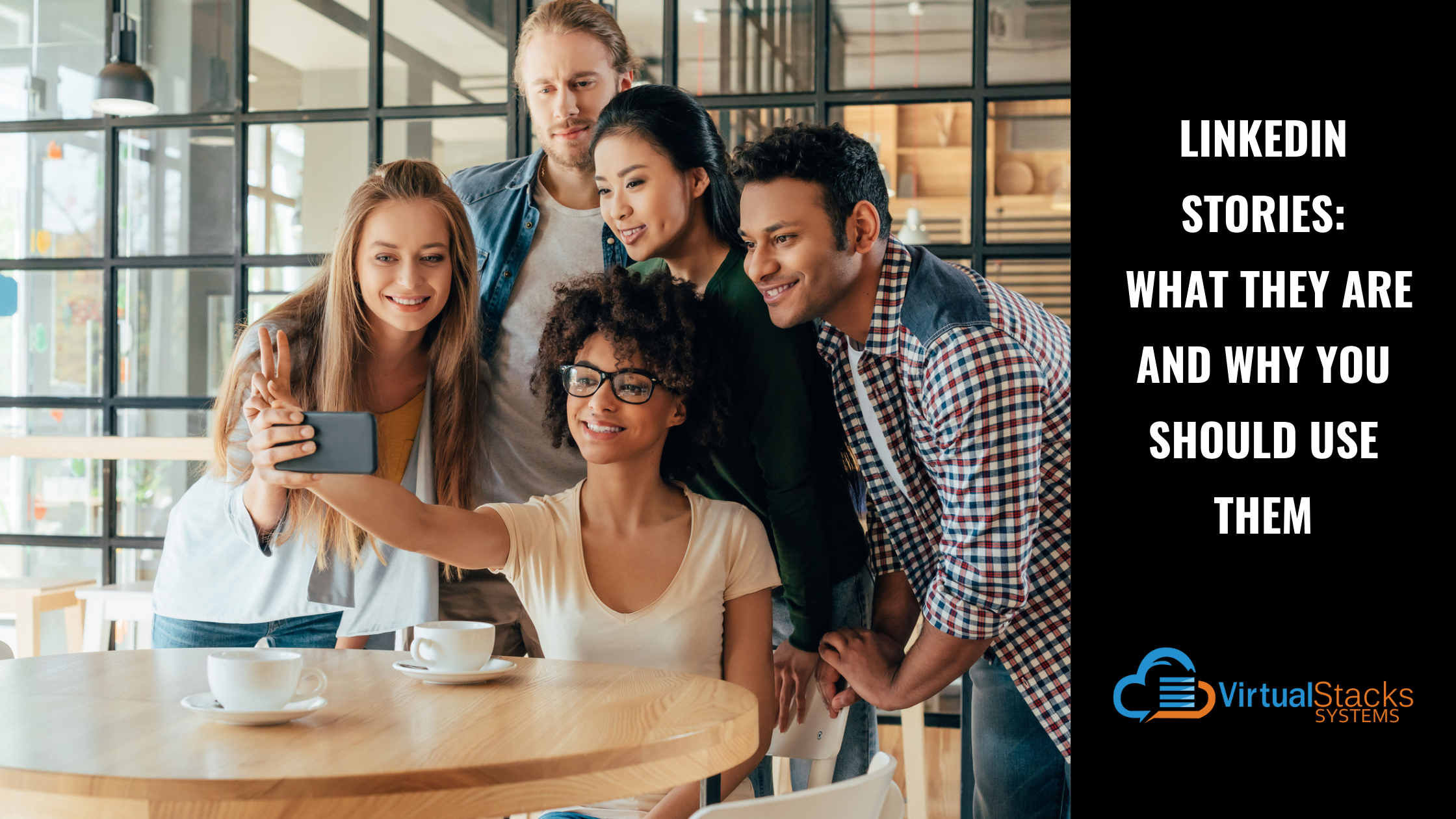 04 Jul

LinkedIn Stories: What They Are and Why You Should Use Them

Our blog post – "Know Your LinkedIn Etiquette" – explained how to mind your manners on the Chamber of Commerce of social media platforms so you can mix appropriately and build your professional network. But almost every Chamber event has a presentation or even entertainment. Following this analogy, if you can step up to the podium and provide something that informs and engages your audience on a more personal level, you'll raise your profile and increase awareness of your business – as well as gain status as an expert and industry leader!

LinkedIn has given its members the opportunity to do exactly that with its launch of LinkedIn Stories in 2020. Similar to the stories feature on Instagram, Facebook and Twitter – which calls it Fleets – LinkedIn Stories allows users to post vertical images or short videos that go away after 24 hours. Also as with the other social media platforms, LinkedIn's version can only be used on its mobile app. Of course, the progenitor of all was Snapchat, which is exclusively a "story," with posts that last only 24 hours.

Businesses can use LinkedIn Stories to build their brand voice and authentically connect with target audiences in both the B2B and B2C marketing spheres — especially with fun and engaging video content. You can post as many Stories as you want, making it easy to quickly jump in, record a quick update of what your business is doing, and then allow your connections to check it out.

Creating LinkedIn Stories videos offers three key features, similar to other "stories" on other social media platforms:
Maximum video length of 20 seconds (must be vertical video).

The option to add more information with text or stickers.

The ability to tag other users in your story using the @ symbol.
Remember that while the features of LinkedIn Stories share similarities with other social media stories, the context will be different. Keep your professional audience in mind as you create your LinkedIn Stories videos, but don't be afraid to be personable and have fun, as well.
How you can use LinkedIn Stories
Repurpose content — LinkedIn Stories give you another option to repurpose your highest quality and most engaging content with the ability to convert videos into short segments or turn images into a short video. This will cut down on redundancy and content burn-out, all while delivering your previous content to new audiences!
Establish industry leadership — As a business owner, you can use the personalized nature of LinkedIn Stories to share short videos in your own voice that establish you or your business as a leader in your industry. Hearing insight from the voice of a real person can have more impact on audiences than reading content alone.
Provide behind-the-scenes looks — Because LinkedIn Stories are short, they are a perfect opportunity to give quick behind-the-scenes looks at your daily work life to help build a stronger personal connection with your audience. You can also take the opportunity to answer questions or showcase new products.
According to digital marketing expert Neil Patel, "Show your network there's a personality behind the business. This helps create a more personal experience. When people see you're more than a 'brand,' you'll build the trust that's so necessary when trying to get someone to do business with you.
"Taking this even further, you can use this strategy to give your connections some insight into your process. For example, if you run a print on demand shirt store, use LinkedIn Stories to show people how you make your shirts and why they should choose you over someone else. There's a great opportunity here for you to separate yourself from the competition without having to hard-sell anyone."
Ask questions — Audiences don't only want to hear your thoughts – they also want to share their thoughts with you! With a LinkedIn Stories video, you can ask relevant work-related questions to your audience of industry professionals who can share their insight with you and generate authentic discussion and high engagement.
Be educational — Similar to Instagram Reels, LinkedIn Stories gives you and your business a chance to provide valuable content to your audience in the form of education. LinkedIn is a place for professionals who are eager to always be learning more about their own industry and new industries, as well. Take advantage of this to provide quick and original educational content with your video stories!
"Keep in mind that, even though your stories might not result in a direct sale, you're generating awareness around you and your brand," writes Patel. "LinkedIn allows you to engage with the people you need to directly talk to for access to new opportunities."
You Don't Have to Post to Benefit from LinkedIn Stories
As LinkedIn itself points out, "Stories aren't just about posting either – you can find value in watching stories from others in your professional community, and kicking off a conversation either with the Story creator, or with someone else in your network by sharing a Story you've seen. When watching a Story, we've made it easy to quickly message the author, send a quick reaction, or to seamlessly forward the Story to someone else in your professional community."
In such a case, as Patel observes, "For example, let's say the Director of Marketing at a company posts a story about their SEO strategy, and you are interested in working with them. Here's your chance to directly reply to that story with some tips and ideas you've used in your own business.
"Keep in mind that you may get a generic response to something like this, but you're increasing the person's chances of checking out your profile to see what you do. If you're active on LinkedIn and your profile is well optimized, you just might find a message in your inbox."
Tips for Watchable LinkedIn Stories
Getting the attention of your audience and keeping it is the challenge. Writing for WordStream, Mary Lister offers the following LinkedIn Stories best practices:
Keep your Stories bite-sized – It may be hard for some people to wrap their head around it, but 20 seconds can be too long to hold your audience members' attention.
"While LinkedIn allows posts of up to 20 seconds, I recommend cutting that down into shorter, engaging pieces. Think about Stories like a flipbook. You want each page, or post, to tell a greater story, and each should build on the one before it. For example, break a concept into bite-sized steps. Maybe you want to tell your audience how to make a peanut butter and jelly sandwich. The first post should be a shot of all your ingredients and utensils. The second should show two slices of bread with peanut butter on one side, and jelly on the other. You get the point."
Add interest with storytelling and transparency – Just as if you were doing an in-person presentation at that Chamber of Commerce event, you'd want to keep your audience awake and interested by using colorful graphics and other visuals. And if something goes amusingly awry – for example, your dog walks into the frame and steals the show – it can add a personal touch. Just be sure the flub doesn't reflect on the competency and quality that people can expect from your business!
Embellish your Story for visual interest – If your LinkedIn Story doesn't have much movement – or a cute pup – you can avoid a boring "talking head" effect by making use of the stickers, emojis and locations Stories offers. However, don't overdo it and make it look as if it were posted by the interns – unless it was, and the intention is to show how much fun they're having!
The Take-Home Message and Our Blatant Self-Promotion
LinkedIn Stories gives you yet another way to engage with potential clients and customers in order to grow your business and establish yourself as a thought leader. Our blog post – "How to Use LinkedIn for Your Business" – provides advice on giving your LinkedIn business page professional polish, posting quality content that's relevant to your audience and other best practices for expanding your network.
If you're looking for help that's more hands-on, our team at Virtual Stacks Systems can provide everything your presence on LinkedIn – and other social media platforms – needs to achieve your marketing goals. We also offer website design and redesign, SEO marketing,  social media marketing,  PPC advertising,  review management services, social media marketing and much more!
Contact us today to get started!